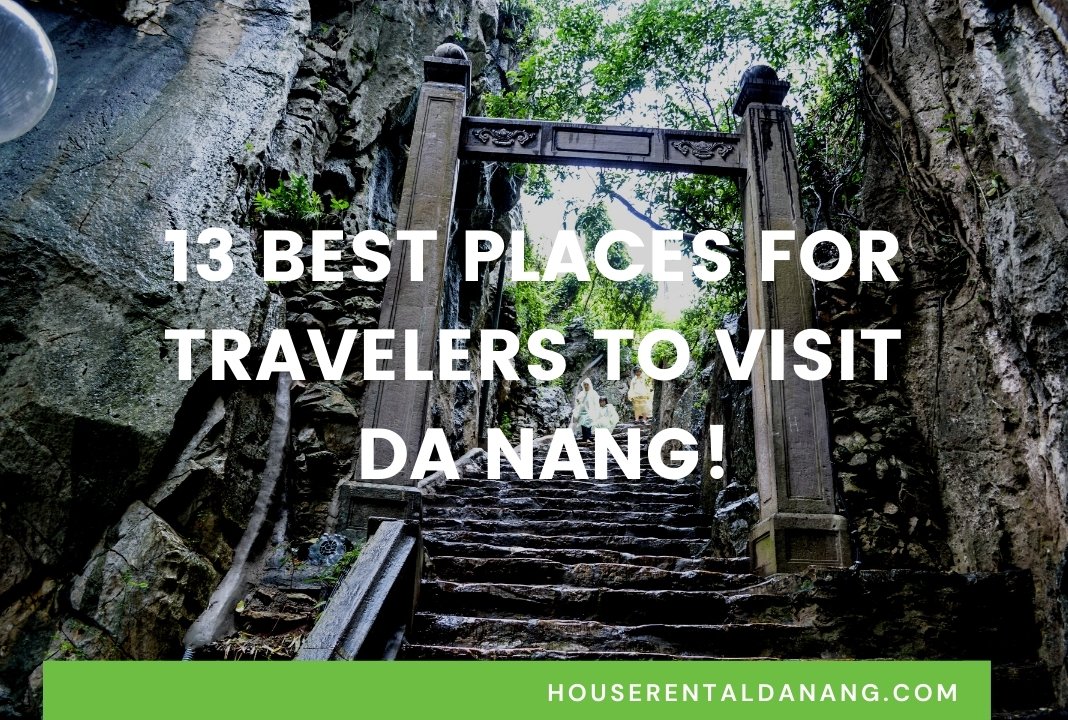 13 best places for travelers to visit Da Nang!
Travelers from all around the world come and see plenty of amazing things to discover in Danang. Let us have a closer look at the 13 places to visit in Da Nang.
The Marble Mountains:  
The first reason for being "worth-living" comes The Marble Mountains (Ngu Hanh Son or "Five Elements Mountains). Where else in Vietnam travelers can find that cluster of marble and limestone little mountains, right within the city, just 7km from the center, and one of the best things to do in Danang. Travelers can find lots of Buddhist shrines, caves, tunnels of nice surprise around the mountains. Climbing up to one of the peaks for a spectacular view over the entire city during sunset or dawn break should absolutely be an unforgettable experience. Besides, stones of Non-Nuoc are works of art for travelers to buy as souvenirs.
    My Khe Beach:
Danang with "beach in the city" describes the 2nd reason for being voted for "worth-living city". No wonder why the Forbes voted My Khe Beach as one of the six most attractive beaches on the planet. White and smooth sand with an average width of 50m-70m, slight slope, blue-colored water all year round, annual mean temperature of 25 degrees Celcius, no large waves, magnificent view of the Big Buddha Lady at Linh Ung pagoda from the beach is all that matters.
Hai Van Pass:
Hai Van is regarded as the natural beautiful bridge connecting Huế-the land of Heritage with Danang. Hai Van Pass is one of the most spectacular passes in Vietnam. This 21km mountain pass is the natural boundary of Danang & Thua Thien Hue. A bike tour along the pass is the first choice for Western travelers. Just take a tour to realize no wonder why Hai Van Pass is described  "a deserted ribbon of perfection, one of the best coast roads in the world" by Top Gear.
On the peak (490m above sea level) still lies the national relic site of Hai Van Gate. You will see its name in Vietnamese – "Hai Van Quan" (Hai Van Gate) – on one side of the gate facing Hue Imperial Citadel, and the words "Thien ha de nhat hung quan" (the world's most marvelous wonder) on the other side facing Da Nang. By history the words were inscribed by King Minh Mang in the year 1826. It is such a treasure that a worth-living city as Danang owns within its slopes.
Hoi An Old Town:
From  Danang just 30 minutes drive to a UNESCO World Heritage: Hoi An Old Town. The heritage is a must-visit place for tourists traveling to Vietnam. Only 30km away from Danang city center, Hoi An Old Town offers travelers a truly Eastern oriental classic captivation. Located on the banks of the poetic Thu Bon River, Hoi An Old Town used to be one of the major trading centers in Southeast Asia during the 16th century during the early western trader occupying period. Its places of interest are of full historically classical meaning and image such as the Japanese Covered Bridge (Chua Cau or Lai Vien Kieu), Quan Cong Temple, Museum of Culture, Phung Hung House, Cantonese Assembly Hall (Quang Dong), Hokien (Fujian) Meeting Hall (Phuc Kien) and Chinese All-Community Meeting Hall (Trieu Chau), Ong Pagoda, Quan Am Phat Tu Minh Huong Pagoda. Travelers will get a rare feeling of going astray into another era, especially on the 14th day of the lunar month, the Buddhist day of worship, when Hoi An residents place offerings of food and incense on their ancestral altars and visit the local pagodas. Travelers should never forget the enchanted atmosphere of the scent of incense and the sounds of people singing Bai Choi folklore.
Son Tra Peninsula:
The 5th reason why Danang is called a worth-living city is its own an enriched reserve of biosphere: Son Tra Peninsula. 10km from the city center, 693m above sea level, Son Tra Peninsula acts as a giant screen to protect Danang from storms and cyclones coming from the sea.
Son Tra Peninsula is regarded as a typical Vietnam tourism magnet along with the coastline: miraculous, purely natural scene with transparent sea, white sand, and mysterious primitive jungles, where travelers can find vast diversity of plants and animals.
The 6 spectacular bridges crossing Han River
Danang people are ever proud of their own collection of bridges. One of Da Nang's most outstanding features striking lots of travelers entering this worth-living city is its set of awesome, beautiful, and modern bridges. We can name the swing-bridge of Han River, the Dragon-shaped Bridge, the Tran Thi Ly sail-shaped bridge, and Thuan Phuoc Bridge, the longest cable-stayed bridge of Vietnam. One of the must-not-miss-events on Saturday and Sunday evenings is fire and water spraying shows held on the Dragon-shaped Bridge.
Danang Cuisine:
What matters for a worth-living city is its authentic cuisine. While Da Nang's coastal location makes it a haven for seafood, the city offers a selection of local signature dishes, which are made using local, fresh ingredients. Travelers can experience genuine Vietnamese cuisine everywhere in the city with an amazing array of culinary opportunities.
Danang's dishes are made using local, fresh ingredients. Bún chả cá (fishball noodle soup), cánh gà chiên mắm (fried chicken wings in fish sauce), and mít trộn (salad with jackfruit and pork rind) are what travelers must not miss.
Ba Na Hills:
What takes travelers' breath away is that Danang possesses another Dalat in its arms for another reason of being worth-living. Described as the wonderful land and "the resort capital of the Central of Vietnam" in the early XX century, Ba Na Hills is blessed with cool weather in all 4 seasons.  Currently, French-style works such as villas, hotels, bars, tennis courts, and badminton courts are restored and built. Ba Na Hills is just a little Europe of Vietnam.
Nam O Fish Sauce Village:
Traditions are all that matters for those who expect to live a sustainable life. Danang people have their own values with their own traditional piece: Nam O Fish Sauce Village. The village is truly proud that their product tastes very different from similar products elsewhere in Vietnam thanks to their secret recipe. Travelers come and visit the village just to feel themselves in the tales of life told by the elderly villagers. And possibly, part of the secret recipe can be revealed if the traveler shows his curiosity in a sincere manner.
      Lady Buddha (Linh Ung Pagoda):
The 10th unresectable reason why we call Danang such a worth-living place is Lady Buddha (Linh Ung Pagoda). Located in Bai But beach (Buddha's Sanctuary), looking to the sea while leaning on a vast primitive forest of Son Tra peninsula, Lady Buddha (Linh Ung Pagoda) is rated as the most magnificent work of this kind in Danang, in terms of architectural and artistic value. The highest statue of the bodhisattva Avalokiteśvara (or the Goddess of Mercy) in Southeast Asia is the most prominent part, which is at 67m high.
 Museum of Cham Sculpture
This ancient library preserving all the invaluable cultural pieces of Cham Sculpture. Constructed in 1915 and opened to the public in 1919 with many Cham sculptures collected in the Quang lands (Danang, Quang Nam, Quang Ngai) and elsewhere, the Museum of Cham Sculpture attracts each and every traveler to Danang.
The museum was first proposed in 1902 by the Department of Archaeology of EFEO and it has been renovated twice but the character of the original architecture has been well preserved.
 Local markets visits:
The 12th irresistible reason for Danang to be called a worth-living city is that it's a true paradise of shopping. Shopping is a must-do activity in Danang for travelers who expect to experience it differently. Han market, the most significant landmark of shopping in the city, where travelers can find an array of local produce, handicrafts, T-shirts, and accessories. Con market with 200 stalls is the biggest wholesale shopping venue in the city, where travelers can buy you fresh produce, dried goods, coffee beans, handicrafts and tee shirts, tailor services. Travelers can bargain up to 50% off the retail prices. Tho Quang wholesale seafood market, located at Tho Quang fishing port, is where travelers can find fresh and cheap seafood as well as watching the local bustling trading scenes.
  Han River cruise:
Danang has abundant-in-style offers of city tour by the river to tourists. Such a fantastic way to view Danang down from the Han river. Travelers will find a really modern and beautiful Danang at night. Dining while crossing under Danang's 6 magnificent bridges is one of the most memorable experiences.
With all the obvious clues to be shown above, it is no wonder Danang has been ranked 43rd in the world's 52 top tourist destinations for 2015 by the New York Times (NYT). Obviously, travelers from their point of view can definitely add more reasons of their own to the list of reasons why Danang is called a worth-living city. And yours?