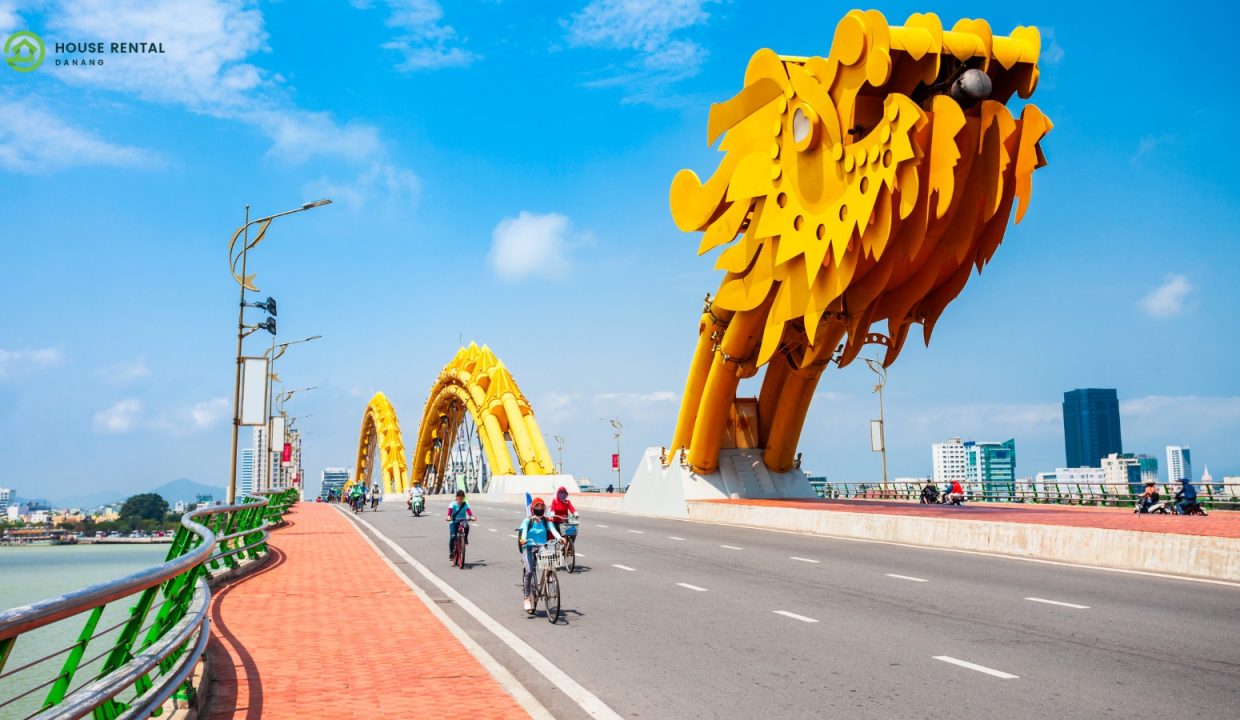 Exploring the Magnificent Dragon Bridge in Da Nang, Vietnam
Welcome to the vibrant city of Da Nang, Vietnam, where the iconic Dragon Bridge gracefully spans across the mighty Han River. This architectural marvel serves as a vital link between the eastern and western banks of the city, providing a convenient transportation route for both locals and tourists. In this blog post, we will delve into the history, design, and unique features of the Dragon Bridge in Da Nang, as well as explore the mesmerizing fire and water performances that captivate visitors. Join us on this virtual journey to uncover the beauty and significance of one of Vietnam's most iconic landmarks.
Introduction
Overview of the Dragon Bridge and its importance in Da Nang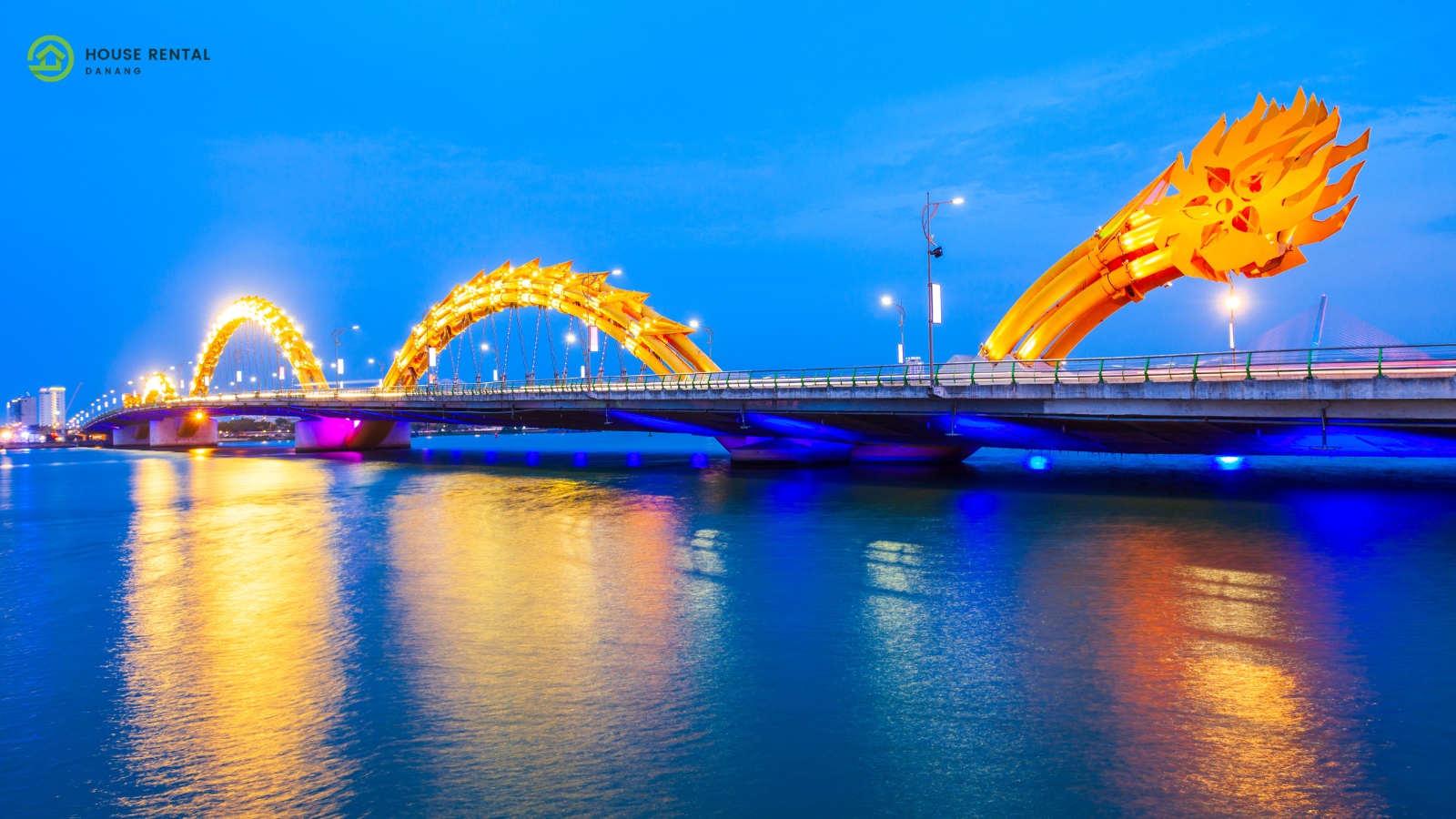 The Dragon Bridge in Da Nang is a stunning bridge that stretches across the Han River, connecting Nguyen Van Linh street on one side and Bach Dang street on the other. With a length of 666 meters and a width of 37.5 meters, it provides an essential road link between the Da Nang International Airport and other main roads in the city. This strategic location makes it easily accessible for travelers seeking to explore the cultural and natural wonders of Da Nang.
Brief history of the construction and opening of the bridge
Construction of the Dragon Bridge began on July 19, 2009, with a groundbreaking ceremony attended by the former Prime Minister of Vietnam, Nguyen Tan Dung, and other high-ranking government officials. The bridge was officially opened to traffic on March 29, 2013, coinciding with the 38th anniversary of the liberation of Da Nang City. This momentous occasion not only marked the completion of a remarkable infrastructure project but also celebrated the resilience and historical significance of Da Nang.
The Impressive Architecture of Dragon Bridge Da Nang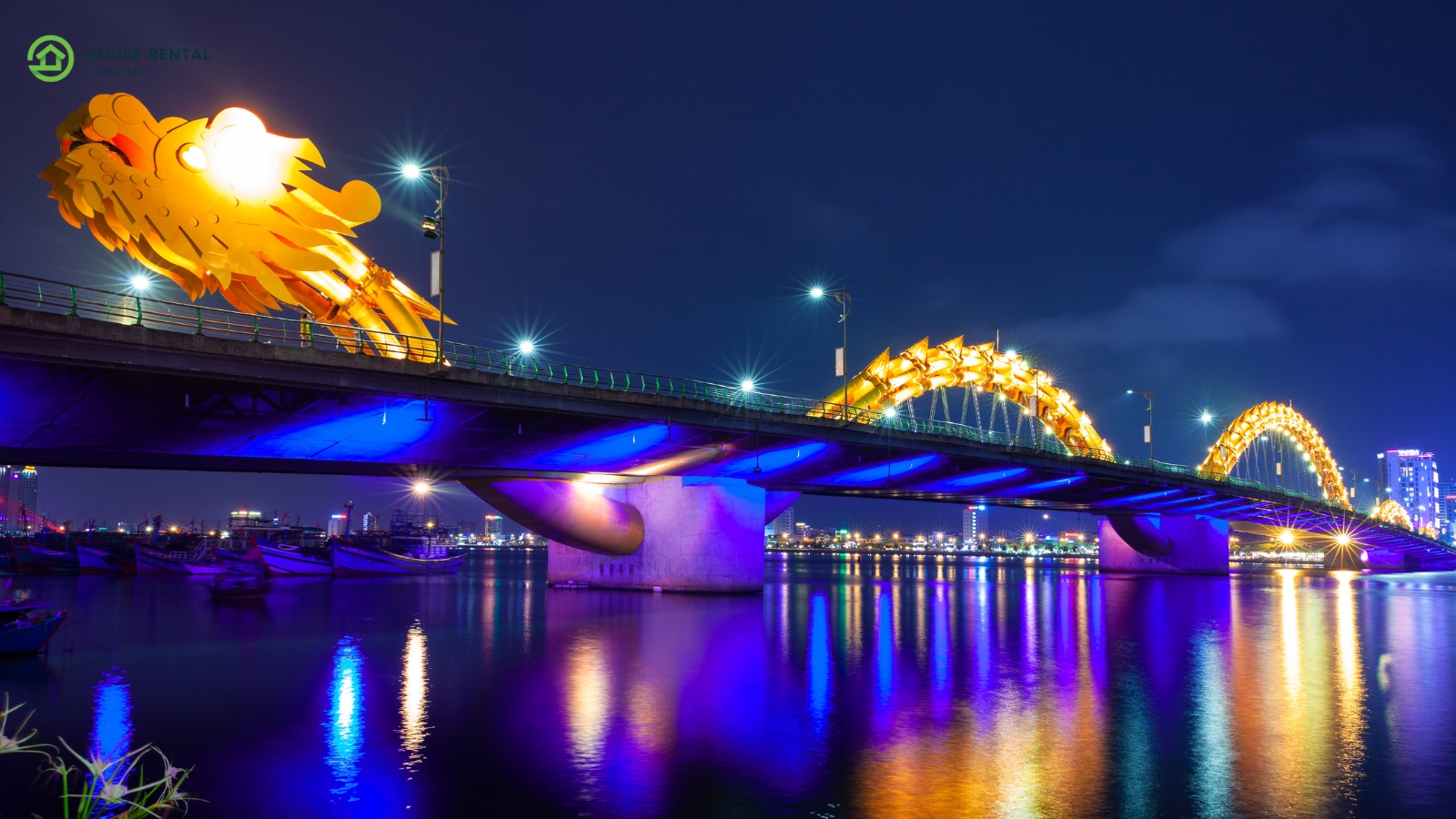 Design competition and selection of the dragon-shaped concept
In October 2007, an architecture design competition was organized by the local government of Da Nang to select the design for the Dragon Bridge. Eight design consulting companies, including both Vietnamese and international firms, submitted their proposals. The winning design came from US-based Ammann & Whitney Consulting Engineers with Louis Berger Group. Their concept featured a flying dragon shape, paying homage to the history and culture of Vietnam.
Construction details and engineering prowess behind the bridge
The construction of Dragon Bridge was a remarkable feat that showcased the engineering prowess of its designers and builders. The bridge's main span, measuring 586 meters in length and weighing 9,000 tons, was completed on October 26, 2012. The bridge is supported by five main spans and features a unique arch support system. This innovative design has gained widespread recognition in the architectural industry.
Unique arch support system and integration of lighting technology
One of the standout features of Dragon Bridge is its unique arch support system. This system combines steel beams, steel arches, and concrete beams to create a distinctive dragon-shaped structure. The bridge is also equipped with a state-of-the-art lighting system consisting of more than 15,000 LED lights. These lights beautifully illuminate the dragon's body, creating a stunning visual spectacle at night.
The Dragon Bridge Da Nang Fire Show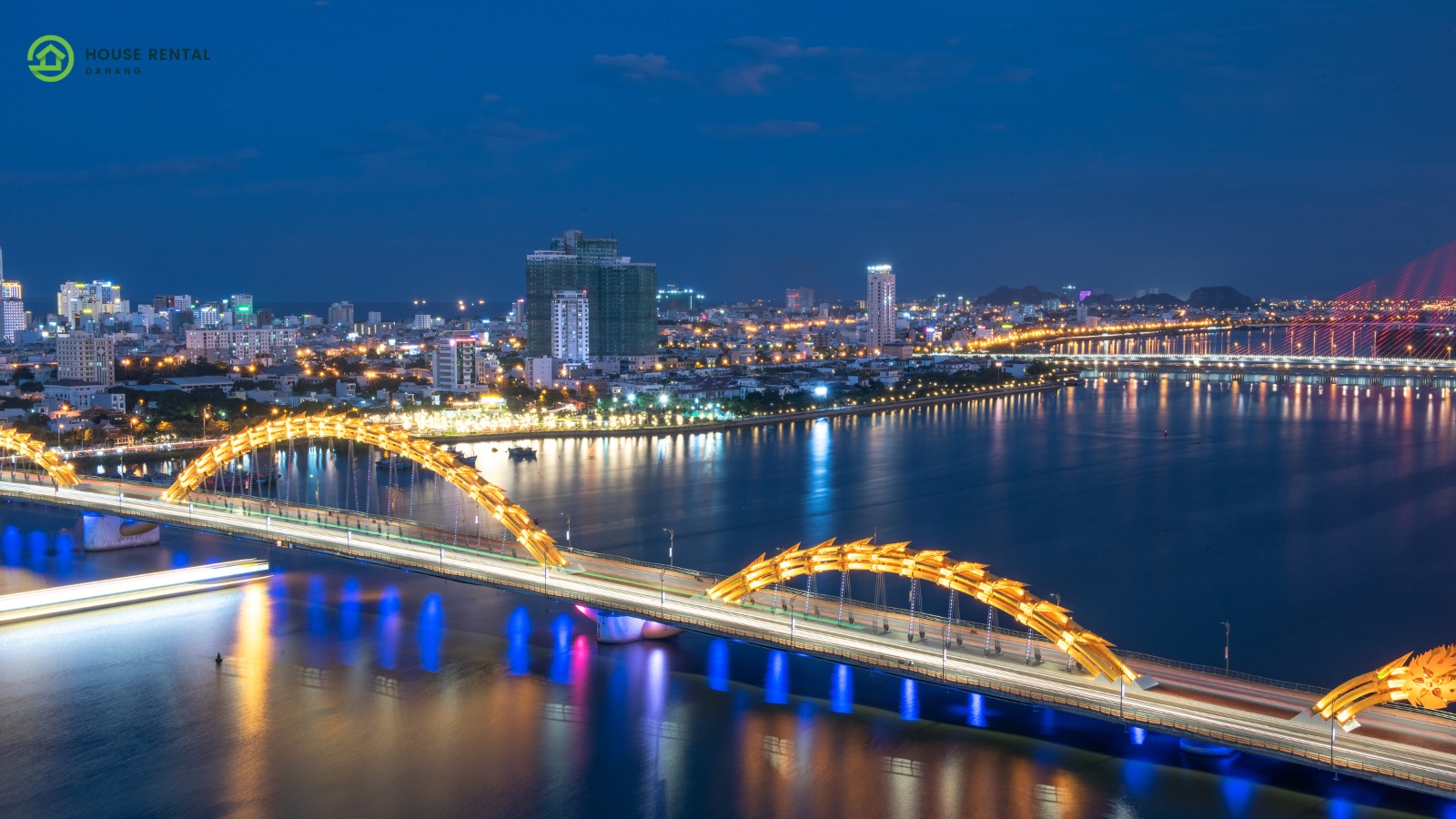 Introduction to the fire and water performances
One of the main attractions of Dragon Bridge is its fire and water performances. These captivating shows take place every Saturday, Sunday, and major holiday at 9 PM. The performances showcase the bridge's ability to breathe fire and water, creating a mesmerizing display that leaves spectators in awe.
Schedule and timing of the shows
To fully enjoy the fire and water performances, it is important to plan your visit accordingly. The shows typically last for about five minutes, with the fire-breathing segment lasting two minutes and the water-spraying segment lasting three minutes. It is recommended to arrive early to secure a good viewing spot, as these shows attract a large crowd.
Description of the fire-breathing and water-spraying sequences
During the fire-breathing segment of the show, the dragon's head comes alive as it breathes fire nine times in two turns. The flames illuminate the night sky, creating a dazzling spectacle. Following this, the water-spraying segment begins, with three turns featuring one instance of water spraying per turn. The synchronized combination of radiant lights, fire-breathing, and water-spraying creates an awe-inspiring experience for spectators.
Best places to enjoy the performances and tips for optimal viewing
There are several vantage points from which visitors can enjoy the fire and water performances. One option is to watch from the bridge itself, where vehicles are temporarily halted during the shows. Another popular spot is Tran Hung Dao Street, which crosses under the Dragon Bridge near its head. Here, there are sidewalk drink stalls where you can enjoy local beverages while taking in the spectacle. Additionally, buildings and rooftop bars near the bridge offer bird's-eye views of the performances. It is recommended to arrive early to secure a good viewing spot.
Danang International Fireworks Festival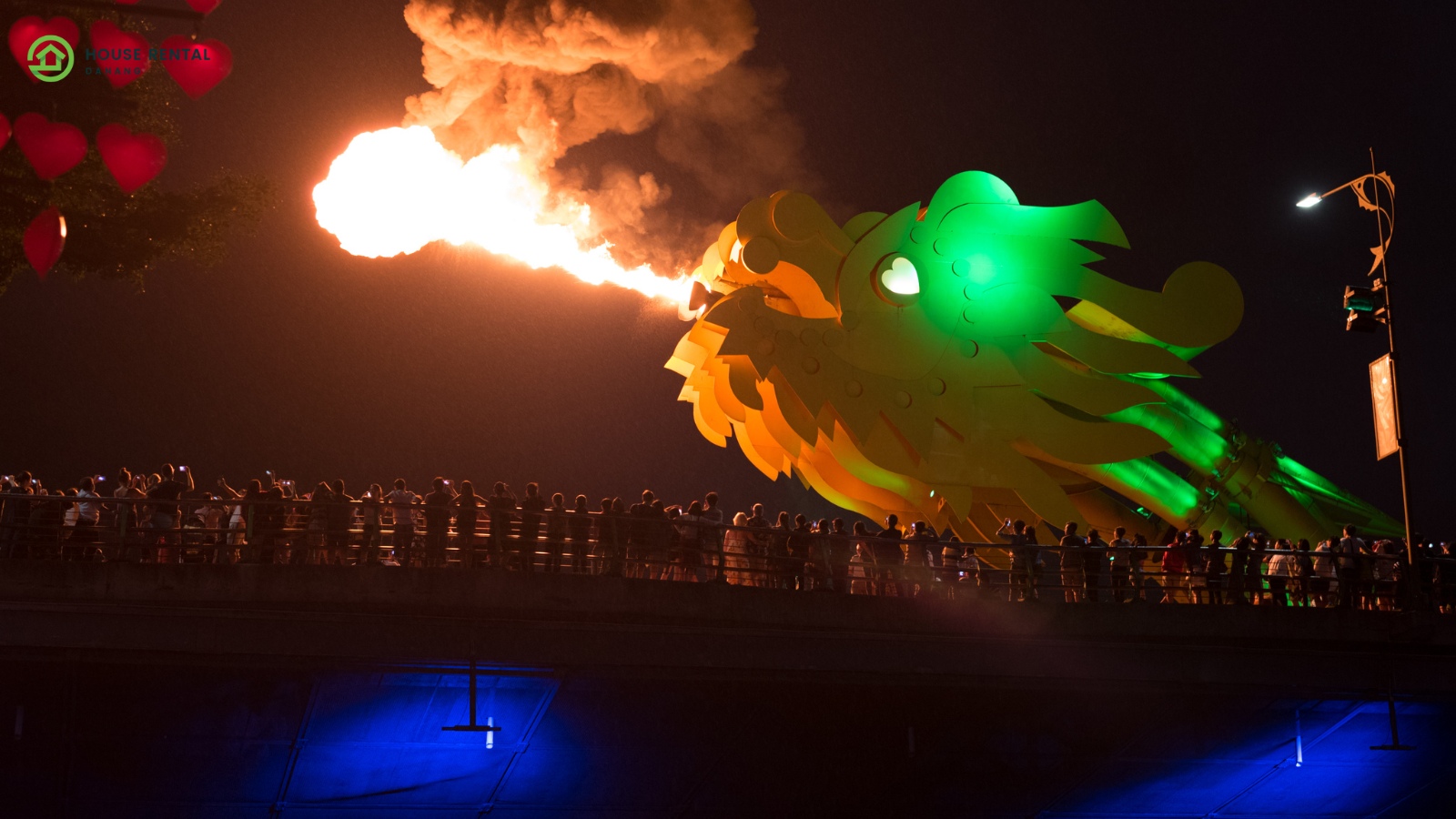 Overview of the annual fireworks festival held in Da Nang
Da Nang is renowned for its annual International Fireworks Festival (DIFF), which takes place during the summer months. This highly anticipated event showcases spectacular fireworks displays by top pyrotechnic teams from around the world.
Participation of international pyrotechnic teams
The DIFF attracts teams from various countries, including England, Italy, Poland, France, Australia, Canada, Finland, and Vietnam. Each team has the opportunity to present their creative interpretations under a specific theme, captivating audiences with their awe-inspiring performances.
Highlights and themes of past festivals
Every year, DIFF introduces new themes that inspire creativity among participating teams. Past themes have ranged from "The Symphony of Colors" to "Love" and "The Legend of Bridges." These themes provide a framework for teams to showcase their artistic talents through mesmerizing fireworks displays.
Dragon Bridge as a prime viewing spot for the fireworks displays
Dragon Bridge offers a prime viewing spot for spectators attending the DIFF fireworks displays. Its strategic location over the Han River provides unobstructed views of the dazzling pyrotechnic performances. Watching the fireworks from Dragon Bridge allows visitors to witness this spectacular event while also admiring the bridge's architectural beauty.
Where to Get the Best View of Dragon Bridge Performances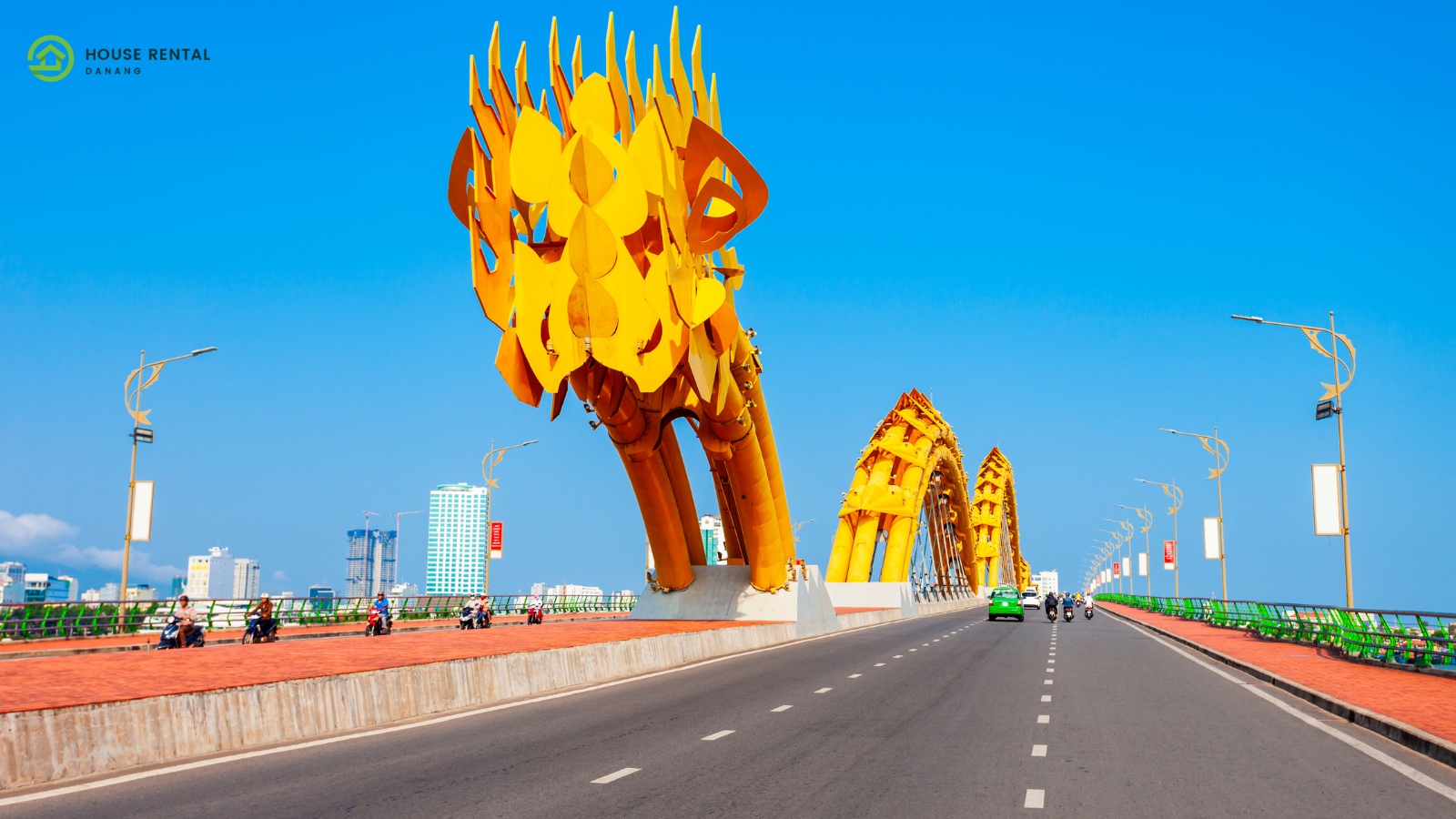 On the bridge itself for an up-close experience
One of the best ways to experience the fire and water performances is to stand directly on Dragon Bridge itself. During the shows, vehicles are temporarily halted from crossing the bridge, allowing pedestrians to enjoy an up-close view of the spectacle. However, it is important to stay away from the dragon's head during the water-spraying segment to avoid getting wet.
Tran Hung Dao Street for a panoramic view from under the bridge
Tran Hung Dao Street runs under Dragon Bridge near its head and offers a panoramic view of the performances from below. Along this street, there are sidewalk drink stalls where you can relax and enjoy local beverages while taking in the mesmerizing display.
Buildings and rooftop bars near the bridge for a bird's-eye perspective
For a bird's-eye view of the fire and water performances, head to buildings or rooftop bars near Dragon Bridge. These elevated vantage points provide optimal views of the spectacle while allowing you to enjoy drinks or refreshments in a comfortable setting.
Other nearby bridges for alternative vantage points
If you prefer a different perspective, consider watching the performances from other nearby bridges such as Han River Bridge or Tran Thi Ly Bridge. These bridges offer alternative vantage points to enjoy both the fire-breathing and water-spraying sequences.
Maps:
Exploring Nighttime Delights near Dragon Bridge
Love Bridge and its romantic ambiance
Adjacent to Dragon Bridge is Love Bridge, a romantic spot adorned with heart-shaped decorations and colorful lights. Couples often visit this bridge to attach love locks symbolizing their eternal bond. As night falls, Love Bridge creates a perfect setting for a romantic stroll along its illuminated path.
Riverside Walk for a serene stroll along the Han River
Take a leisurely stroll along Riverside Walk, located along the banks of the Han River. This peaceful promenade offers a serene escape from the urban bustle while providing breathtaking views of Dragon Bridge and other illuminated landmarks along the riverbank. Enjoying this tranquil walk allows you to immerse yourself in Da Nang's nighttime ambience.
Night markets for shopping and local culinary delights
Experience Da Nang's vibrant nightlife by visiting its bustling night markets. These markets come alive with energy and excitement as vendors sell a variety of goods ranging from clothing and accessories to local delicacies. Explore these markets to soak up the lively atmosphere while indulging in delicious street food.
How to Get to Dragon Bridge Da Nang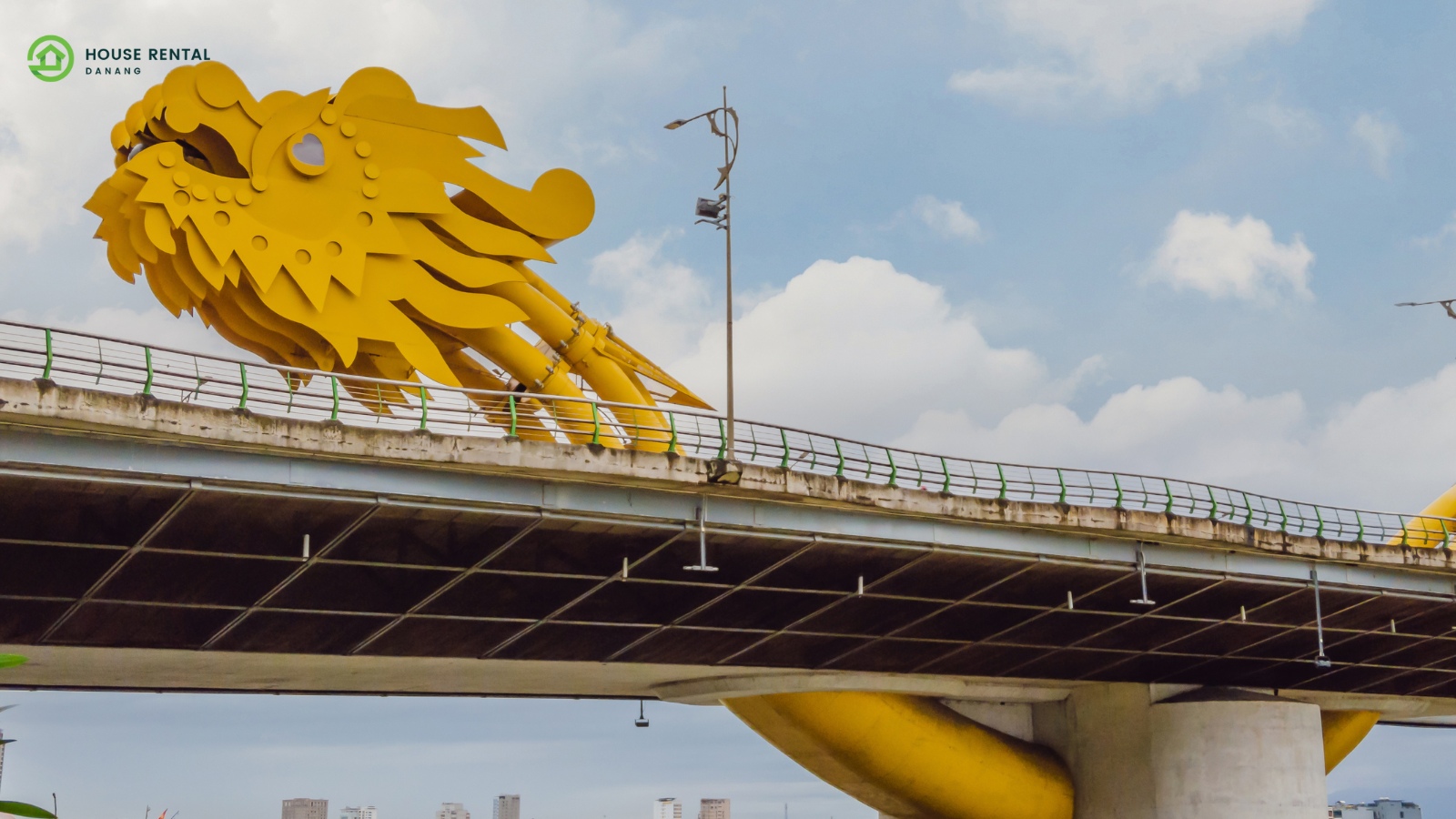 Transportation options from Hoi An and My Khe Beach
If you are traveling from Hoi An to Dragon Bridge, you have several transportation options available. You can take a public bus from Hoi An bus station for an affordable option that takes approximately two hours. Alternatively, you can rent a motorbike or drive your own vehicle using Google Maps for navigation.
From My Khe Beach in Da Nang, reaching Dragon Bridge is straightforward. By following Vo Nguyen Giap Street to Vo Van Kiet Street and crossing over Han River, you will arrive at Dragon Bridge. This route is also convenient for travellers heading to Da Nang city center.
Public buses, private vehicles, and taxi services
Public buses are available for those seeking affordable transportation options to reach Dragon Bridge from various locations in Da Nang or neighboring cities such as Hoi An or Hue. Private vehicles offer more flexibility for travellers who prefer to drive themselves or rent a car or motorbike.
Taxi services are also readily available in Da Nang, with XANH SM Taxi being a recommended eco-friendly option that operates entirely with VinFast electric cars. This taxi service not only provides excellent customer service but also contributes to reducing vehicle emissions and safeguarding the environment.
Book your transportation:
Conclusion
In conclusion, exploring Dragon Bridge in Da Nang is an unforgettable experience that allows visitors to witness both architectural brilliance and mesmerizing performances. From its unique dragon-shaped design to its awe-inspiring fire and water shows, Dragon Bridge captures both history and modernity in one extraordinary landmark. Whether you choose to watch from on or under the bridge or seek alternative vantage points nearby, you are sure to be captivated by this iconic symbol of prosperity in Vietnam. So plan your visit accordingly and immerse yourself in the beauty and significance of Dragon Bridge in Da Nang.
Related Posts: