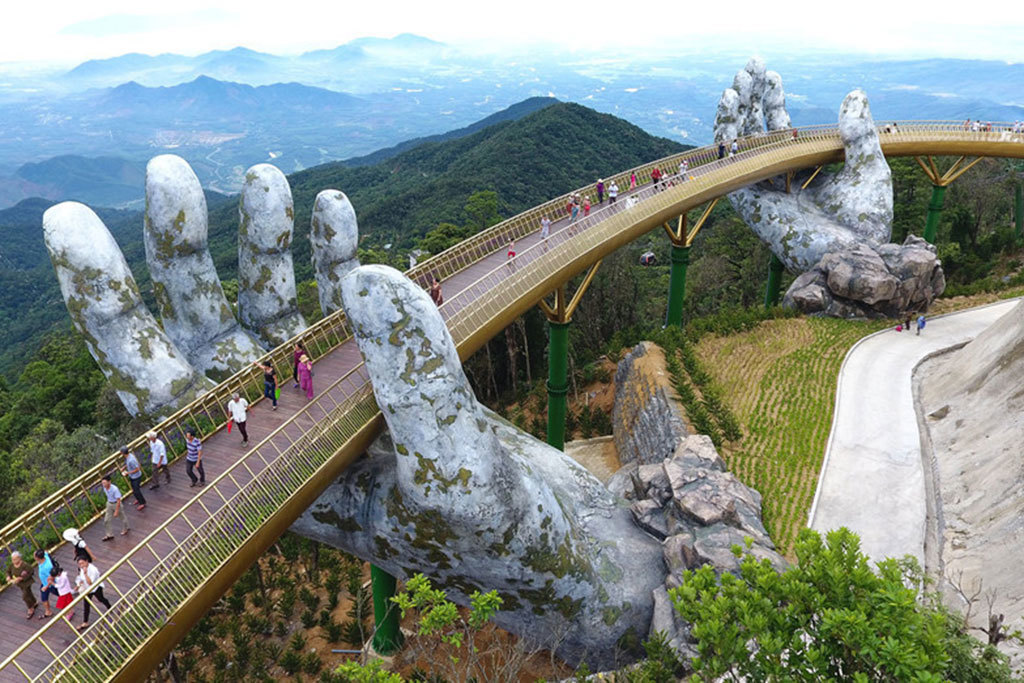 When is the Best Time to Visit Danang? An overview of monthly weather in Danang
Da Nang is known as the most livable city in Vietnam, with its beautiful and mesmerizing beaches and incredibly enticing cuisine. However, have you ever wondered which month is the most beautiful and convenient to visit Da Nang? If you are planning your upcoming trips to this city, let's explore the best time to visit Danang below. 
What factors contribute to Da Nang being a popular choice for travellers?
The unique gastronomy, affordability, friendly locals, as well as a multitude of beautiful hotels and resorts, have contributed to Danang's success. The cuisine of Da Nang absorbs the quintessence of the cuisine of the surrounding regions (My Son region, Hoi An, Hue, etc.), creating wonderful dishes, such as Quang noodle soup, pork-rolled rice cake, pancakes, sandwiches… Moreover, in Da Nang, visitors love to taste the delicious dishes offered by the street food stalls, whose prices range from 1.07 to 4.28 $.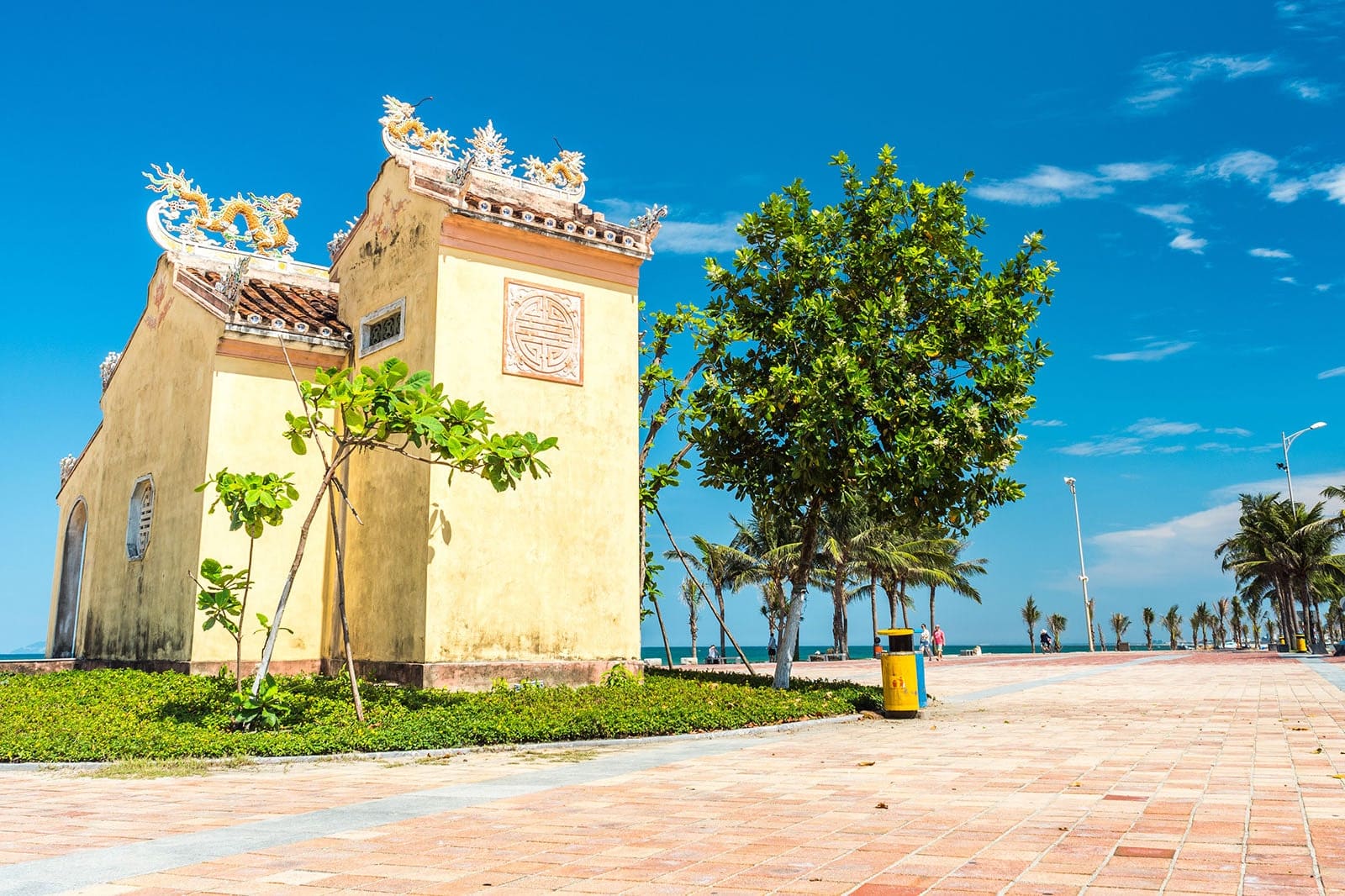 The locals are very friendly and will welcome you with a smile. In 2001, the city established the 5 NO policy to demonstrate that it is one of the safest cities in the world: no to illiteracy, no to starvation, no to begging, no to drugs, no to thefts. What travellers appreciate in Danang is also the cleanliness, there is no, or even little, waste in the city, on the beaches, in the restaurants and in the amusement parks. 
Da Nang City has many beautiful hotels and resorts such as the InterContinental Danang Sun Peninsula Resort, Fusion Maia, Hyatt Regency, etc. In particular, the InterContinental Danang Peninsula Sun was voted as the most luxurious in Asia. 
An overview of Da Nang weather from wet to dry season
Rainy season in Da Nang (September to December)
The rainy season runs from September to December and consists of three different periods. The first phase, stormy-warm, occurs in September when most typhoons make landfall. Average precipitation doubles from August to September (from 117 mm in August to 312 mm in September). This month will be marked by numerous stormy and humid days.
The second period, characterized by storms and cooler temperatures, extends from October to November. The temperature of this city drops to an average of 24 to 25 degrees Celsius in the fall. In October and November, average precipitation shoots up to 650 mm and 432 mm, respectively, making these months the wettest of the year.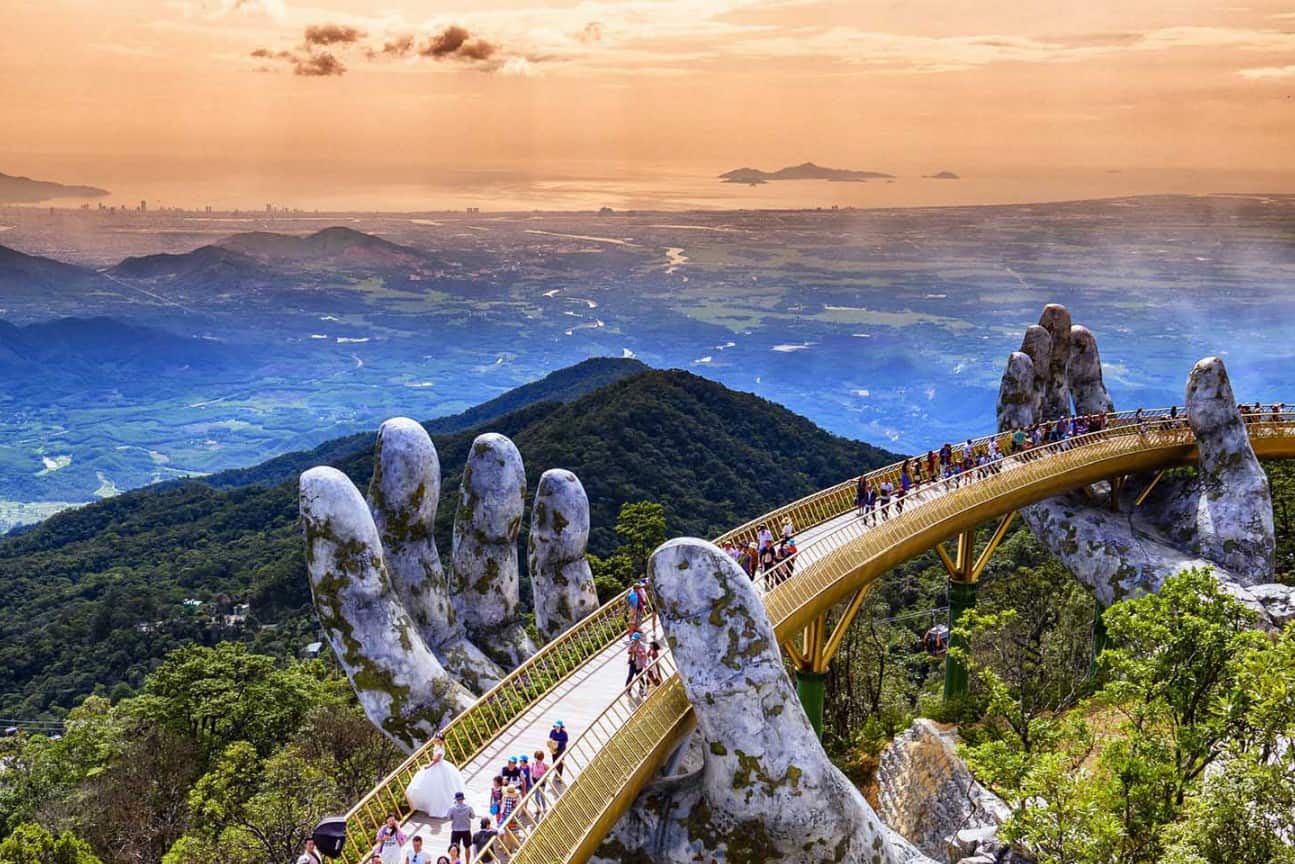 In December, the final, rainy-cool phase closes the year. The average temperature will drop to 22 degrees Celsius, indicating the beginning of winter in Da Nang. It will be somewhat more pleasant, with less precipitation and strong winter winds.
It is advisable to avoid these months if you wish to engage in beach activities, as they may be limited due to the rainy season. If you don't mind driving from one place to another in the rain, Danang's various indoor activities are also attractive. In this season, jackets and raincoats are recommended for travel.
Dry season in Da Nang (January To August)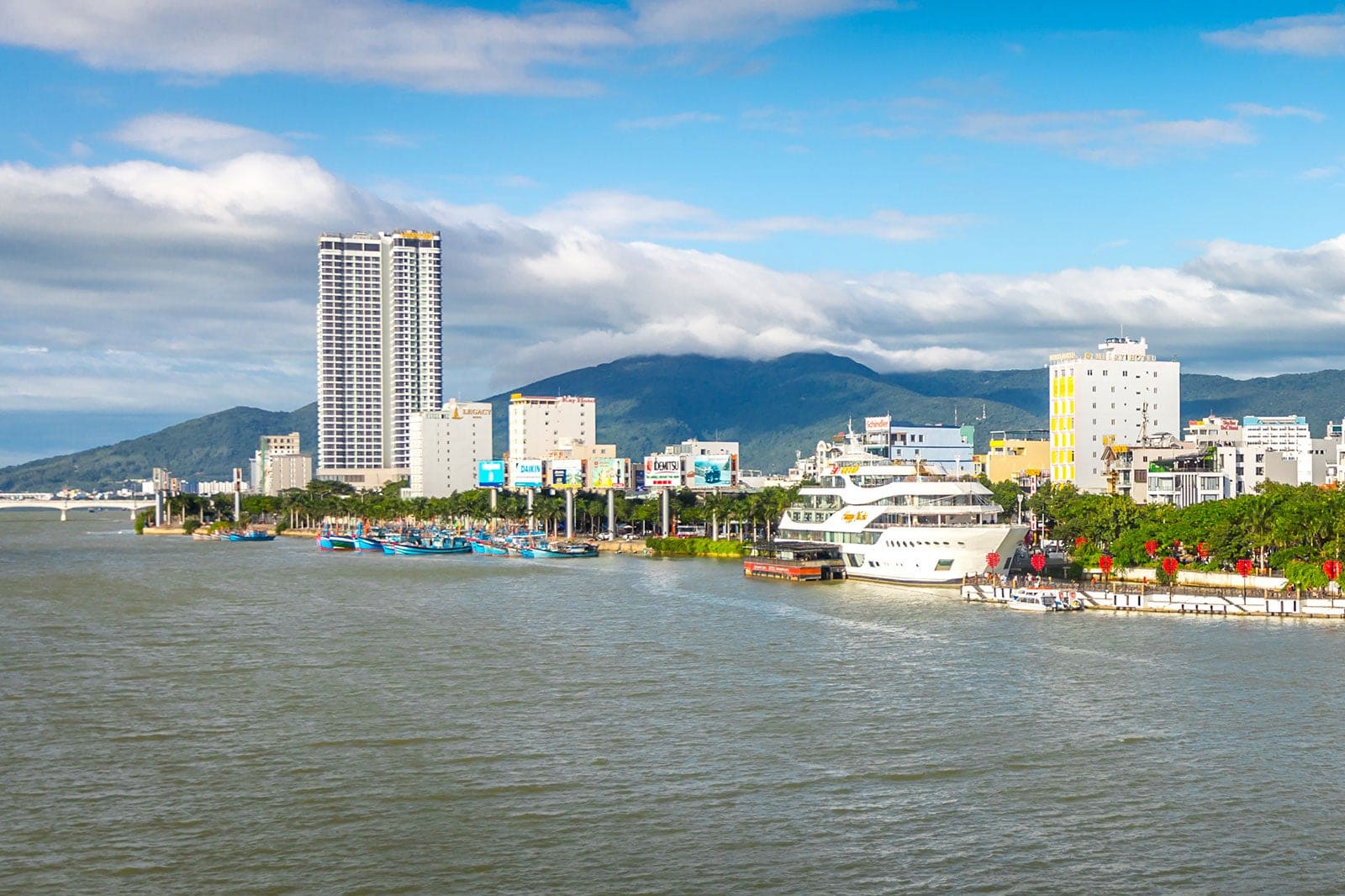 The dry season begins in January and lasts until August. The dry season is divided into four periods, each with small variations in weather conditions.
The dry-cold period starts in January and extends into February. The minimum temperature will be around 20 degrees Celsius, with an average temperature of approximately 21 degrees Celsius. In February, the weather transitions to the dry and cool phase, characterized by a gradual temperature increase, light oceanic breezes, and decreased rainfall. These two months offer a pleasant climate that is neither excessively cold nor overly warm. In these conditions, outdoor activities reign; you can enjoy sunbathing and walking without worrying about precipitation.
The third phase, dry-warm, lasts from March to May. In this period, the temperature can reach a maximum of 33 degrees Celsius. That is the beginning of summer in Danang, although it is summer all year round. March and April, the two driest months of the year, have extremely low average precipitation, which gradually increases in May. The scorching sun begins to make your walk around the city or hiking difficult.
The final, dry-hot phase takes place between June and August. They are the hottest months of the year, with temperatures reaching 40 degrees Celsius. You'll start feeling the typical warmth of central Vietnam, along with extended periods of sunlight. Protect yourself from direct sunlight by wearing a hat, sunglasses and sunscreen, and stay hydrated. Wear shorts, tank tops, and short-sleeved shirts, but also bring a light jacket for long trips on sleeper buses.
Da Nang in Off-Season (December to January)
There must be a good reason why this time of year is known as the low season. As a result of the frequent rains and storms, very few tourists visit this magnificent city. Da Nang weather will improve in December and January, making it a reasonable option for people looking for a cheap vacation.
Da Nang in Shoulder Season from February to May
The decrease in tourist numbers during this season creates a perfect opportunity for visitors to travel to Da Nang. The climate is comfortable and dry, and the tropical sun will be less irritating than in summer. Typically, the Lunar New Year occurs during this time.
Da Nang in peak season from June to August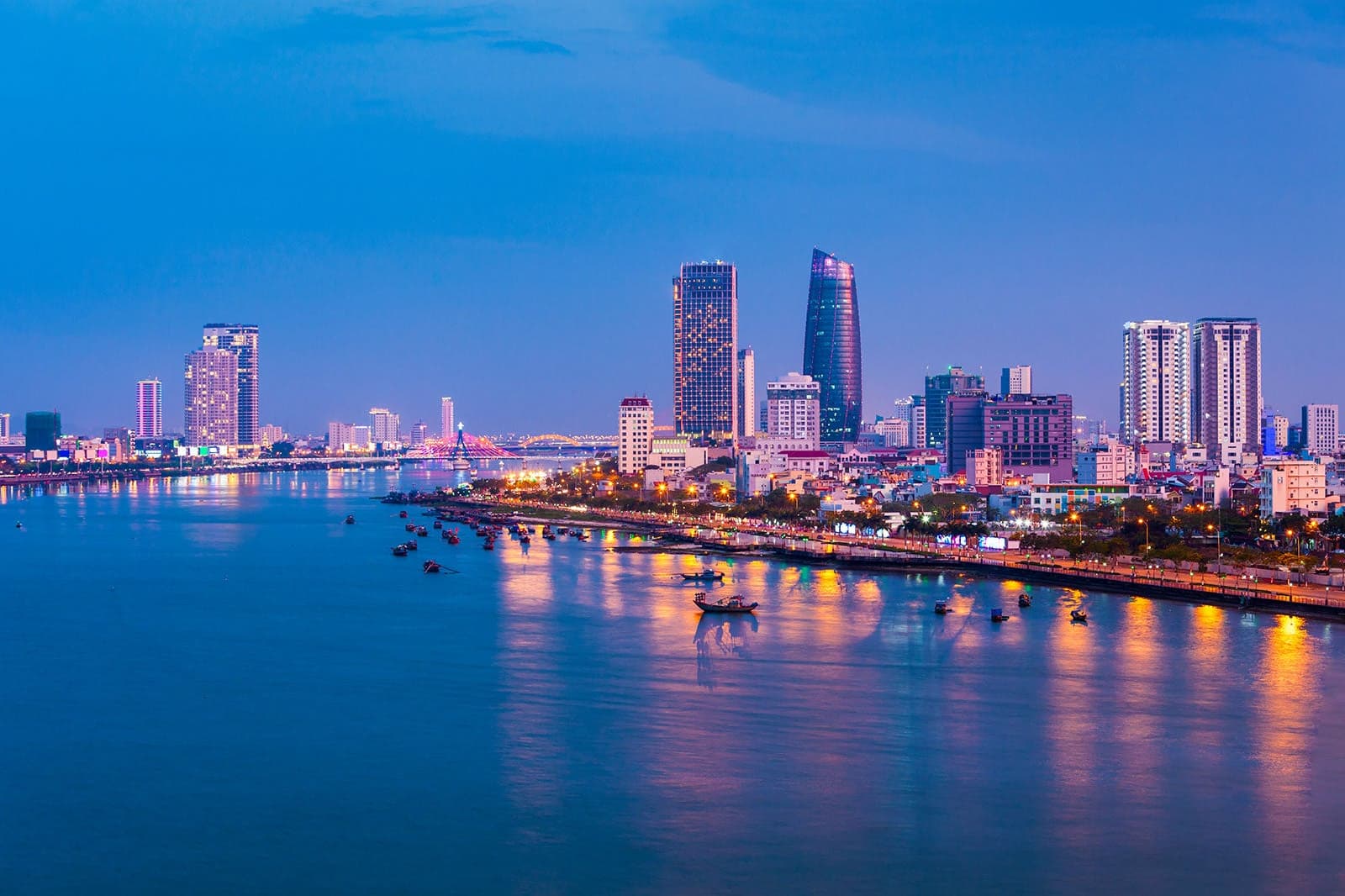 The summer season in Da Nang means that a large number of local families will embark on their annual summer vacation. During the peak season, numerous celebrations will take place, including the famous annual fireworks display. All accommodations and services will be expensive and crowded during peak season. If you are travelling on a budget, you should avoid these months.
Which seasons in Da Nang should avoid visiting?
1. Monsoon season in Da Nang
Tourists should avoid visiting Da Nang for tourism in September, October, and November. During these months, Da Nang experiences heavy rainfall, which makes it inconvenient for sightseeing and getting around to different tourist attractions. Moreover, the roads can become slippery and dangerous when it rains heavily. Additionally, swimming and hiking activities are not feasible during this rainy season. It would be unfortunate to miss out on sightseeing, beach activities, and mountain climbing while in Da Nang. Therefore, it is recommended for tourists to plan their visit to Da Nang during other months. It's worth noting that the quality of services provided to tourists may also be affected during rainy weather.
2. Tet holiday
When travelling during the Lunar New Year holiday, you may encounter situations that are not very convenient, especially if the tourist attractions you visit are overcrowded, requiring you to queue up for experiences. This can take up a considerable portion of your time.
Not only transportation tickets such as trains and planes, but also entrance fees to tourist attractions, experience a sharp increase in prices. If you choose to travel during the Lunar New Year holiday, you will need to compromise on costs to have a satisfactory trip. Due to the increased demand for food during the Lunar New Year holiday, the prices of food at various places also increased to meet the demand and make profits.
Best time to visit Danang
Clearly, the ideal time to travel Da Nang is from March to May, when the weather is not too hot or too humid. It's warm and sunny enough for water activities, but still pleasant enough for relaxing and sightseeing. From November to February there is the winter season which lowers the temperature to around 10 – 18 Celcius. For this reason, remember to bring light sweaters with you when you go out in the evening.
 In summer, from June to August, Danang becomes a popular retreat for domestic tourists, so Danang's beaches and other famous attractions are very crowded. If you are looking for a quiet beach and a quiet atmosphere, this is not the right time, except for those who like to enjoy the sun and participate in beach games.
The rainy season doesn't seem like a good time to explore Danang for swimming and sunshine, but this coastal city still has a lot to offer, such as friendly and hospitable local people, varied cuisine, natural landscapes, resorts luxury… Choose the right time to go to Danang and plan your trip to Vietnam!
The most cost-effective time for your trip to Da Nang
In contrast to the peak tourist season when crowded places, long waiting times for check-ins, and expensive services are common, some travellers choose to visit Da Nang from September to May of the following year. During these months, although Da Nang may experience some rainfall, it is not prolonged, and there are still beautiful sunny days. For those who have a romantic soul and enjoy the slightly chilly weather, October to December is a favourable period. However, it's worth noting that November and December may have storms, so it's important to consider and closely monitor the weather conditions before your trip.
Small tips for the Da Nang trip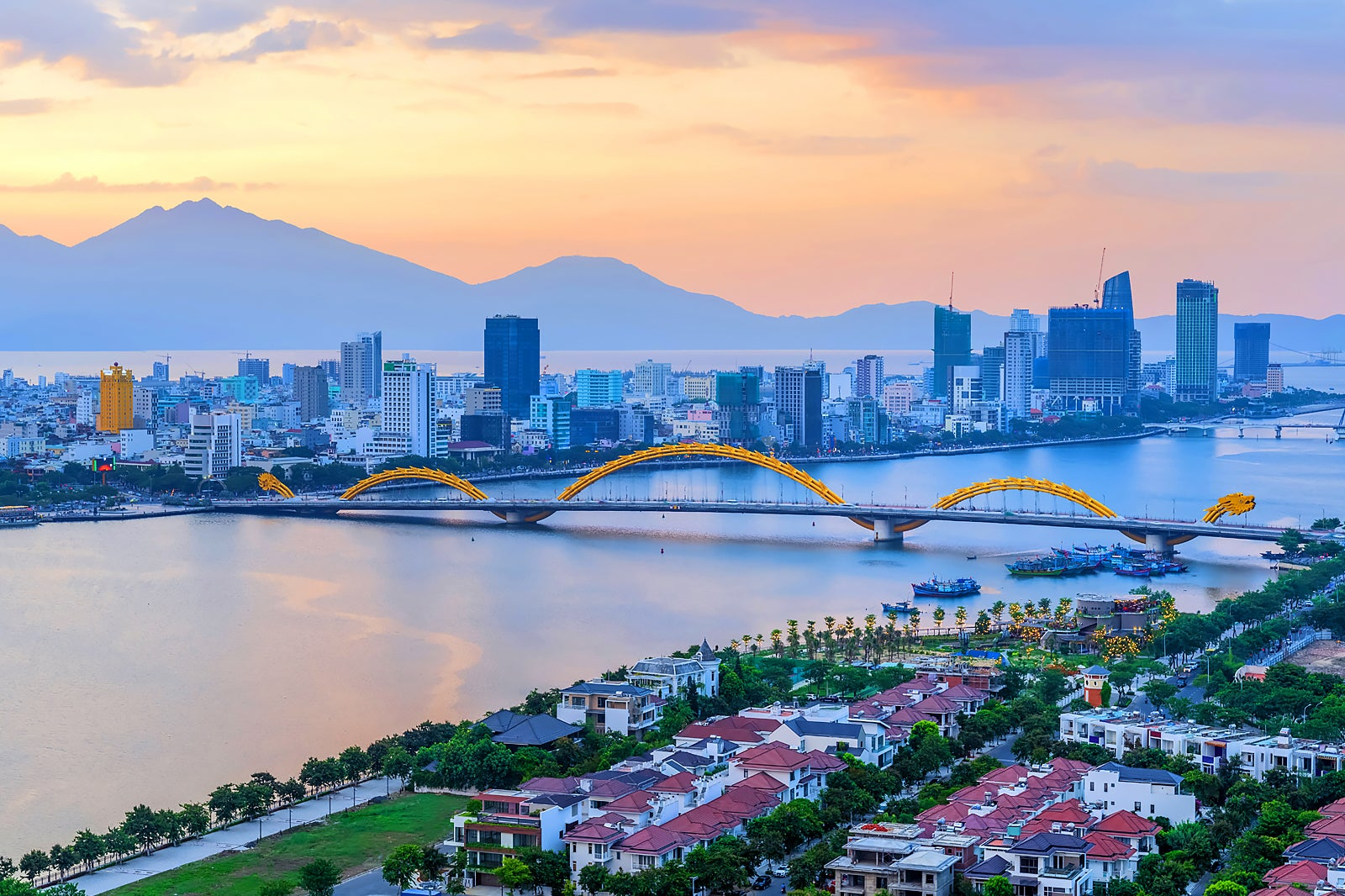 1. Remember to check the weather forecast
This is important regardless of whether you visit Da Nang during the rainy or dry season. Make sure you stay informed about the weather conditions, whether it's sunny or rainy. To ensure a smooth exploration, remember to pack comfortable and simple clothes.
2. Sunscreen, hats, caps, and umbrellas to protect from rain or sun
For the ladies, remember to pack sunscreen in your luggage. And of course, essential items such as hats, caps, and umbrellas to protect yourself from rain. This will make it easier for travellers to explore without being hindered by the weather.
FAQs for Best Time to Visit Danang
1. What are the times to steer clear of visiting Da Nang?
It is recommended to avoid visiting Da Nang during its rainy season, which typically occurs from September to December. This period may experience heavy rainfall and potential disruptions to outdoor activities.
2. What is the ideal duration for a visit to Da Nang?
The ideal duration for a visit to Da Nang can vary depending on personal preferences and the activities planned. However, a typical stay of 3 to 5 days is often suggested to fully explore the city's attractions and enjoy its beautiful beaches.
3. Is it advisable to spend more time with Hoi An or Da Nang?
Both Hoi An and Da Nang offer unique experiences, so the decision of how to divide your time between them ultimately depends on your interests. Hoi An is known for its charming ancient town and lantern-lit streets, while Da Nang is famous for its modern attractions, stunning beaches, and vibrant nightlife. Consider your preferences and contribute your time accordingly, or even consider visiting both cities if you have enough time available.
4. Which month experiences the lowest temperatures in Da Nang?
The month that experiences the lowest temperatures in Da Nang is typically January. During this time, the temperature can drop to its lowest point, offering a cool and refreshing atmosphere.
5. During which months is Da Nang at its finest?
Da Nang is at its finest during the months of April to August. These months are characterized by warm weather, clear skies, and vibrant nature. It is an ideal time to explore the city's attractions, enjoy the beaches, and partake in outdoor activities.
6. When does Da Nang experience its peak tourist season?
Da Nang experiences its peak tourist season during the months of June to August. This period coincides with the summer vacation for many travelers, resulting in increased tourist arrivals. The city sees a bustling atmosphere, vibrant nightlife, and a wide range of events and festivals during this time.
7. Is a 48-hour stay sufficient for visiting Da Nang?
A 48-hour stay in Da Nang can give you a taste of the city's highlights, but it might feel a bit rushed if you want to explore the city in depth. You can visit popular attractions like the Marble Mountains, Dragon Bridge, and My Khe Beach, but keep in mind that Da Nang has much more to offer. If you have the opportunity, extending your stay would allow you to fully experience the city's charm and explore its hidden gems.
8. Can one safely explore Da Nang during nighttime?
Da Nang is generally considered safe for exploration during nighttime. The city has well-lit streets, and popular areas like Bach Dang Street and Han River Bridge are lively and bustling after dark. However, as with any destination, it's always important to exercise caution, be aware of your surroundings, and take necessary precautions to ensure your safety.
9. Is November a favourable period to visit Da Nang?
November can be a favorable period to visit Da Nang. The weather during this month is typically mild and pleasant, with temperatures ranging from around 22 to 28 degrees Celsius (72 to 82 degrees Fahrenheit). It's a great time to enjoy outdoor activities, visit attractions, and explore the city without the peak tourist crowds.
10. Does Da Nang experience chilly temperatures in October?
In October, Da Nang experiences mild temperatures rather than chilly ones. The average temperature ranges from around 23 to 29 degrees Celsius (73 to 84 degrees Fahrenheit), making it a comfortable time to visit. You can still enjoy the beaches, go sightseeing, and indulge in local cuisine without worrying too much about cold weather.
In conclusion, Da Nang offers its own unique charm at any time of the year. Whether you visit Da Nang during these months – the shoulder season or the peak season, there is something special to discover. It is advisable to plan your trip ahead of time to fully enjoy the city's offerings. We hope that this article has provided useful insights and will help you have a wonderful trip to Da Nang this year!