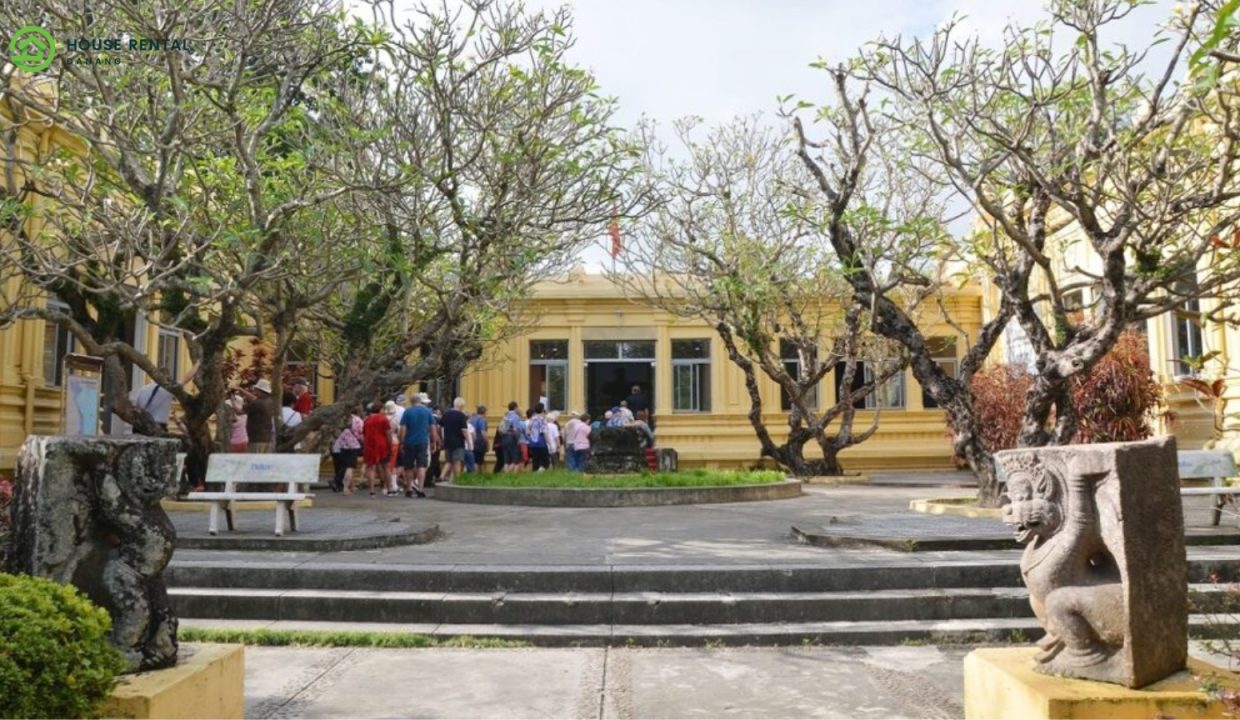 Exploring the Rich Heritage of the Museum of Cham Sculpture in Da Nang, Vietnam
The Museum of Cham Sculpture in Da Nang, Vietnam, is a treasure trove of ancient artifacts and sculptures that offer a glimpse into the rich cultural heritage of the Cham civilization. As the largest collection of Cham sculptures in the world, this museum is a must-visit for history enthusiasts and anyone interested in exploring the diverse cultural tapestry of Vietnam. In this blog post, we will delve into the fascinating history, architecture, exhibitions, and must-see treasures of the Museum of Cham Sculpture.
Introduction
Located in the heart of Da Nang, Vietnam, the Museum of Cham Sculpture is renowned for its impressive collection of Cham sculptures and artefacts. The museum serves as a testament to the artistic prowess and cultural significance of the Cham civilization, which thrived in central and southern Vietnam from the 2nd to the 14th century. With its extensive collection and historical significance, the Museum of Cham Sculpture offers visitors an immersive experience into the world of the Cham people.
History of the Museum of Cham Sculpture in Da Nang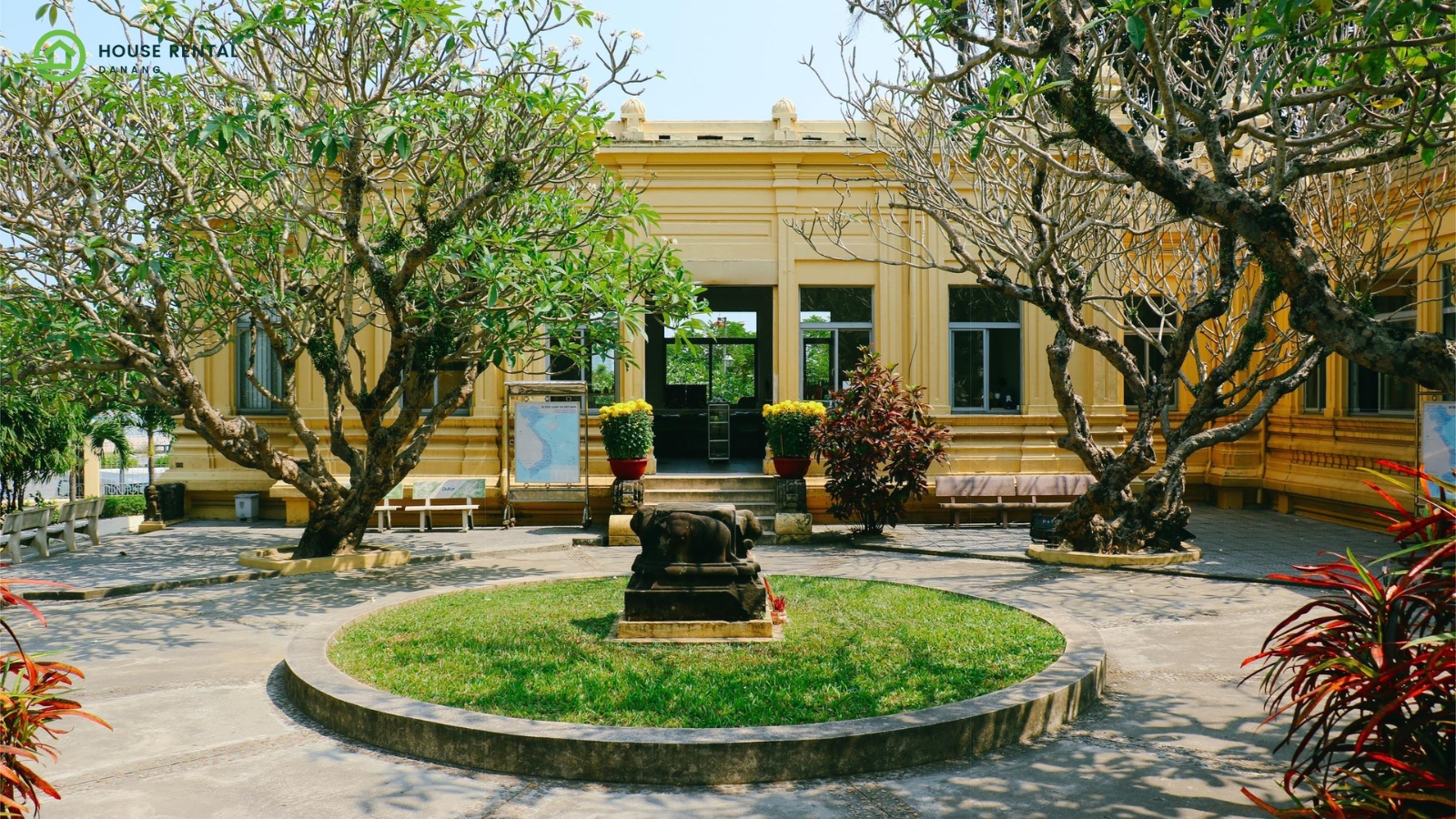 The Museum of Cham Sculpture was officially established in 1919. However, its roots can be traced back to the early 20th century when French archaeologists began excavating and collecting Cham sculptures in central Vietnam. Recognizing the need for a dedicated institution to preserve and showcase these artifacts, the museum was created to house and protect these invaluable pieces of history.
Over the years, the museum has undergone expansions and renovations to accommodate the growing collection. The original building, designed by French architects M. Deleval and M. Auclair, incorporated traditional Cham elements into its architecture, creating a unique and visually striking space. Subsequent expansions in the mid-1930s and in 2002 have provided additional exhibition space and modern facilities for visitors.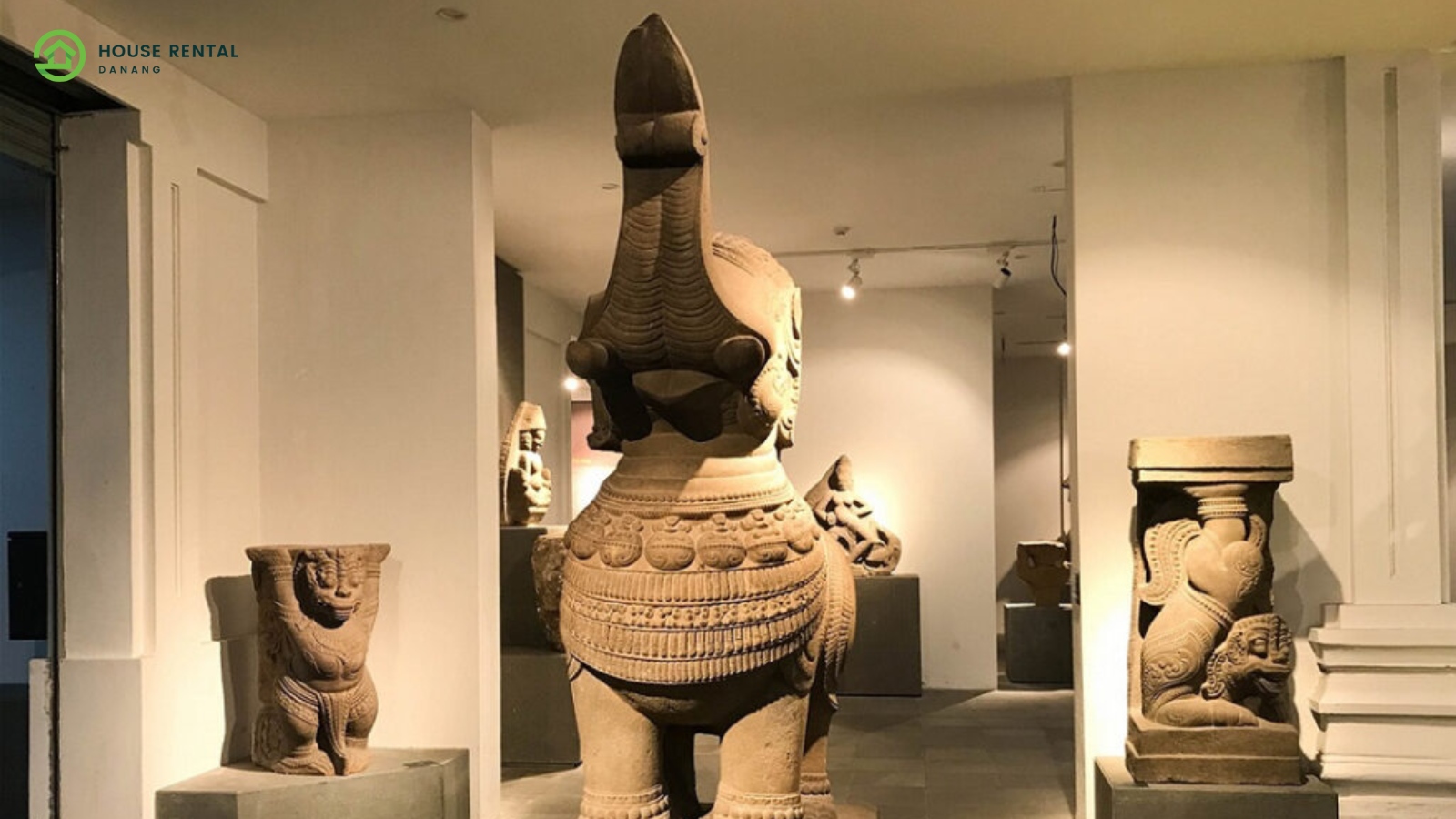 Architecture of the Museum
The Museum of Cham Sculpture stands as a testament to the architectural ingenuity of both the Cham civilization and the French architects who designed the building. The U-shaped hall, inspired by traditional Cham architecture, is a distinctive feature of the museum. The hall overlooks the Han River and provides a captivating backdrop for the beautiful sculptures on display.
The recent two-story building, added in 2002, complements the original structure and offers additional space for exhibitions, storage, a library, a restoration workshop, and staff offices. Efforts have been made to preserve and maintain the original character of the museum while incorporating modern amenities for visitors.
Exhibitions at the Museum
The Museum of Cham Sculpture showcases a wide range of sculptures and artefacts from various regions and styles of Cham art. Each exhibition offers a unique perspective on the history and culture of the Cham civilization.
One of the highlights is the Tra Kieu Gallery, which features sculptures from Tra Kieu, an important historical site in central Vietnam. The My Son Sanctuary Gallery showcases artifacts from one of Southeast Asia's most significant archaeological sites. The Dong Duong Gallery displays sculptures from the Dong Duong relic site, known for its intricate carvings and architectural details.
Other exhibitions include the Thap Mam Gallery, which houses sculptures from Thap Mam Temple, and galleries dedicated to Quang Tri, Quang Binh, Hue, Da Nang, Quang Nam, Quang Ngai, Binh Dinh, and Kon Tum. Each exhibition offers a unique insight into different aspects of Cham art and culture.
National Treasures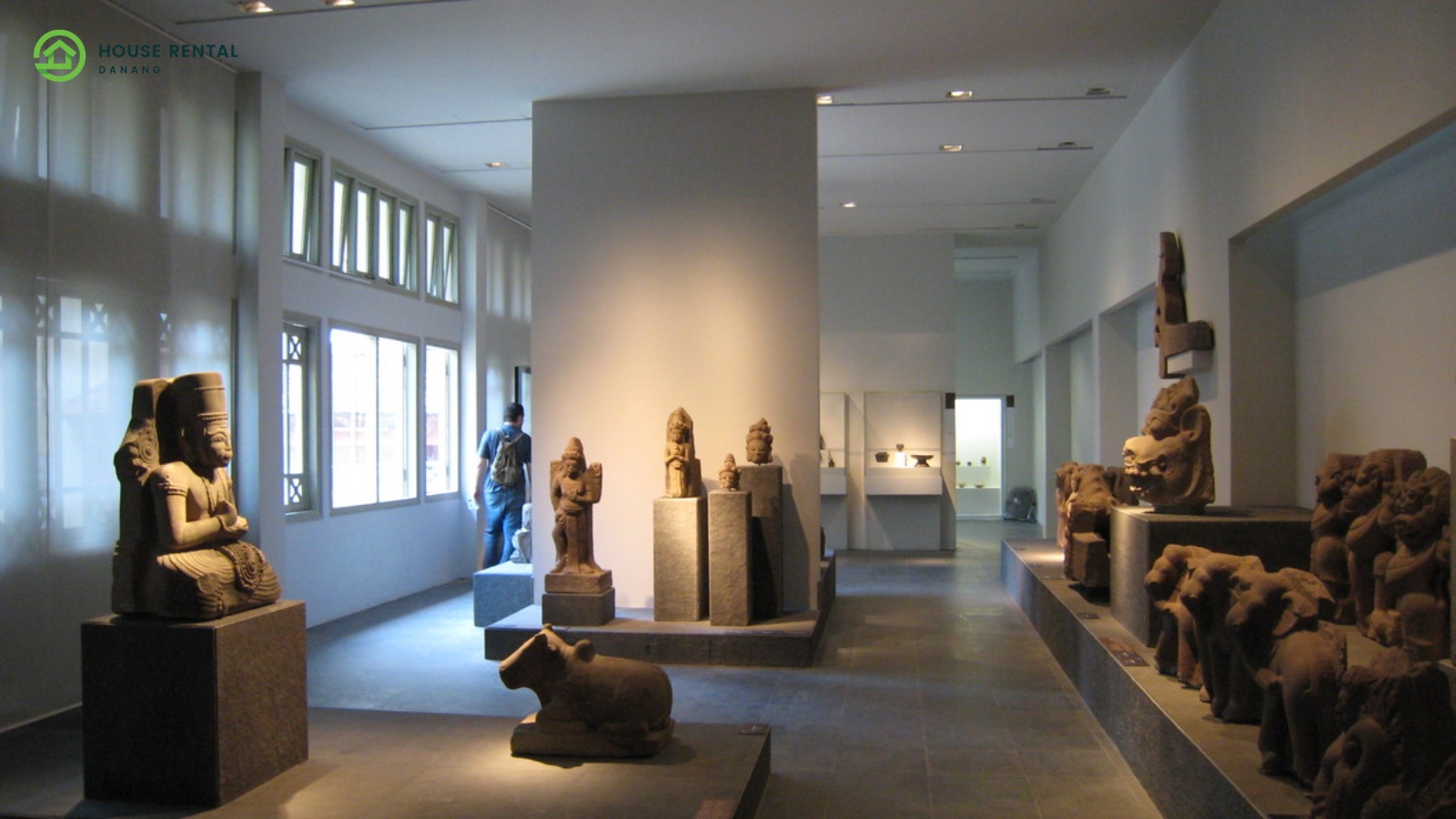 The Museum of Cham Sculpture is home to several national treasures that highlight the craftsmanship and artistry of the Champa civilization. These treasures offer invaluable insights into the religious beliefs, customs, and daily life of the Cham people.
One such treasure is the Tra Kieu Pedestal, which depicts intricate carvings of Hindu gods and mythical creatures. This pedestal is considered one of the finest examples of Cham sculpture in existence. Another notable treasure is the My Son E1 Pedestal, which showcases exquisite carvings that depict scenes from Hindu mythology.
The Dong Duong Pedestal is another significant artifact in the museum's collection. It features intricate carvings of gods and goddesses that reflect the religious beliefs and cultural practices of the Cham people. The Statue of Bodhisattva Laskminda-Lokeshvara, also known as Tara Statue, is a masterpiece that exemplifies the skill and artistry of Champa sculptors.
Visitor Information
When planning a visit to the Museum of Cham Sculpture, it's essential to consider practical details such as opening hours, entrance fees, and visitor regulations. The museum is open from 7:30 am to 5:00 pm daily (except for Mondays). The entrance fee is 60,000 VND for adults and teenagers above 16 years old.
Visitors are advised to follow certain regulations during their visit to ensure the preservation and protection of the artifacts. It is recommended not to touch any sculptures or artifacts on display. Photography is allowed but without flash. Lockers are available for visitors to store large luggage or hand luggage weighing more than 3 kilograms.
Guided tours are available at the museum, providing visitors with in-depth knowledge and insights into the exhibits. Audio guides are also available for those who prefer to explore at their own pace.
How to Get to the Museum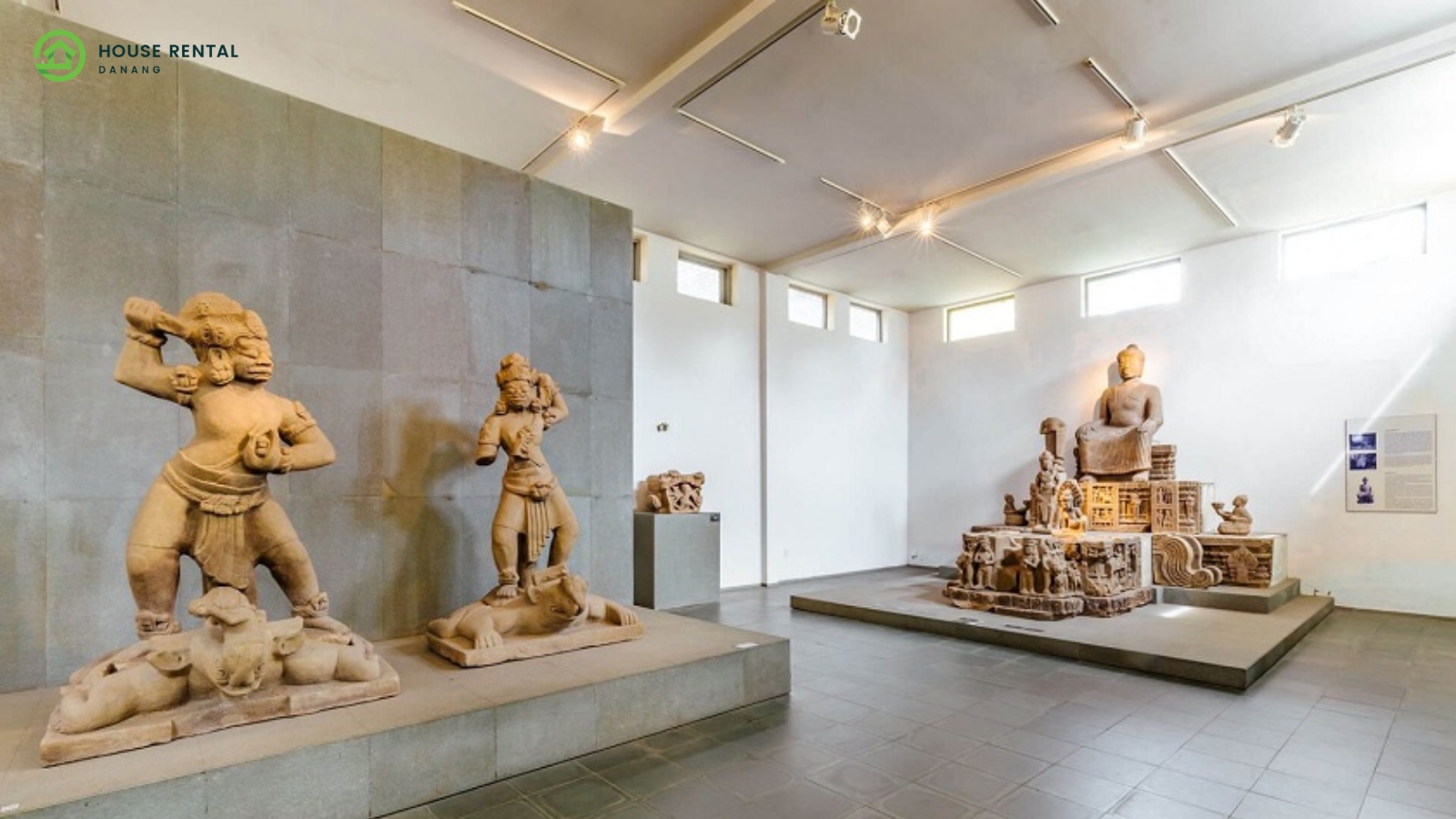 The Museum of Cham Sculpture is conveniently located in central Da Nang, making it easily accessible for visitors. From Da Nang airport, it is approximately 4 kilometers away, and taxis are readily available for transportation. For those arriving by train at Da Nang railway station, it is about 6 kilometers to the museum.
Visitors staying in Hoi An can reach the museum by taking a taxi or bus from Hoi An to Da Nang. The distance between Hoi An and Da Nang is about 30 kilometers. Public transportation options are also available for those looking for more economical travel options.
Parking facilities are available near the museum for those traveling by private vehicle.
Things to See and Do Near the Museum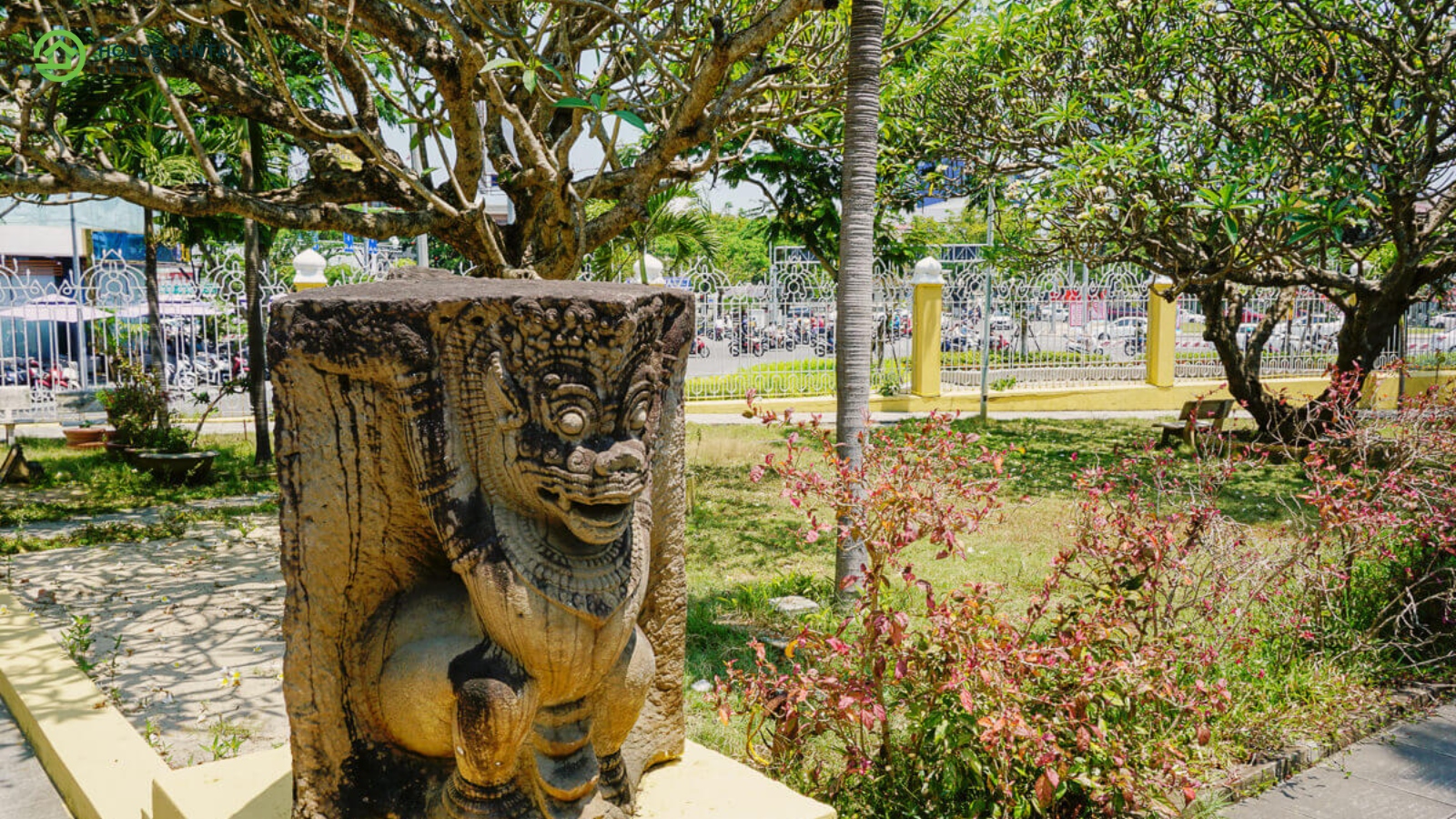 After exploring the Museum of Cham Sculpture, visitors can continue their cultural journey by visiting nearby attractions in Da Nang. Dragon Bridge is a popular landmark known for its impressive design and nightly fire-breathing performances. Da Nang Night Market offers an opportunity to experience local cuisine and shop for souvenirs.
An Long Pagoda is another attraction worth visiting near the museum. This beautiful Buddhist temple provides a tranquil escape from the bustling city streets. For art enthusiasts, Da Nang Fresco Village showcases vibrant murals created by local artists.
Additionally, Bach Dang Riverfront offers scenic views and a relaxing atmosphere for a leisurely stroll along the riverbank.
Where to Eat Near the Museum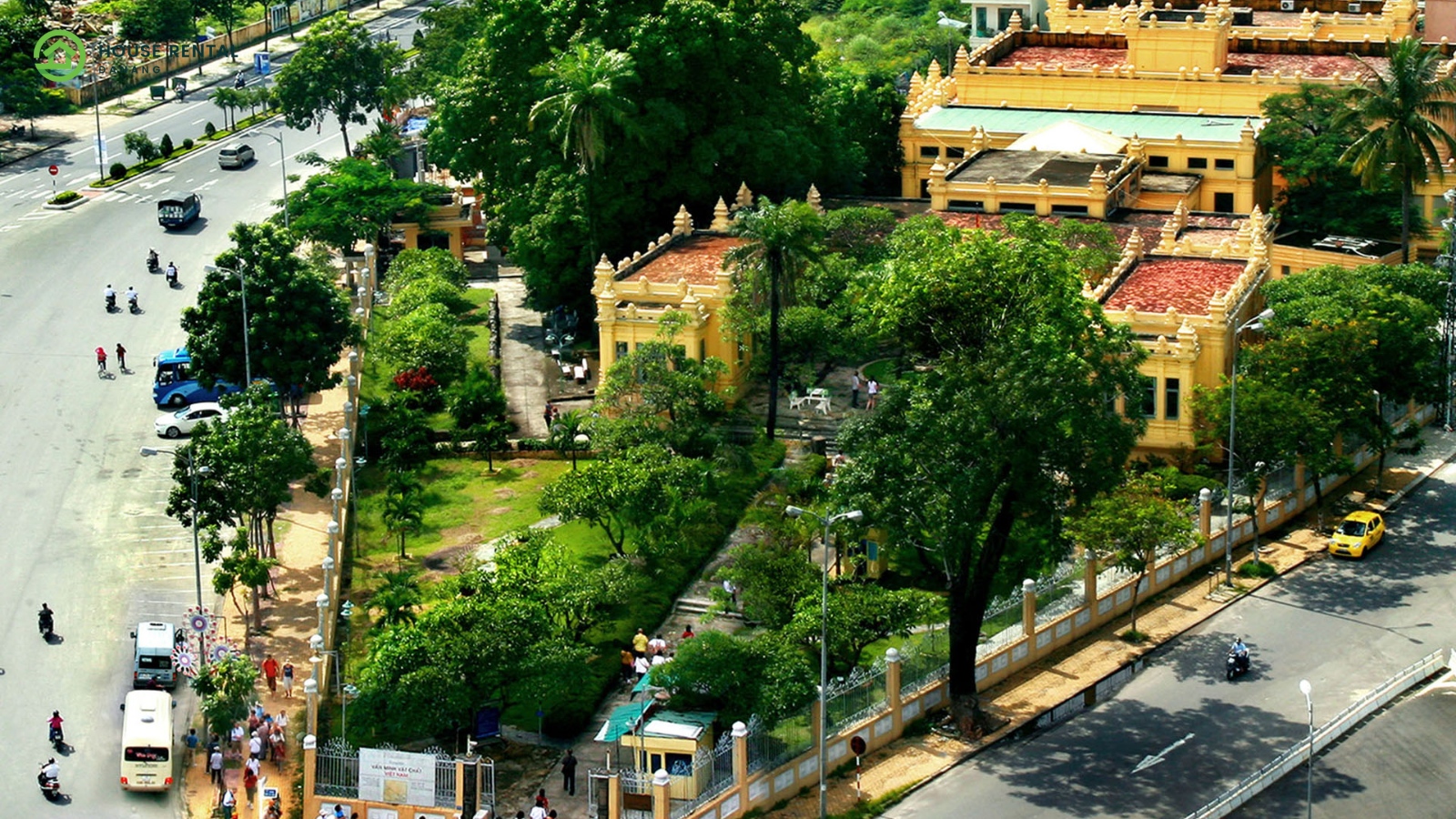 After immersing yourself in Vietnamese culture at the Museum of Cham Sculpture, you may find yourself craving local cuisine. Fortunately, there are plenty of dining options near the museum to satisfy your appetite.
Banh Mi Ba Lan is a popular spot known for its delicious banh mi sandwiches filled with various savory ingredients. Huynh Thuc Khang Street offers a wide range of street food stalls serving local delicacies such as banh xeo (Vietnamese pancake) and banh beo (steamed rice cakes).
For those looking for a more upscale dining experience, Son Tra Night Market offers a variety of seafood restaurants where you can indulge in fresh seafood dishes. Fatfish Restaurant & Lounge Bar is another excellent option for seafood lovers seeking a stylish dining setting.
Olivia's Prime Steakhouse provides a different culinary experience with its selection of high-quality steaks cooked to perfection. If you're looking for panoramic views of Da Nang while enjoying your meal, Red Sky Bar & Restaurant offers breathtaking views along with a diverse menu.
Pizza lovers can satisfy their cravings at Pizza 4P's Hoang Van Thu, known for its delicious wood-fired pizzas made with fresh ingredients.
Maps:
FAQs
How much is the entrance to the Museum of Cham Sculpture?
As of current information, the entrance fee for the Museum of Cham Sculpture is 60,000 VND for adults and 30,000 VND for children. However, prices may have changed, so it's best to check the museum's official website or contact them directly for the most accurate and up-to-date information.
What are the Cham monuments in Vietnam?
There are numerous Cham monuments scattered throughout Vietnam, evidencing the rich culture and history of the Champa Kingdom. Some notable ones include:
My Son Sanctuary in Quang Nam: A UNESCO World Heritage site, this complex features over 70 architectural works ranging from the 7th to the 13th century.
Po Nagar Cham Towers in Nha Trang: This temple complex was built between the 8th and 12th centuries.
Po Klong Garai Temple in Ninh Thuan: Constructed in honor of the legendary King Po Klaong Girai, this temple complex showcases the intricate architecture of Cham culture.
Thap Mam in Binh Dinh: It's a group of towers that house a variety of Cham artifacts.
Conclusion
A visit to the Museum of Cham Sculpture in Da Nang offers an enriching experience that allows visitors to step back in time and explore the rich cultural heritage of Vietnam's Champa civilization. From intricate sculptures to national treasures, this museum provides an unparalleled glimpse into an ancient civilization that once thrived in this region.
By delving into its history, architecture, exhibitions, and must-see treasures, this blog post aims to inspire readers to plan a visit to this remarkable institution. Whether you're a history enthusiast or simply curious about different cultures, exploring the Museum of Cham Sculpture promises an unforgettable journey through time and artistry.