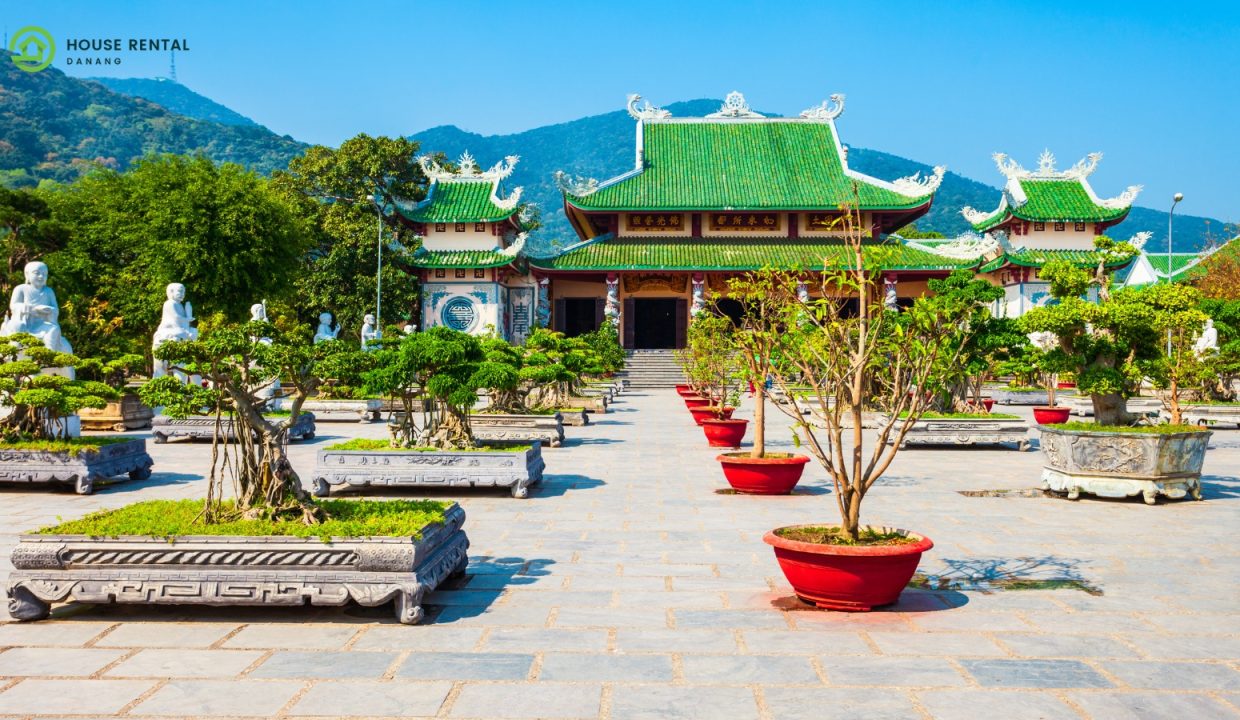 Explore the Spiritual Beauty of Linh Ung Pagoda in Da Nang, Vietnam
Da Nang city in Vietnam is known for its beautiful beaches, but there is so much more to explore beyond the sandy shores. One such place is the Linh Ung Pagoda, a peaceful and tranquil destination that offers breathtaking views and a spiritual experience. In this blog post, we will dive deeper into the details of Linh Ung Pagoda, including its history, architecture, and what to do when you visit.
Legend & History of Linh Ung Pagoda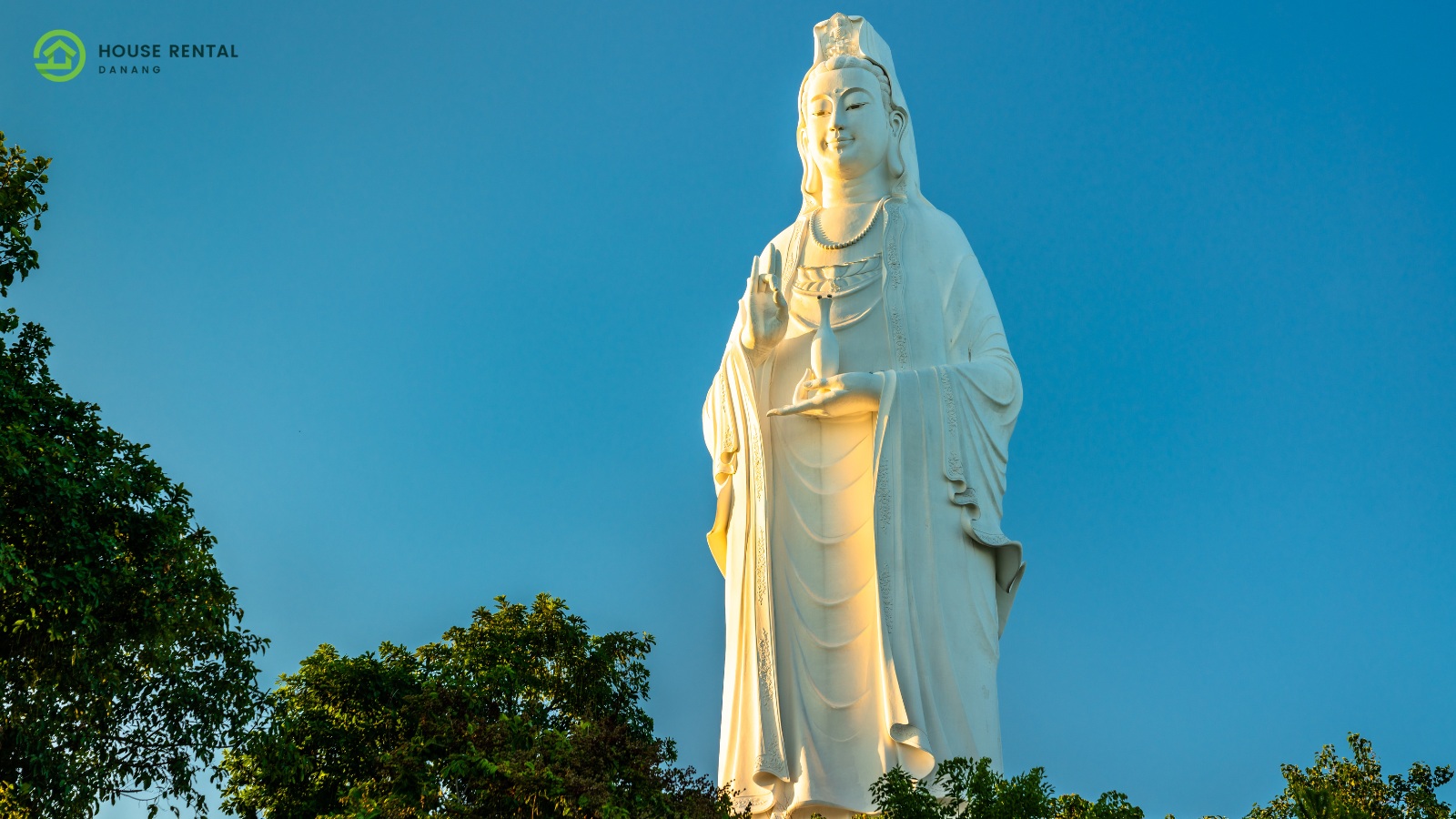 According to an old story passed down through generations, during the reign of King Minh Mang in the 19th century, a statue of Buddha mysteriously drifted to the sandbank in the Son Tra Peninsula. This was seen as a good omen by the coastal fishermen and residents, who set up a shrine in its honor. The waves gradually became calmer, allowing the fishermen to safely go out to sea for their livelihoods. The sandbank where the statue drifted was then called Bai But, meaning "Buddha realm in the middle of the world." The Linh Ung Pagoda was later built on top of this sandbank, symbolizing the combination of Dharma and the Ethnic group and representing the development of Buddhism in Vietnam in the 21st century.
Structure and Architecture of Linh Ung Pagoda
Linh Ung Pagoda is situated on the Son Tra Peninsula, leaning against it and overlooking the East Sea. The pagoda stands on a 20-hectare land and consists of various structures such as the main hall, lecture hall, ancestral house, road halls, library, cafeteria, and Arhat statue garden. The architecture of the pagoda is a harmonious blend of contemporary and traditional Vietnamese temple styles.
The main hall is adorned with a curved roof and supported by large, solid pillars intricately carved with dragon patterns, a traditional symbol in Vietnamese culture. Inside the main hall, you will find statues of Buddha Shakyamuni, Avalokitesvara Bodhisattva, and Buddha Tripitaka, surrounded by 4 Guardians and 18 Arhat statues in a spiritual order. The Arhat statues depict different levels of human emotions, adding liveliness and spirit to the main hall. Local craftsmen often showcase their carving skills by creating delicate marble pieces for this pagoda.
The highlight of Linh Ung Pagoda is undoubtedly the Lady Buddha statue. Standing at a height of 67 meters, it is the tallest Buddha statue in Vietnam. The statue faces the sea with one hand raised in prayer and the other holding a pitcher of nectar, as if blessing the fishermen who venture out to sea for a quiet and successful harvest. The statue is placed on a 35-meter-high lotus diameter, making its total height over 100 meters, equivalent to a 30-floor building. Inside the statue, there are 17 floors, each with a total altar of 21 Buddha statues.
What to Do in Linh Ung Pagoda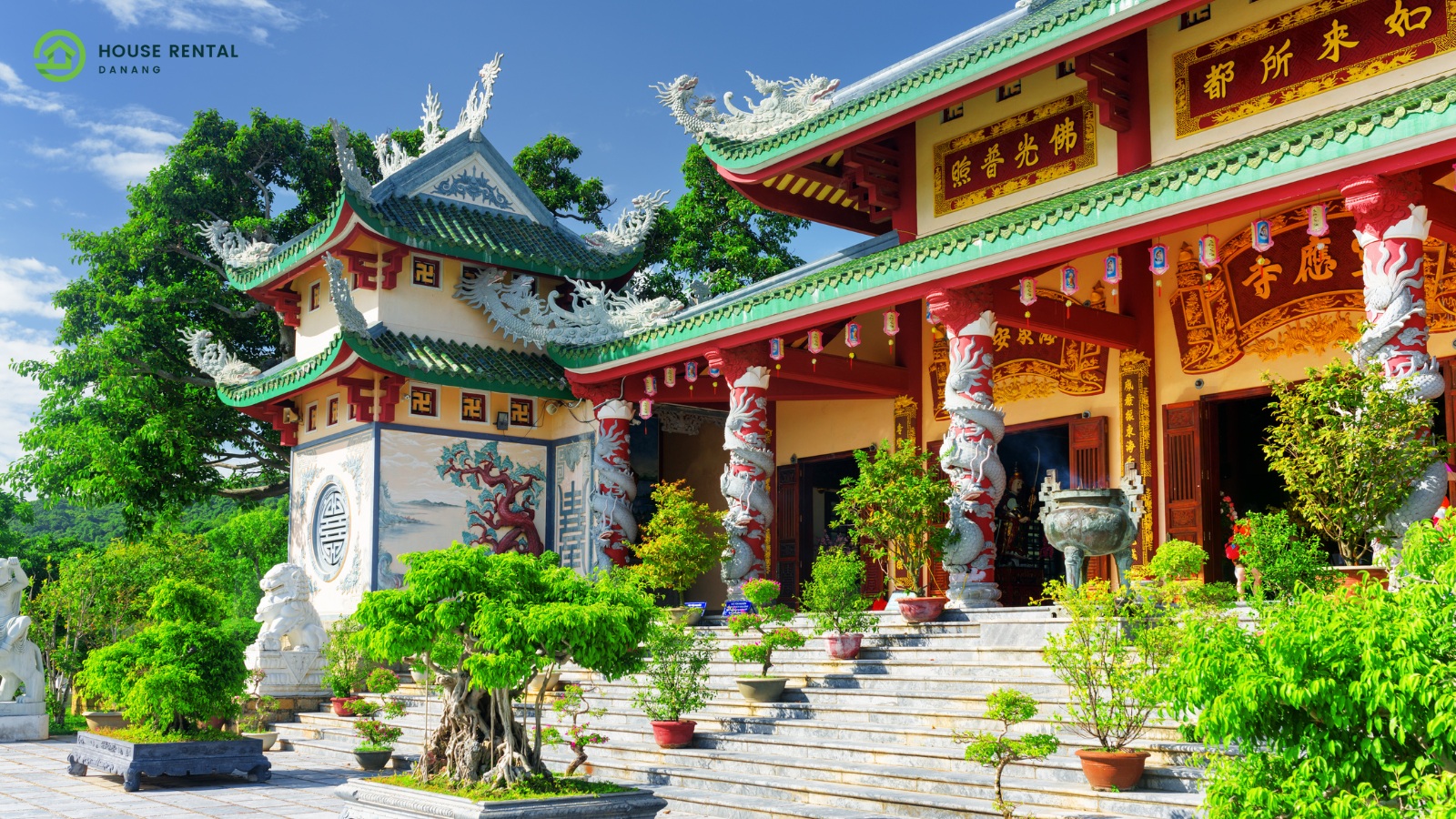 When visiting Linh Ung Pagoda, it is essential to show respect by bowing to the Buddha and burning an incense stick on the altar. This pagoda is also a sacred place where you can pray for the health, happiness, and success of your family and friends. Take a moment to meditate or reflect while enjoying the serene atmosphere.
After completing the rituals, take some time to explore and enjoy the breathtaking views around the peninsula. From the towers of the Buddha statue, you can admire the panoramic landscape of Da Nang city, mountains, forests, Son Tra Island, Marble Mountains, and the long white sandy beaches. The view is especially stunning during sunrise or at night when you can see the city lights twinkling like stars in the sky.
How to Get to Linh Ung Pagoda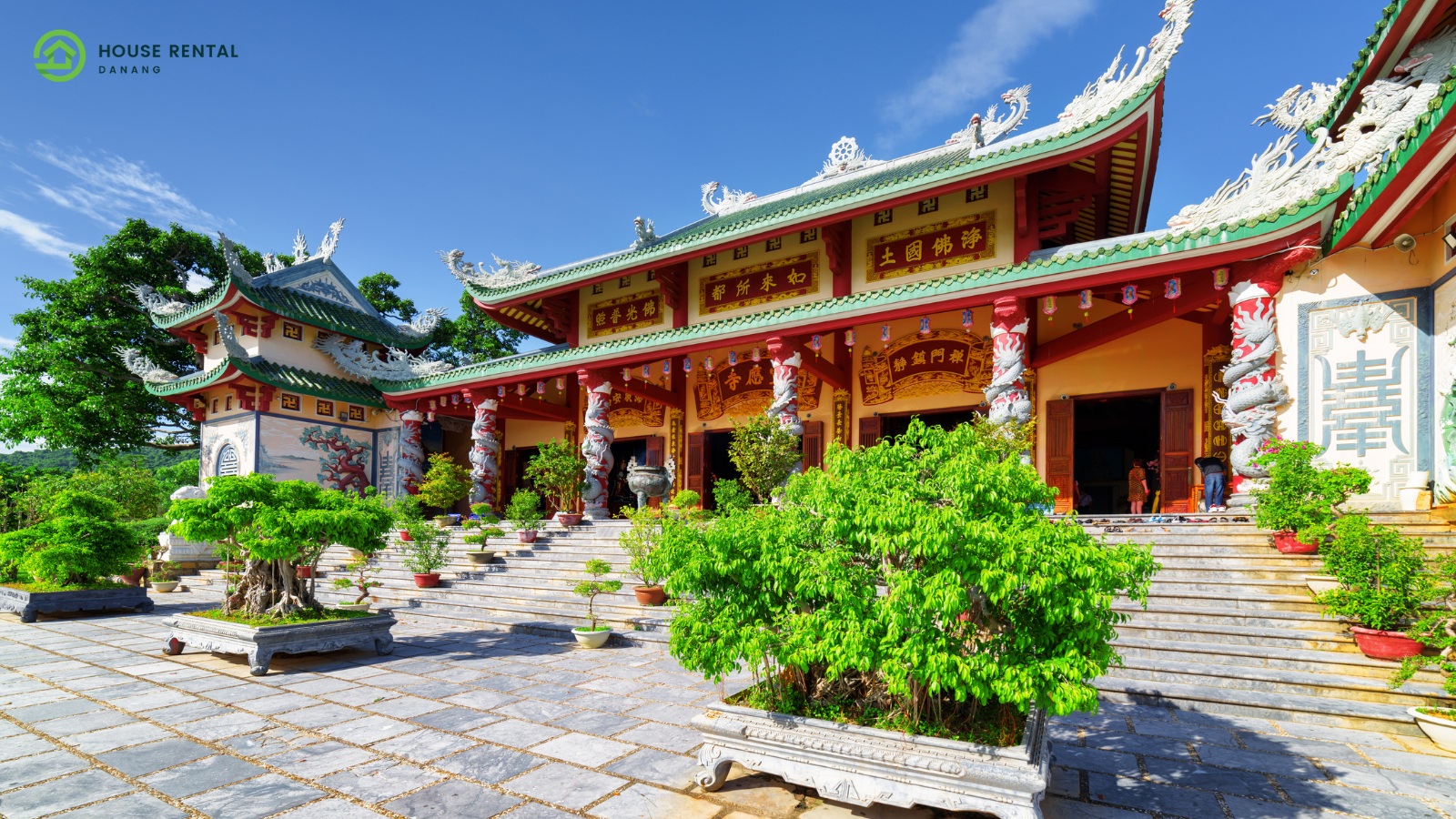 Linh Ung Pagoda is located on the Son Tra Peninsula, making it inaccessible by bus or train. However, there are several transportation options available:
By car
Booking a personal car or taxi is the easiest way to reach Linh Ung Pagoda. Taxi drivers in Da Nang are familiar with the route and can take you there quickly. The cost of a taxi from Da Nang Airport to Linh Ung Pagoda is approximately 200,000 VND.
By motorbike
If you prefer to explore on your own, renting a motorbike is a popular option. You can enjoy a scenic ride along the beach while following Google Maps for directions. Motorbike rental prices range from 100,000 VND to around 170,000 VND per day (~$4 – $8), depending on the quality of the motorbike.
By bike
If you are staying in Hoi An and want to cycle to Linh Ung Pagoda, head towards An Bang beach and take a left at the traffic light. Keep going for about 20 kilometres along the beach until you reach My Khe beach. From there, follow the road as described above. Keep in mind that biking in the hot and humid summer weather may not be ideal.
Extra Tips on Visiting Linh Ung Pagoda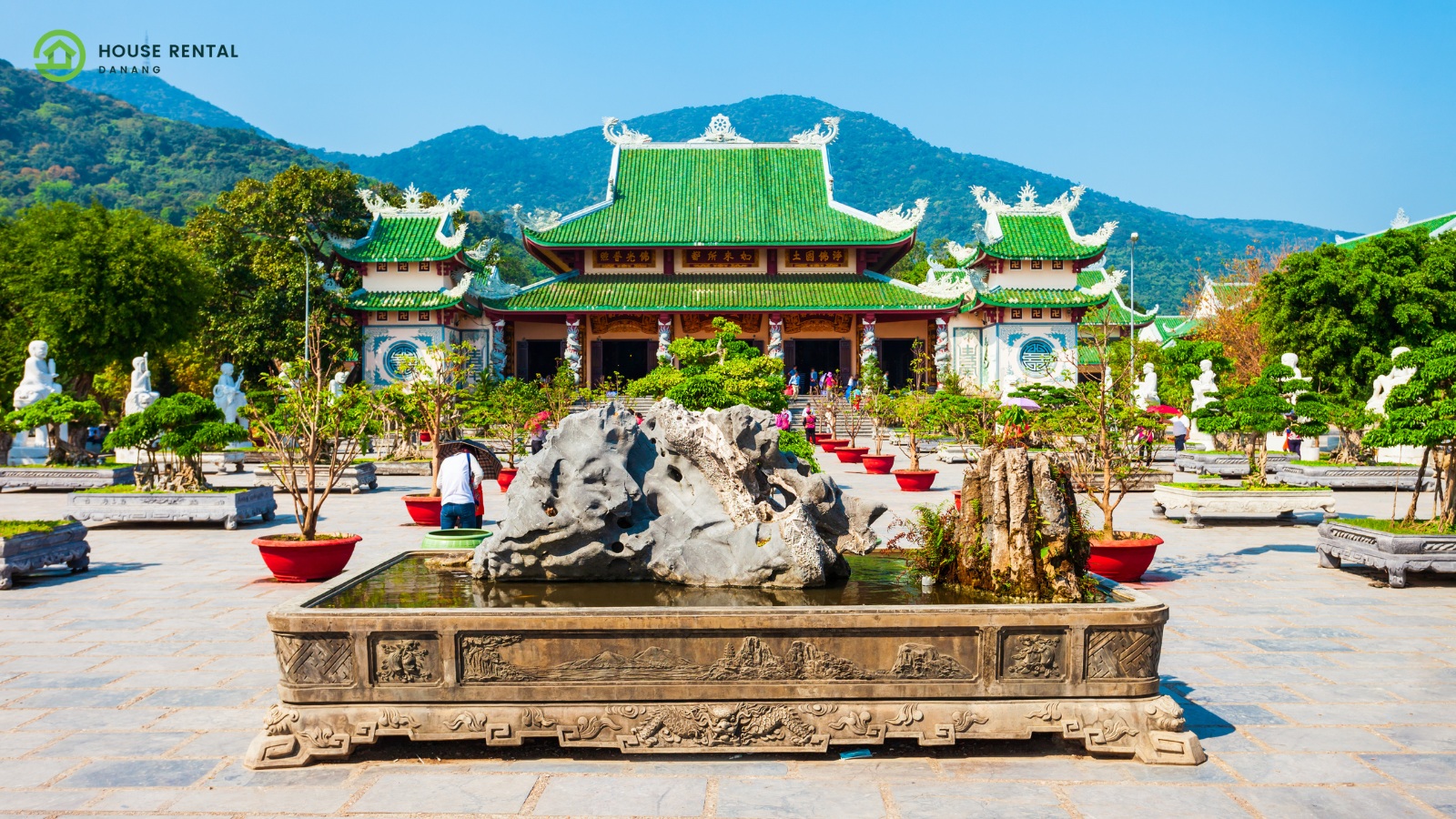 Here are some additional tips to enhance your visit to Linh Ung Pagoda:
The parking fee is up to you; you can put it in the donation box at the entrance gate (From 10,000 – 100,000 VND)
Maintain silence and line up when burning incense.
Keep an eye on your children to prevent them from getting lost.
Bring a bottle of water to stay hydrated during your visit.
Visit early in the morning or late at night for better views and a quieter atmosphere.
Dress modestly by avoiding revealing outfits like tank tops and shorts. Opt for plain and simple jeans and T-shirts as a sign of respect for the sacredness of the place.
Related Posts:
Discover The Hidden Gems: Top 10 Best Places To Visit In Da Nang, Vietnam
Conclusion
Linh Ung Pagoda offers visitors a unique opportunity to experience tranquility and spirituality while enjoying breathtaking views of Da Nang city and its surroundings. This peaceful destination provides a deeper understanding of Vietnamese beliefs and rituals and allows visitors to immerse themselves in the local culture. Plan your visit to Linh Ung Pagoda for an unforgettable experience that combines natural beauty with spiritual serenity