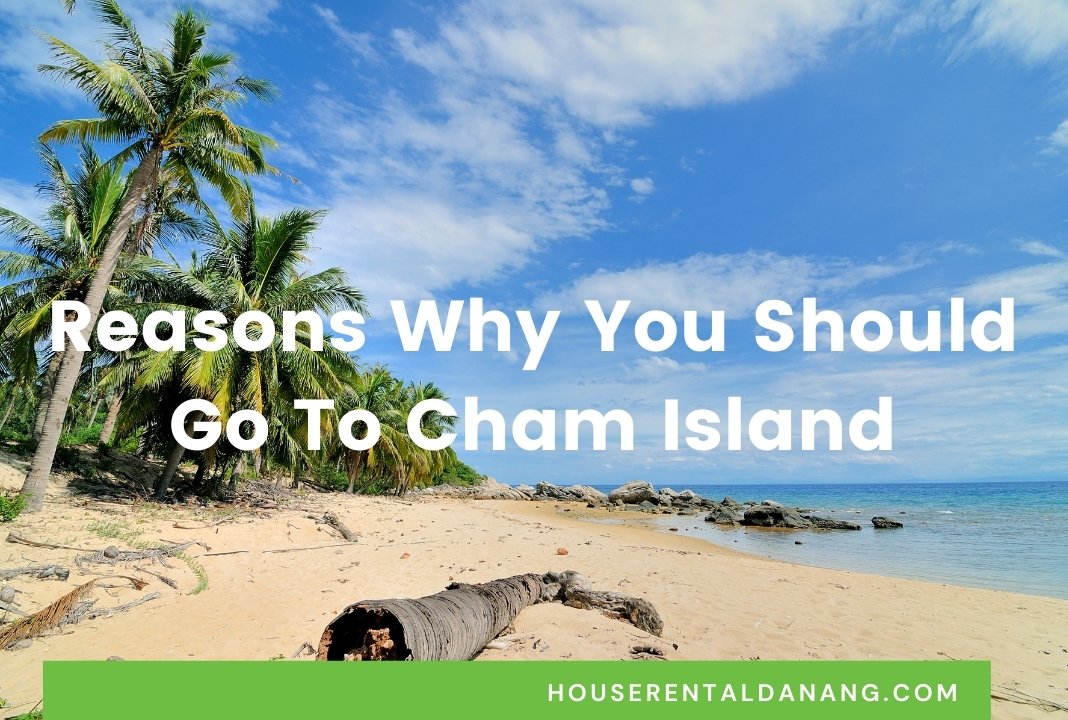 Reasons Why You Should Go To Cham Island
If you are a big fan of travel and exploration. We may say that Cham Island (Chàm Island, Cu Lao Cham Island, or Cù Lao Chàm) is a destination that you cannot miss.
"Popular for day trips, the peaceful Chàm Islands offer water sports like kayaking and swimming, plus diving and snorkeling amid tropical coral reefs. Hòn Lao, the largest island, has quiet Bãi Ong and Bãi Xếp beaches, marine exhibits at Cham Museum, and tiny Buddhist temples. Traditional fishing villages such as Bãi Hương dot Hòn Lao's coast, while rustic homestays and seafood eateries cluster around its ferry pier." – Wikipedia
Tourists come to Cham Island – Hoi An impressed by its pristine beauty, tranquility, and beautiful natural scenery.
However, if you do not know how beautiful, how interesting, or how attractive Cham Island is. Let us leaf through some places you should visit when you arrive in Cham Island!
Where is Cham Island?
How far is it from here to Hoian and Danang?
It is a group of islands, located in Tan Hiep Island Commune, 20 km from Hoi An Town and about 40 km from Da Nang City.
Cham Island is a new destination with many tourist attractions. Located near some famous places such as Da Nang, Hoi An, Cua Dai, and My Son Sanctuary. This beautiful island still retains many wild features of nature. That's why many tourists claim that Cham Island is worth visiting with their families.
Best time to go to Cham Island and Cham Island weather in year
The best time to visit Cham Island is in the summer, between April and August. As at this time, the Cham Island weather is really fine, warm, sunny, and clear. The ocean is usually too rough at other times. You only need to spend about one day having great memories on this picturesque island!
Check the Cham Island Weather today here: weathercrave.com/cham-island-weather
Note: Special occasions to enjoy traditional festivals in Hoian
Full-moon Days:

A tremendous amount of lanterns are often lighted up on the 14th and 15th of each lunar calendar month in Hoi An. At night, Hoi An Ancient Town becomes more wrinkled as the lanterns throw lights and colorful shades to add dimension to this already beautiful city.
Pro tip: We recommend you to join the night of the 14th because it shimmers and shines more than the 15th. On the second day, some lanterns are taken down.  
It's on the third and the fourth of April in the lunar calendar to honor the fishermen and the island citizens and to be protected and well-fed by the sea.
 Salanganes Nest Business Anniversary: 
On the ninth and tenth of March in the lunar calendar, Cham island people celebrate the festival to show their gratefulness to the founder of the bird's nest business for teaching them a local economy.
Enjoy a self-planned tour to Cham Island
This place is suitable for you who like leisure travel. It's the most amazing destination in the summer. It's better for you who far away here to stay a night in Hoi An, Quang Nam and you can take the High- Speed Canoe to Cham Island at 8 a.m tomorrow.
With this kind of travel to Cham Island, you should follow the overnight schedule to experience the peaceful feeling of the Island as well as experience Canoe Service.
Transportation
How to get to Cham Island from Hoi An?
You will arrive at Cua Dai pier to buy Canoe tickets or wooden boat tickets to the Island.
Canoe: Ticket price per person is from 150,000 to 200,000 VND, sold at Cua Dai Beach or travel agents in Hoi An. Take about 30 minutes of moving from the port to Cham Island. Departure time is 8 am or 10:30 am.
Public Ferry (wooden boat): The cost of Wooden boat ticket to Cham Island 2019: 80,000 VND/person/trip
Departure: at 7:30 AM the ferry departs from Bach Dang Wharf, then stops by Cua Dai Pier on Hoi An coast for passengers pickup. It takes about 90 minutes to arrive at Cham Island pier. Only 1 round/day, every day.
Tip: You should book canoe tickets from homestay/hostel owners for a better price, only cost 100,000 VND.
How to get to Cham Island, Hoi An from Danang?
From Da Nang to Hoi An (Cua Dai pier)
Private Car:
Ask your accommodation whether they can offer a private pickup car for you when you have already booked your stay in Hoi An. Just give them your pickup address and time. This is the least stress-inducing option for you.
Bus:
It is about 30km from Da Nang to Cua Dai pier. Going along a coastal road to Cua Dai Beach and going straight for another 5km, you will arrive at Cua Dai pier. The ticket can be easily purchased on the bus but make sure to pay the right price: 30,000 VND (1.3 USD).
 Taxi:
If you do not make any prior arrangement, taxis are the most convenient and the easiest way to get to Hoi An from Da Nang since from the city center (or the airport), you can just catch a taxi and tell the driver to take you to. It will take you around 30 – 45 minutes and will cost you from 15 USD to 23 USD.
Motorcycles:
If you are familiar with driving motorbike in Vietnam and want to visit destinations along the way flexibly, try it. However, traffic in Vietnam is quite different from traffic in other countries; driving requires a special set of skills like situation awareness, good reflexes, excellent balance, and guts of steel. If you do not have this set of skills, do not take the risk. In Hoi An, ask for directions to the Cua Dai pier. The price for overnight parking in Cua Dai is 10,000 VND per motorbike
How to get to Cham Island from Hanoi and Saigon (Ho Chi Minh City)?
Flight: to Danang Airport or Chu Lai Airport (Quang Nam Province)
Train: to Da Nang station or Tam Ky railway station (Quang Nam Province). 
Coach or Bus: to Bến Xe Đà Nẵng (Danang Depot) or Hoi An Bus Station (Quang Nam Province). 
Then, you can choose between Taxi, Grab, Xe Om, self-drive car rental services and so on to go to Cua Dai Port and Cham Island.
Tips for transportation
Airplanes, trains, and buses will focus on dropping passengers in the center of Danang city.
You should book the vehicle ticket early to get a reasonable price.
You can stay in Danang city beforehand, to visit some interesting places as well as to relax before going into vigorous activities in Cham Island.
How to move around Cham Island?
Local Boat
Fishermen in Cu Lao Cham Island use this boat to fish. There is also a boat rental service to travel around this island, snorkeling or squid fishing at night. The price of renting a boat is VND 700,000 to 1 million VND depending on the type of the boat, it is for about 6-10 people/boat.
 

Raft
Visitors use it to travel across water and take part in swimming.
 

Coracle
This is a small vehicle used to move from the marina to the boats anchored on the sea. Because Cu Lao Cham has embankments around the island, large ships cannot anchor on the shore.
 

Motorbike
Also if you want to visit around Cu Lao Cham island to feel the wilderness of it. You can rent a motorbike. The price is from 100,000 to 2000,000 VND /day (filling gasoline by yourself)
>> Checking more Hostels in Da Nang
Cham Island Homestay
On Cham Island, a lot of local homestays are not listed on Booking.com, but you can choose some good locals hostels right on Cham Island are listed below:
     

Homestay Trang Vu
Address: Bai Ong Hamlet, Tan Hiep Commune, Hoi An, Quang Nam
Phone number: 0377663110
Map: https://goo.gl/maps/Xu8WtuFVXR9nJgco7
     

Tam Hien Homestay – Cù Lao Chàm
Address: Cham Islands, Tân Hiệp, Hội An, Quang Nam Province, Vietnam
Phone number: +84 366 929 743
Map: https://goo.gl/maps/ZN3Hmw1cYpSMEHDk7
     

Hostel – Homestay Ngô Khánh
Address: WGMG+2X Tân Hiệp, Hội An, Quang Nam Province, Vietnam
Phone number: +84 96 977 24 26
Map: https://goo.gl/maps/qc5VeDrGRMdwqyM38
     

Homestay Truong Kep
Address: Bai Lang Hamlet, Tan Hiep Commune, Hoi An, Quang Nam
Phone number: +84 767 628 162
Map: https://goo.gl/maps/55ciNqiQs1YCc58D6
       Homestay Hammock
Address: Bai Lang Hamlet, Tan Hiep Commune, Hoi An, Quang Nam
Phone number: 0976605750
Map: https://goo.gl/maps/DTN1DExmz3SaYMKu8
What to do on Cham Island?
Schedule for a self-planned tour to Cham Island:
You will experience diving and watching corals and admiring the beautiful and spectacular scenery after arriving at Cham Island.
The price of scuba diving service at a depth of 7-8m with scuba oxygen is 800,000VND per pax.
After diving, if you want to experience Cano Parachute Flight, you can contact the owner of the diving boat or the owner of the hostel. The price is 700,000 VND per pax.
Sitting on Canoe to get to Cham Island
Try the feeling of sitting on a soaring canoe, shivering every time the canoe turns, dropping your heart when encountering big waves, and breathing a sigh of relief when you arrive at Cham Island, you will have a very interesting and unforgettable experience.
When returning, try to go by wooden cargo boat to feel the hardship and isolation of many people on the island and enjoy the tranquility and beauty of the sea.
You will be surprised to see that the sea is colorful with emerald green, dark blue and green as the boat moves from the island to the mainland!
Sea-bathing and swimming at Cu Lao Cham
There are 7 beautiful and extremely pristine beaches with a length of 100m – 700m, a width of about 20m, in Cham Island. So you can choose one of these beaches to bathe and take some photos. Especially, the sea here is pristine, because the people and local authorities are determined to keep the environment green. No one is allowed to use plastic bags as well as litter on the island to protect the environment.
Chàm Island Camping
Instead of staying in a homestay in Danang, you also have the option of camping overnight on the beautiful beaches.
If you want to have many support services, you can camp at Bai Ong or Bai Huong, but if you want to have a spacious and separate from residential areas, you can choose:
Bai Ong on Cham Island is considered one of the most famous beaches in Cham Island. This is the busiest beach and the most developed tourism service. The tour usually takes guests to lunch and rest. With smooth and stretching white sand, clear blue sea and straight coconut tree lines and cool shady trees.
Bai Xep on Cham Island is absolutely a great choice. Certainly, visitors will be able to see the seabed and the coral reefs swaying along the water. This is an ideal stop for travelers who like to explore freely.
These remote beaches can cost you to rent a boat to go out and you may have to pay a small fee for security guards about 200,000 VND to be able to play on the beach.
Diving and snorkeling to see coral at Cham Island.
Most tours of Cham Island have scuba diving. You can book this tour at any travel agent in Danang. Or you can ask the hotel where you are renting to book for you. However, if you go by yourself, you can buy a ticket at the pier or ask the hotel receptionist to buy it for you. The price of the ticket is about 150,000 VND per person including full instructors, life jackets, glasses, snorkel and boat to take you to the diving area.
Taking a walk around the Cu Lao Cham Island
Coming here without walking around the island is a big mistake. Rent a motorbike to explore the beautiful scenery here. Cham Island has many beautiful scenes, so it is a pity if you do not enjoy the whole scenery here.
While driving on the road, you absolutely can stop to admire the scenery, take some photos or sit at a stretch of white sand filled with wilderness and desertedness. Besides, you can also climb high to see the entire scenery of the island. If the sky is clear, you can still look to the mainland. However, the roads here are often narrow and slightly bumpy, if you want to explore the island by motorbike, you need to make sure that you or your companion drive firmly and can handle unexpected situations along the way.
Visiting the Islets by boat
There are 7 other small islands around Hon Lao. So if you have a lot of time, you should rent a boat to go to these islands. The price of a boat is 600,000 VND for a trip in the morning or afternoon.
A boat can carry up to 10 people. Join in groups if you travel with fewer people to save money. You can visit Hon Ba, Yen Island, and snorkel. (excluding diving rental fee). You may not need to rent a diving suit if you know how to swim and can ensure your safety. And you can take a bath in Bai Bim if it is not too late. Also, you can rent a boat to visit Yen Island separately, the price will be 300,000 VND per boat.
Gazing at the stars of the night sky on Cham Island
Cham Island is a pristine island so there is not much service as well as electric light. And, the sand beach is a suitable place for you to watch the stars together, listen to the murmuring waves and talk. If you're traveling with your lover or partner, this is probably the most romantic activity on the trip.
Fishing on Cham Island
You can also rent a tourist boat from fishermen to go fishing. When renting a boat, you will have fishing gear and bait.
Thanks to the enthusiastic guidance of the boat owner, you will be satisfied with the pleasure of fishing a few fish yourself. Then nothing is better than going around the islands of different sizes. You can see the blue woods and the deep blue sea.
At night, you can go squid fishing. When the squid fishing is complete, return to the island to bring along the fish and squid. Restaurant staff will cook the seafood you catch into a rustic dish. How amazing it is!
Going to Tan Hiep Market (Cu Lao Cham Market)
Tan Hiep Market is located right next to the pier. There are many outstanding products for tourists to choose such as fresh seafood, forest specialties, and souvenirs. The goods here are extremely diverse and special, but not much expensive. 
There are two main sections in this market: The outdoor one sells fresh seafood transported from fishing vessels filled with shrimps and fish. Tourists' favorite seafood are Cham Island crab, lobster, scallop, dried squid, and so on. You can taste them before deciding to buy or not. Travelers often buy half-dried cuttlefish to bring back home. Because seafood is fished near the island, it's very fresh and cheap. This flea market is flooded with the smell of the sea and the buzz of buyers.
Besides, you can find anything for everyday necessities and souvenirs.
 It's known as "The only market that does not use plastic bags." Shopkeepers in the market say that people in the village do not use plastic bags to pack, they use newspapers or paper instead.
What to eat on Cham Island?
1. Steamed Sea Snail with Meat
The snail is crispy, sweet, and very unique. Eating steamed snails suit to ginger fish sauce, the spicy taste of ginger and chili makes this simple dish extremely charming.
2. Grilled Scallops with Green Onions
The scallop meat is ivory-white, delicious, sweet, and not chewy. When enjoying, visitors will feel the sweetness of scallop, the crunchiness of fried peanuts, the aromatic scent from scallions mingled with sweet and sour sauce.
3. Unicorn Filefish Grilled in Kitchen Foil
The skin is yellow and the flesh is white and fragrant. This dish has conquered thousands of diners, I guarantee that you love this dish.
4. Wild Vegetable
The people here pick vegetables from the forest and cook them into rustic dishes with a strong natural flavor. It can be said that this dish makes a special difference in Cham Island.
5. Glutinous Rice Cake (Banh It La Gai)
It is probably my favorite dessert.
With this list of delicious dishes in Cham Island, we hope that you will choose for yourselves a satisfactory dish.
Specialties for making gifts
Seafood in Cham Island such as lobster, crab, fish, crab and so on.
– Dried Squid and Half Dried Cuttlefish
– Dried Wild Pineapples
– Dried Fallopia Multiflora
– Corn-Cake
With these self-planned travel experiences and the Cham Island Tour, we hope you will have a nice trip to Cham Island!  
By Susie – HouseRentalDanang.com