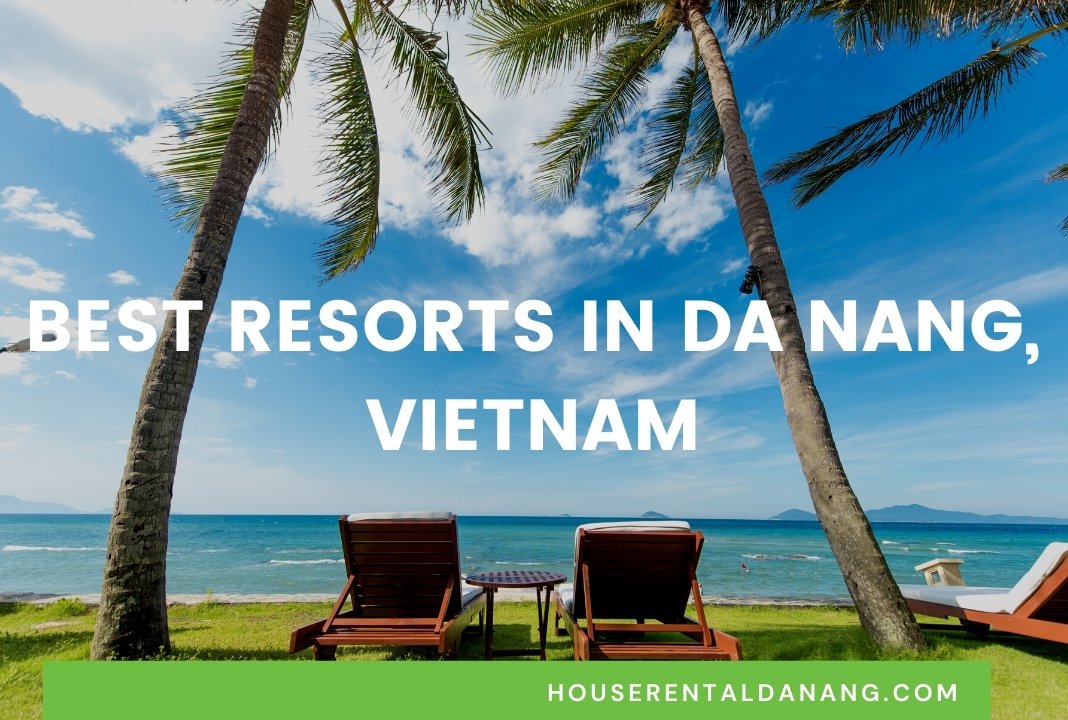 Best Resorts in Da Nang, Vietnam for Your Vacation
Although summer is slowly coming to an end, you still have the chance to enjoy the remaining days with various places waiting to be discovered. Danang, with its breathtaking natural scenes and immense hospitality, is always a great choice for your summer escape. The abundant offers of holiday accommodation, especially luxury resorts, guarantee to give you the best relaxation. 
As our desire to become your companion during your stay in Danang, we compile this list of top Da Nang seaside resorts with specific reviews on facilities, services, and price ranges. As the vacation is coming to its closure, why don't you take a look at our list, pick up your dream destination, and make the best of your last summer days?
>>> See more: Villas For Rent in Da Nang, Vietnam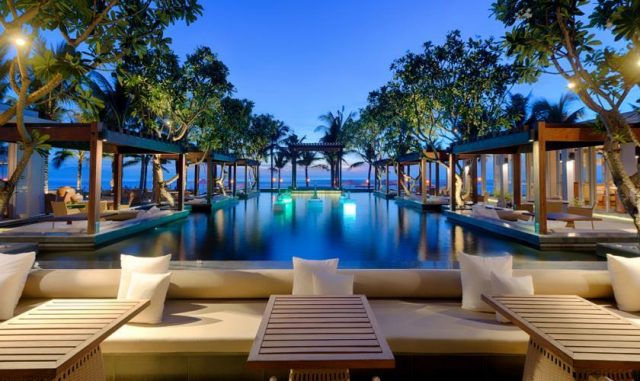 Centara Sandy Beach Resort Danang
Location: Truong Sa Road, Hoa Hai Ward, Ngu Hanh Son District
Price range: $130 (around 3 million VND) – $240 (around 5.6 million VND)
Centara Sandy Beach Resort is ideally located in Ngu Hanh Son District, where green-blanketed mountains share the landscape with the crystal clear ocean. The Da Nang resort offers a wide range of facilities, including a vast private beach for beachside activities, a tranquil spa which helps you unwind and restore your energy, two swimming pools, one with ocean view and the other in the resort's tropical garden, as well as a Kids' Club which will take good care of younger guests. 
The accommodation options at Centara Sandy Beach Resort are sure to fulfil any holiday aspirations. You can choose to stay in a garden view or ocean view villa, room or bungalow. With large balcony and picture window, all of them will allow you to immerse yourself in nature to the fullest.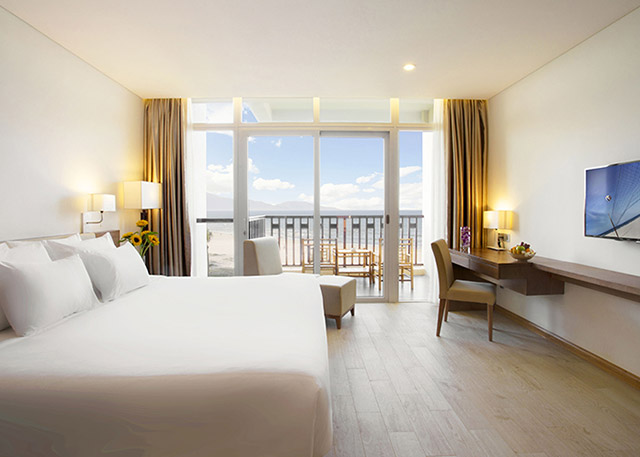 Oceanview villa at Centara Sandy Beach Resort
The location of the seaside resort makes transportation around the area absolutely convenient. It takes only 20 minutes to get here from Da Nang International Airport. If you wish to discover other parts of Danang, car and motorbike rental service is available. Some of the attractions that you can travel to are My Khe Beach, Son Tra Peninsula, Montgomerie Links, and Danang Golf Club.
For further references, give their official website a visit: centarahotelsresorts.com
The Ocean Villa Resort
Location: Truong Sa Street, Hoa Hai Ward, Ngu Hanh Son District
Price range: $110 (around 2.6 million VND)  – $1120 (around 26 million VND)
The Ocean Villa Resort is one of the largest integrated resort developments on Central Coast and VinaCapital's award-winning flagship seaside resort. With 114 luxurious ocean-view villas and suites, a world-class golf course and many other amenities, the resort promises to give you a sanctuary of comfort overlooking the gorgeous East Sea.
With a wide range of room configurations, The Ocean Villa Resort is suitable for couples, families or friends traveling together. If you desire for first-class accommodation at reasonable price, the Da Nang resort apartment will be the perfect choice. While one-bedroom apartments are great for individuals or couples, two-bedroom ones have the maximum capacity of three adults. Each apartment features generous-sized beds, modernly equipped bathrooms, and kitchenette, living area, and a private open balcony. And if words haven't described enough, visit the resort's official website, where you will see 360° video of this 5-star one-bedroom and two-bedroom apartments.
The villas, undoubtedly, are the options for those looking for an upgrade. In size, they are villas with swimming pools and are at least twice as large as the apartments, ensuring to give you refined relaxation. The Ocean Villa Resort offers two to five-bedroom villas, with the largest capable of holding 10 people at the same time. The central living area of each villa opens to views of the primitive tropical garden, the spectacular Non Nuoc beach, or the expansive golf course. For more details of the prices and amenities of the accommodation, you can check out their official website or contact House Rental Danang Agency, where we will take care of your booking from the beginning to end.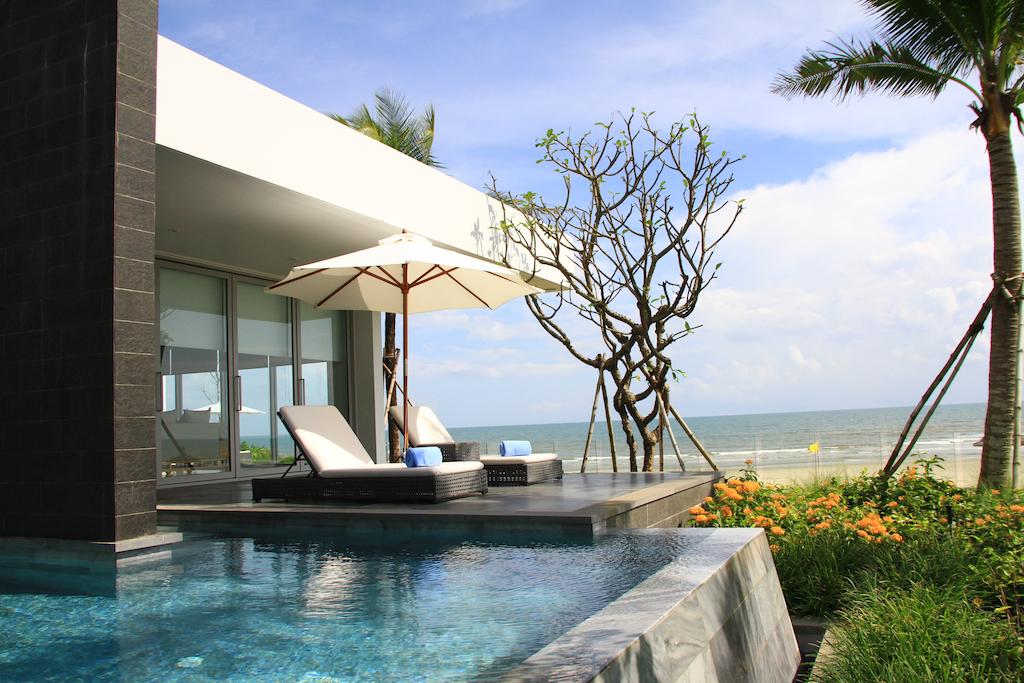 Five bedroom ocean view villa with swimming pool at The Ocean Villa Resorts
Besides outstanding standards of accommodation, The Ocean Villa Resorts also impress guests with plentiful services and conveniences. With an enclosed kitchen in each apartment and villa, The Ocean Mart provides an assortment of foods and drinks so that you can enjoy your stay without the discomfort of a trip to the grocery store. For those keeping up with their training routines, the fitness center is available from 6 am to 11 pm every weekday. The hi-tech equipments are sure to give you an enjoyable fitness experience. If you prefer outdoor physical activities, you may choose among swimming, tennis or golf. And finally, for easy transportation, the Da Nang resort offers private airport transfers, taxi and a daily complimentary round trip shuttle to the UNESCO World Heritage Hoi An Ancient Town.
Furama Da Nang
Location: Vo Nguyen Giap Street, Khue My Ward, Ngu Hanh Son District
Price range: $330 (around 7.7 million VND) – $1100 (around 26 million VND)
Furama Da Nang is a world-class seaside resort with 196 rooms and suites plus 70 two to four bedroom villas with swimming pools. The resort's accommodation is the perfect blend of Vietnamese traditional design and French colonial architecture. The world-class quality is not a self-acclaimed title, since it has been guaranteed by high-profile guests, the royals, presidents, international business leaders, and celebrities.
Each room in Furama Da Nang resort is furnished with polished timber floor, natural fabric, plantation-style shutter and ceiling fan. The exterior includes an individual balcony with spacious terrace, which gives you complete privacy and astonishing view of the ocean, the tropical garden or the swimming lagoon pool.
Oceanview villa at Furama Da Nang resort with its outstanding French colonial architecture
Another unique attraction of Furama Da Nang resort is the wide range of services that tourists can enjoy during their stay. If you prefer coastal recreational activities, Furama offers diving and snorkeling tours, as well as a full range of water sports. After a 20-minute ride on speed boat from the resort to Son Tra Peninsula, you will have the chance to explore the underwater world of coral reefs and colorful fish. Other noteworthy activities are Vietnamese cooking classes (where you learn to make popular but simple dishes), daily Tai Chi and yoga lessons, beachside volleyball, football, and badminton competitions.
You can find more information about Furama Resort Da Nang right here at: https://furamavietnam.com/
Vinpearl Da Nang Resort and Villa
Location: Truong Sa Road, Hoa Hai Ward, Ngu Hanh Son District
Price range: $215 (around 5 million VND) – $2150 (around 50 million VND)
Entirely embraced by Marble Mountains beside the charming Non Nuoc beach, Vinpearl Da Nang Resort and Villa is an alluring location for travelers. The seaside resort was honored the 'Leading Beach Resort in Vietnam' at the World Travel Awards 2017, recognizing the first-class quality of property and services provided by one of the top real estate developers of Vietnam.
From Da Nang International Airport, it takes just 15 minutes to get to the seaside resort by car. If you are interested in discovering marvelous sights in surrounding areas, including My Son Sanctuary, Hoi An Ancient Town, and Hue Citadel, the location of the resort makes it easy to travel back and forth within a day.
The accommodation of the resort is the combination of traditional and contemporary design. With 122 5-star standard garden view or ocean view villas, Vinpearl Da Nang Resort and Villa is the perfect spot to harmonize with nature, separate yourself from daily worries and regain your balance. Staying at the resort, you will have the chance to observe the glorious sunrise on Non Nuoc Beach, or witness the impressive sunset, when the sun slowly descends to the horizon and colors everything in red.
Villas with swimming pool at Vinpearl Da Nang Resort and Villa
A holiday would not be complete without some recreational activities and the entertainment that Vinpearl Da Nang Resort and Villa offers is sure to satisfy any requirements. On the first floor of the resort, you will find five stunning outdoor swimming pools, including one grand, two smaller pools, one kids' pool, and a whirlpool besides splendid sunbeds and seaview. Along with those pools are a fitness centre with latest exercise equipments with greenery view. Yoga and taichi classes, as well as volleyball and football games are organized in the resort's private beach. Other watersports, such as banana boat ride or jet skiing, are also available, with the operation handled by qualified staff.
For more information, visit their official website.
Cocobay D

a Nang
Location: Truong Sa Street, Hoa Hai Ward, Ngu Hanh Son District
Price range: $65 (around 1.5 million VND) – $130 (around 3 million VND)
Cocobay is an exceptional spot for travellers in Da Nang. If the other resorts aim to bring its customers moments of tranquility, Cocobay aims for something different. As stated in its mission, Cocobay's main cornerstones are composed of 'Exotic Stay – Exciting Entertainment – Exclusive Sightseeing – Exquisite Cuisine', with the ultimate objective of becoming Southeast Asia's leading entertainment and hospitality complex.
The Boutique Hotels are part of the Cocobay complex and no doubt, follow the unique theme of the entertainment complex. Five different hotels, namely Mariposa, Pulse, Latido, Bisou and Muze, bring completely different vibes that promise to satisfy any kinds of preference. Mariposa (Spanish word for butterflies) has its design inspired by the transformative characteristic of the butterflies, remarked with open space and vibrant colors. The second one, Pulse, reflects the ceaseless energy and creativity of the youth, with a focus on high community density in the open air lounge, where young people can meet and connect.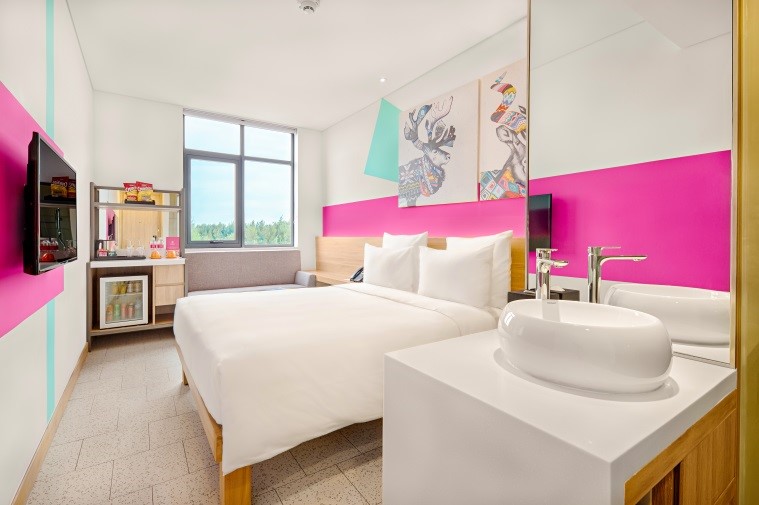 Intriguing design at Boutique Hotel
Continuing the theme of youthful spirit, Latido has a different approach from Pulse. Latido brings a taste of the Latino way of life, with bright, airy rooms and cheerful dining spaces, offering a quirky yet appealing destination for fun-loving travellers. Also inspired by a foreign culture, Bisou gives an opposite feeling of elegance and sophistication. Bisou, the place where East meets West, as described in its official website, will attract those who wish to explore Vietnamese rich history and culture. Finally, Muze, the metropolitan style accommodation, will allure globetrotters who seek top quality, innovation and cutting edge technology from their hospitality destination.
Melia Resort Da Nang
Location: Truong Sa Road, Hoa Hai Ward, Ngu Hanh Son District
Price range: $155 (around 3.6 million VND) – $520 (around 12.2 million VND)
Located in Ngu Hanh Son District, Melia Resort Da Nang is the perfect choice for travelers wishing to discover the city. Besides the iconic Marble Mountain, which can be observed from the Da Nang resort, you can easily move around and explore other tourist attractions such as the Museum of Cham Sculpture, the ancient city of Hoi An, or the My Son Sanctuary. The seaside resort bar, Cape Nao Beach Club and Pool Bar, presents magnificent views of the island of Cham and Son Tra Peninsula.
The spectacular view at sunset of Melia Resort Da Nang
Every room in the resort is designed in contemporary style, with fantastic views of the sea, the garden or the mountain. Each one is equipped with modern facilities, ensuring to give you the most convenience during your stay there. For additional amenities, you can go for The Level, a premium option with upgraded accommodation and services. 
The Level package includes a 55 m2 ocean view villa with design inspired by the ocean and local tradition. Each room is provided with a large bathtub and outdoor shower rain for fulfilling relaxation. Some of the other benefits coming with the package are exclusive access to The Level lounge, The Level pool, and free-of-charge services at Melia Resort Spa. For more details, you can visit their official website or contact us at House Rental Danang to make your booking with ease.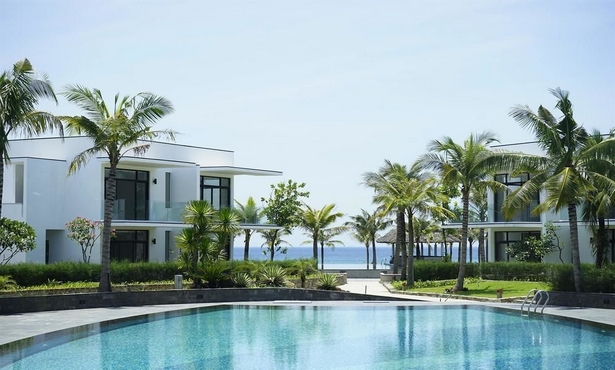 Oceanview villa with shared swimming pool at Melia Resort Da Nang
If you fancy unwinding activities within the resort's property, Melia Resort Da Nang will satisfy your demands with an elegant, high-quality spa. YHI spa offers treatments, massages, and hydrotherapy, which you can enjoy while savoring detox lemon tea or fruit juice. If you need to burn off some calories after trying tasty delicacies of Da Nang, a fully equipped gym is open twenty-four seven. There are five different pools within Melia Resort Da Nang, one infinity pool where you can observe the panoramic view of the city, two kids' pools, one adults' pool, and one exclusive pool for The Level guests.
Premier Village Da Nang Resort
Location: 99 Vo Nguyen Giap Street, My An Ward, Ngu Hanh Son District
Price range: $380 (around 8.8 million VND) – $1000 (around 23.2 million VND)
Premier Village Resort Da Nang is situated on My An Beach, one of the finest scenery in the charming city. The marvelous beach makes its prevalent for those seeking personalized beach retreat. Wherever you wish to discover, the sights of the past, or the highlights of the future, moving around is no hassle thanks to the close proximity of the seaside resort to the ancient city of Hoi An, the Cham ruins of My Son and the stunning Ba Na hills.
The Da Nang resort features three different types of villas, including Garden View villa, Ocean Access villa, and Beachfront villa. Each villa with a swimming pool comes with a fully-equipped kitchen, garden, spacious bedrooms, and bathrooms, letting guests immerse themselves into a world of leisure and leaving them with precious and lasting memories.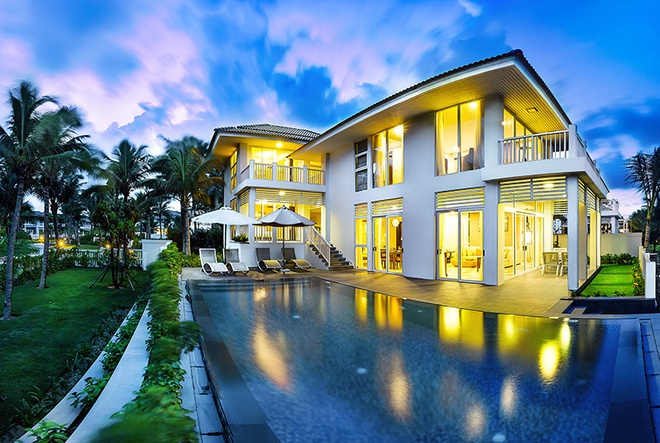 Bright and spacious villas with swimming pool at Premier Village Da Nang
The Garden View villa is approximately 330 sqm, containing one master King-size ensuite bedroom with a private balcony, two Hollywood twin bedrooms with private balconies and private washrooms. The fourth bedroom is at ground floor with either a Hollywood twins or a double bed. In comparison, the Ocean Access is more spacious with a space of 390 sqm. The second and third bedroom are Double King-size and the fourth one is a half-basement twin bedroom. As described in its name, each villa has a direct walking access to the ocean. Finally, the Beachfront, the most favorite of Premier Village Resort Da Nang guests, features a lush private garden, where you can have quality time of tranquility with complete immersion in nature.
For a well-rounded experience of recreation, Premier Village Da Nang provides a variety of activities, catering for diverse desires of its customers. For couples, why not try to heat up the romance with a sunset dinner under the stars? A candlelit dinner with gourmet cuisine and premium wine would be an unforgettable memory. For those who prefers something livelier, Summer Pool Party is held every Friday with premium BBQ foods and vibrant DJ music. If you wish to know more about such special offers and other details of the resort, take a look through their official website.
Hyatt Regency Da Nang Resort and Spa
Location: 5 Truong Sa Street, Hoa Hai Ward, Ngu Hanh Son District
Price range: $215.5 (around 5 million VND) – $930 (21.5 million VND)
Situated on the stretch of white sandy beach, at the gateway to the vibrant city of Danang, Hyatt Regency Da Nang Resort and Spa is the perfect spot for your exploration trip to exotic Central Vietnam. No matter what the purpose of your trip is, formal business meetings or memorable family vacations, Hyatt Regency Da Nang Resort and Spa is sure to satisfy you with its wide range of amenities.
Each room in the seaside resort reflects contemporary design, with Vietnamese-style architectural elements, indigenous timber, ceramic tea settings, and Oriental art. Offering a large selection of room types, the resort comprises 198 guest rooms and suites, 160 one-to-three bedroom residences and 22 three-bedroom ocean view villas.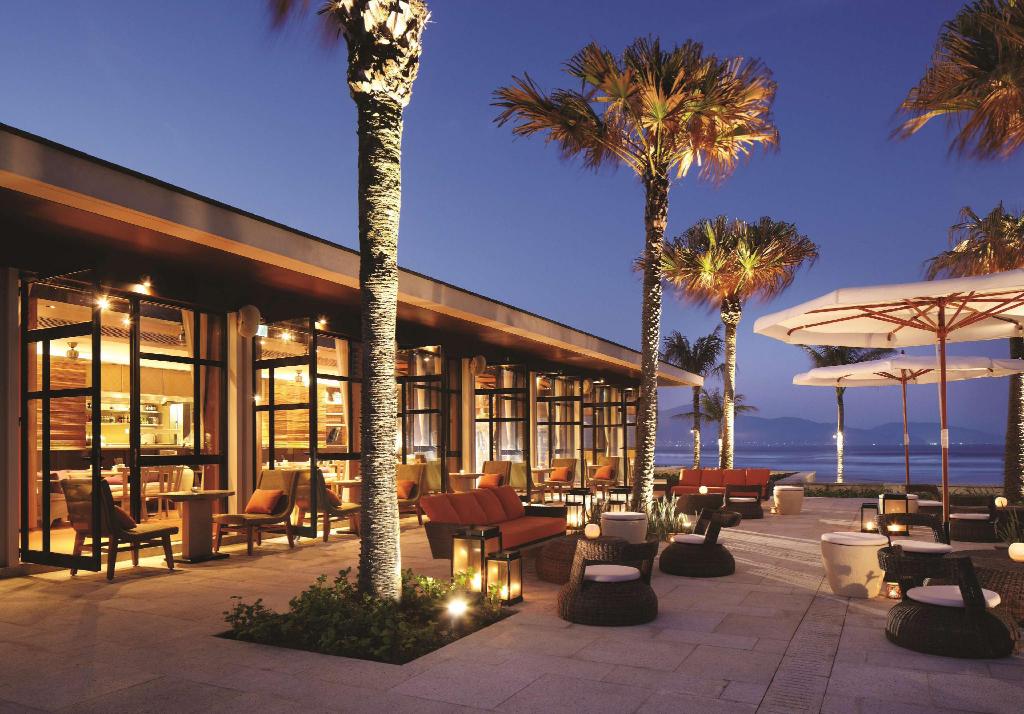 Gorgeous night view at Hyatt Regency Da Nang Resort and Spa
Upon booking at Hyatt Regency Danang Resort and Spa, you will gain access to a private pool, daily breakfast and cocktail hours. Another noticeable remark of the resort is the spacious area of its rooms. The Regency Suite, Regency Executive Suite and Presidential Suite is 84 sqm, 126 sqm and 168 sqm, respectively. If you pick the Executive or Presidential options, there is a separate dining area, where you can enjoy exquisite dishes prepared by world-class chefs working at the resort.
Just like other resorts in Ngu Hanh Son District, Hyatt Regency Danang Resort and Spa is the ideal gateway to the most scenic sights of the Central Area.Those with a penchant for history will be thrilled to know that the resort is just a few minutes from the heritage town of Hoi An and a few hours to the former capital of Hue. Naturists will be enchanted by the forested areas of Bach Ma and Son Tra Peninsula. For the active ones seeking a relaxing beach holiday, there are plenty of activities within the resort's private and luxurious grounds.
Besides architectural features and transportation convenience, the resort is also famous for its event organizing service. From personal events like weddings to important business meetings, Hyatt Regency has gained the trust of customers with its top-class facilities and professionalism. If you wish to know more about the service, or anything else that the resort has to offer, give their website a visit or contact HouseRentalDanang Agency for support from experienced staff who understands the city's accommodation market inside out.
Conclusion
Above is our list of top seaside resorts for your summer holiday in Da Nang. With this list, we hope that you will have a pleasant time booking your accommodation and discovering the versatile beauty of the city. 
If you have any queries, or simply want to avoid the hassle of booking your resort, don't hesitate to contact us at HouseRentalDanang Agency. Our enthusiastic staff will go to any lengths to find the one that meets your demands and budgets. As we proudly call Da Nang our Home, we want your trip to be filled with loving memories of nature's beauty as well as the people's hospitality.