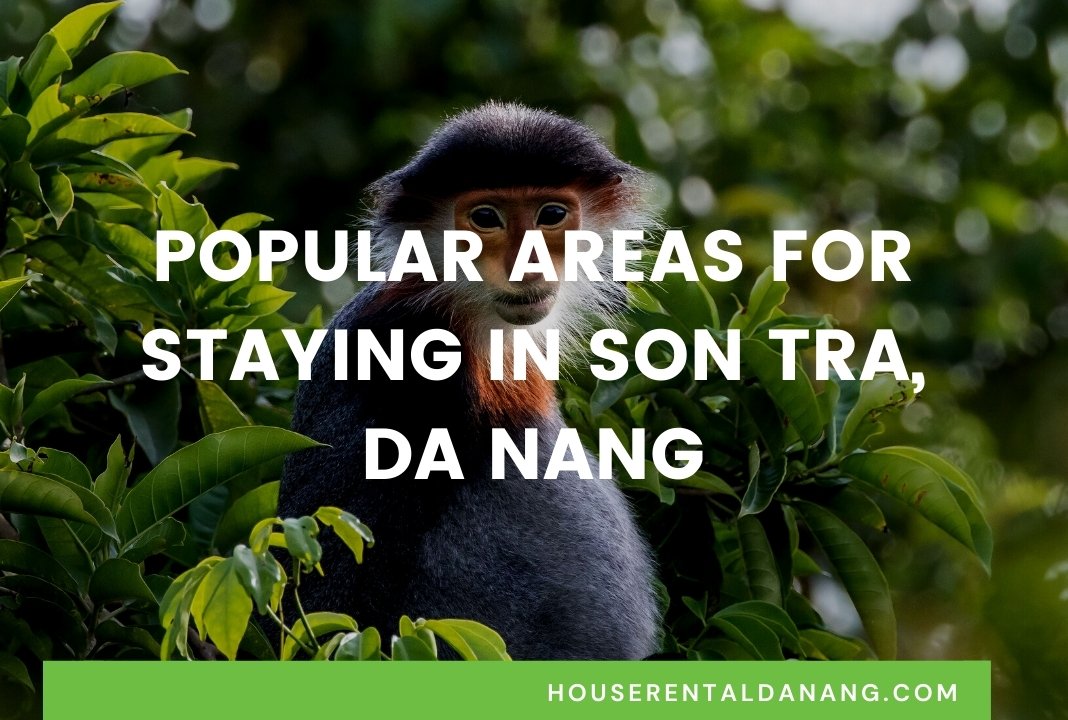 Popular Areas for Staying in Son Tra, Da Nang
For foreigners planning for long term settlement in Da Nang, choosing the right place for accommodation is of utmost importance. Son Tra District, for many years, has been one of the most popular choices for rental in Danang. With the increasing demand for rental houses and apartments, the offers are becoming more abundant than ever. The rising supply of rental properties in Son Tra has led to the formation of expatriate communities in the area, such as the Western or Korean community. The services around residential areas are also growing in both quantity and quality.
Nevertheless, first-hand lodgers usually feel overwhelmed with the excessive options on the market. With this post, we will come to help by answering two of the most asked questions about Son Tra District: What are the features that distinguish different areas in Son Tra District from the others? and How much is the average cost for rental in each area?
Son Tra District Info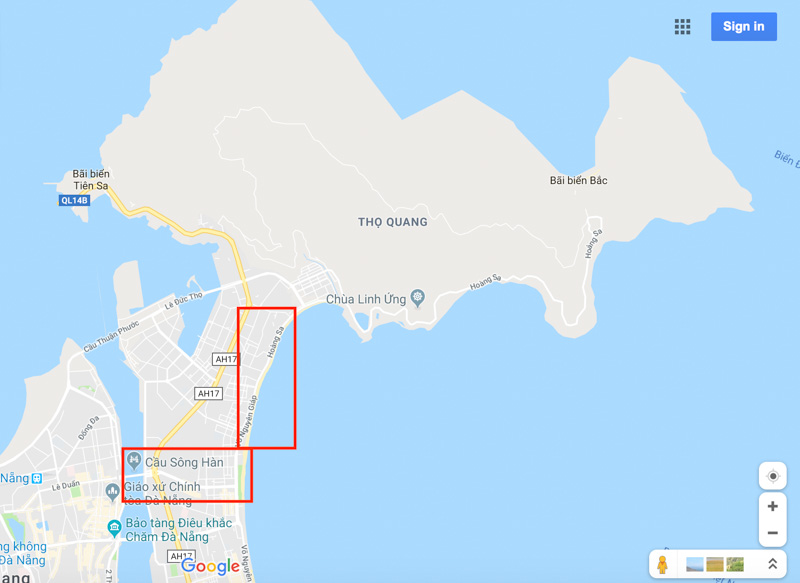 Son Tra is an urban district of Da Nang, with an area of approximately 60 km2. The district is bounded by the ocean to the north and the east, the Han River to the West and Ngu Hanh Son District to the south. A large portion of the district is covered by Son Tra Mountain (also known as Monkey Mountain), which locates on Son Tra peninsula and overlooks the Bay of Da Nang and the East Sea. Son Tra District is an attractive destination for foreigners with modern residential areas, excellent services, convenience for transportation and breathtaking scenery.
As the location of the most beautiful beaches in Da Nang, including the worldwide recognized My Khe Beach, thousands of visitors flock to the area every year, especially during summer months. Besides My Khe Beach, tourists looking for another coastal experience can come to Pham Van Dong Beach or Man Thai Beach in Son Tra District. Receiving considerable investment, Pham Van Dong Beach has become the most modern public beach of the city and an ideal rendezvous for resting, relaxing, and bathing. Traveling further to the north, Son Tra Peninsula is an excellent destination for weekend getaways, offering mesmerizing natural scene with crystal clear sea and mysterious primitive jungle (this post from a foreign traveler is the perfect evidence for our statement).
Connecting Son Tra District and other parts of the cities are four giant bridges, Han River Bridge, Dragon Bridge, Tran Thi Ly Bridge and Thuan Phuoc Bridge. Therefore, people have almost no difficulty commuting between areas within and outside Son Tra District. Since traveling from the city center to Son Tra and vice versa takes only 10 to 15 minutes, many foreigners decide to settle in Son Tra despite working in central districts.
When it comes to popularity with foreign tenants, Son Tra District is often compared with Ngu Hanh Son District. Both areas are expatriates' favorite because they offer a wide range of Seaview rental houses and apartments. However, as Ngu Hanh Son District, specifically the well-known An Thuong Area, is becoming more crowded. Therefore, foreigners are switching to Son Tra District, which offers the same coastal view, plus transportation convenience, security, and room for natural immersion (Son Tra Mountain is regarded as the green lung of the city).
Over the years, rental in Son Tra has become more and more prevalent, with diverse options and enhanced overall quality. You can easily find advertisements for rental houses and apartments through listing websites like House Rental Danang (If you are not sure about your requirements, refer to this post for brief instructions on different types of rental properties). Yet, to decide whether a rental property is appropriate, reading the description is never enough. Gaining an understanding of the surrounding area, including geographical, social features, and the price base for rentals will reduce your chances of making decisions that you would regret in the future.
Popular areas for rent in Son Tra District
Pham Van Dong Beach
Pham Van Dong Area is one of the most chosen locations for rental in Son Tra. The area surrounds Pham Van Dong Street, the 1600 meter long street stretching from Han River Bridge to the coastal line. As part of the city's development strategy, the street facilitates transportation from Son Tra District to other parts of the city (with a distance of approximately 2 km from the city centre, 3 km from the train station and 6 km from the airport). Ever since Pham Van Dong Street was constructed, the area has been filled with construction projects, including residential, commercial and tourist service facilities.
If you are planning to choose Pham Van Dong Area for your rental in Danang, the most difficult decision would be choosing from so many options. From one-bedroom apartments for couples or single tenants to four-bedroom houses for families, the multiple offers on the market are likely to satisfy all your requirements.
Here is a one-bedroom apartment with basic amenities and utilities in a foreign-favored area with a reasonable price.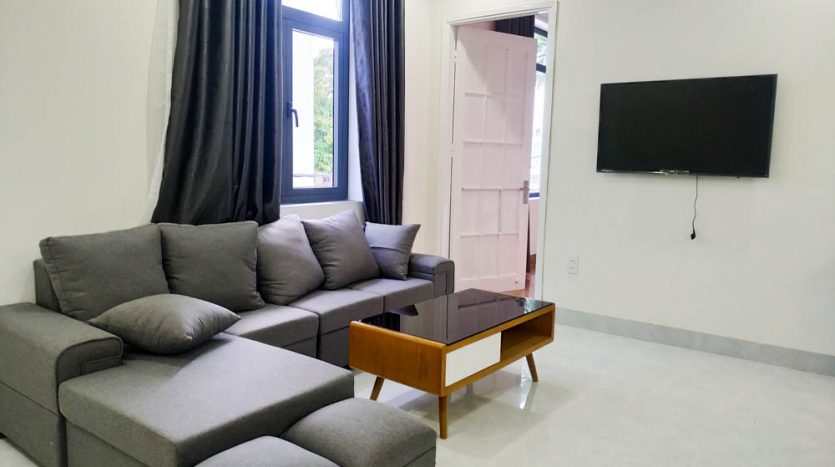 1-bedroom Apartment For Rent In Son Tra
Located in the security, quiet place where many foreigners living
Near the beach, many restaurants, spas, minimarts
1 individual bedroom, bright living room with sofa chairs
Fully furnished with amenities
Services: private washing machine, house cleaning services weekly, the using electricity cost will be charged, parking lot, free charge of cable, internet, water cost
Rental price: 9 mil VND ~ $390/month (long-term lease)
For larger groups dwelling in Pham Van Dong area, this two-floor house with four bedrooms and three bedrooms would be more suitable.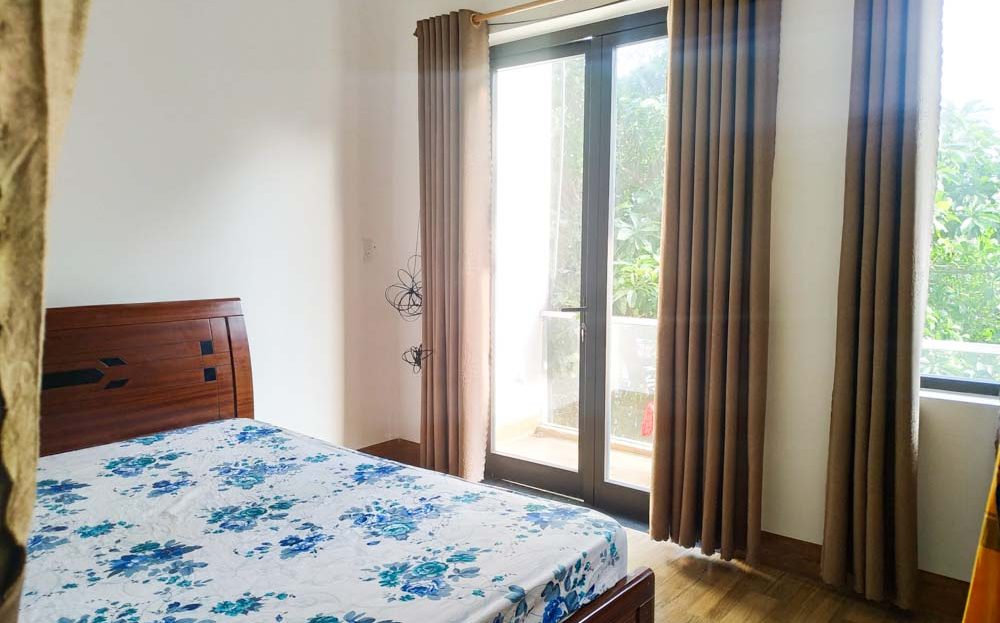 4-bedroom house for rent in Son Tra
Located in the security area with a lot of foreigners living and convenient transportation
Spreading 100 square meters with a parking lot for cars
Including 2 floors, 1 garage, 1 living room, 1 kitchen, 4 bedrooms, 3 bathrooms, 1 laundry space
Rental price: $1,200/month (long-term lease)
One of the main allures of Pham Van Dong Area is Pham Van Dong Beach. Enjoying the coastal atmosphere is a great way to wind down after a tiresome working day. The restaurants around the area serving different types of cuisine make it an appealing destination for gatherings. Whichever you fancy, Vietnamese specialties, Western classical dishes or Korean BBQ, you will have no trouble finding something to satisfy your appetite at an affordable price.
Many people go further and look for rental houses and apartments with ocean view as the bright, fresh atmosphere of the ocean brings in positive energy and reduces stress. Ocean faced apartments are usually more expensive than normal apartments but in no way are they less enticing. Here is an ocean view studio apartment which offers a wide range of conveniences.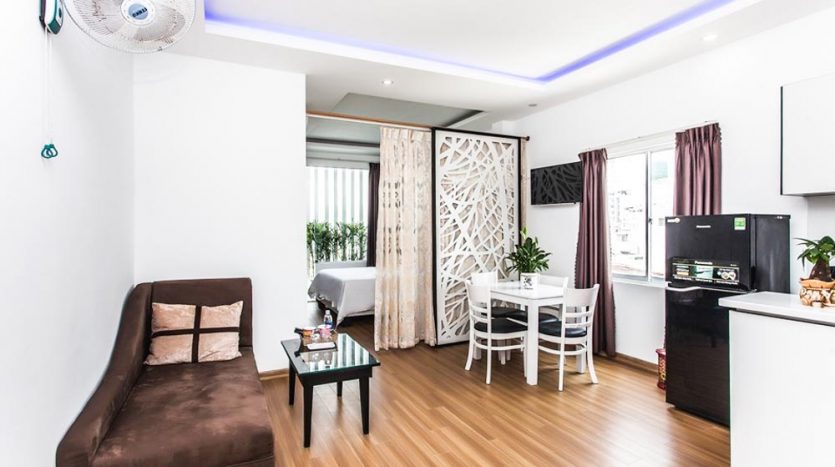 Ocean View Studio for Rent in Da Nang
Located in the expat's town with many services, restaurants, cafeterias
This studio spreads 42 square meters, fully furnished, private washing machine, public bicycles for free
Lovely design with beautiful balcony and plenty of natural light
Services: elevator, reception, bicycles, house cleaning services weekly, the using electricity cost will be charged
Rental price (depend on floors): 9.5 mil – 13 mil VND/month ~ $410 – $560/month (long-term lease)
Pham Van Dong Area guarantees to please those who love coastal atmosphere and those who wish to stay in a foreign populated area. Foreigners intending for rentals in Pham Van Dong Area can query fellow tenants for realistic experiences or contact professional rental agents for support throughout rental process.
Han River Area
If you wish to enjoy the day and night liveliness of Danang, you should go for the option of Han River Area. The picturesque Han river is generally considered the geographical border between Son Tra District and the city center. With four vast bridges crossing the river, people who stay here but work in central districts have no trouble commuting to work.
Among the four bridges mentioned above, Han River Bridge Area and Dragon Bridge Area are the most densely populated areas. Han River Bridge, connecting Hai Chau District and Son Tra District, is the first cable-stayed swing bridge of Vietnam. This is the first modern bridge of Danang, built with the contribution of the entire city's people and symbolizes the vitality and developing desires of the city. To those visiting Danang for the first time, witnessing the spectacular scene of the bridge swinging on its axis allowing shipping traffic to pass at 11 pm is a must-have experience. Various recreational activities are available within the area, such as riverside coffee shops and pubs, excursions on the river or therapeutic spas, just to name a few. Several residential construction projects have taken place and nowadays, tenants can easily find high-quality apartments with stylish designs and excellent services.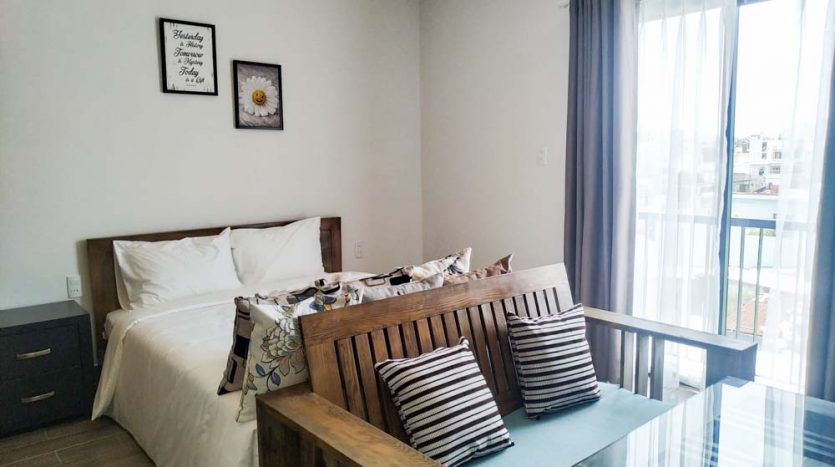 Beautiful Studio near river for rent in Danang
Located in the area near river, Vincom, convenient traffic, fresh atmosphere and good security
33 square meters
One large and smooth bed with a big window in the bedroom
Modern, high-quality furniture and kitchen equipment
Services: Parking, elevator, cleaning room every week. Free cable and wifi. The amount of electricity and water used will be charged monthly.
Reception and security camera is available, smart locks for doors
Rental Price: $420/month (long-term lease)
For those wishing to escape from the summer heat, it is worth taking a look at rental apartments with swimming pool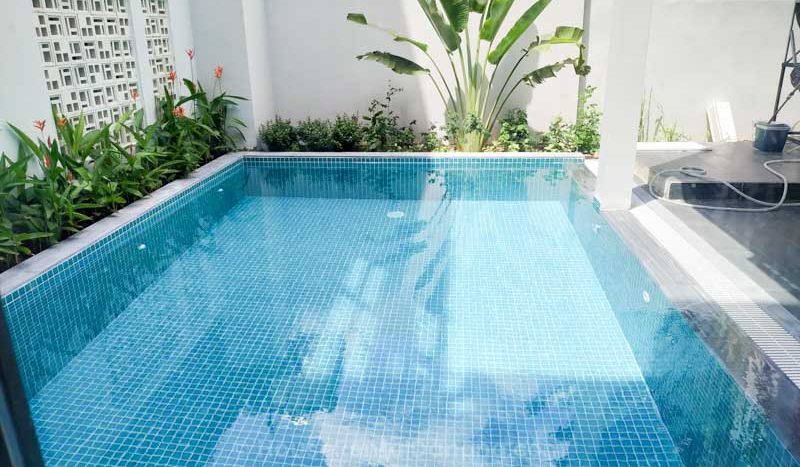 Beautiful Swimming pool 2-bedroom apartment for rent
Located in quiet place with large living space
80 square meters with full furniture
2 individual bedrooms – a living room with a kitchen – 2 bathrooms
A garden, a shared swimming pool, a shared living room
Rental price: $800/month (long-term lease)
Among the luxurious rental apartments offered in Han River Area, Azura apartment has attracted considerable attention. It takes only 5 minutes jogging downstairs and moving across the bridge to reach Han River. One special point of Azura apartment is the curved design of the facade, with the purpose of maximizing the view of the whole city. The facilities of Azura apartment also stand out for its quality. In each apartment, there is a fully equipped kitchen with stove, microwave, refrigerator and so on. In addition to that, there are bathtubs and washing machines in each apartment and if you don't have time, cleaning and washing service are always available. Other amenities in Azura apartments are swimming pool, fitness center, children's playground, shopping mall and so on. If you wish to know more about this high class serviced apartment, give this website a visit or contact House Rental Danang to receive advice from our experienced staff. Here are a few looks from rental Azura apartments in Son Tra District.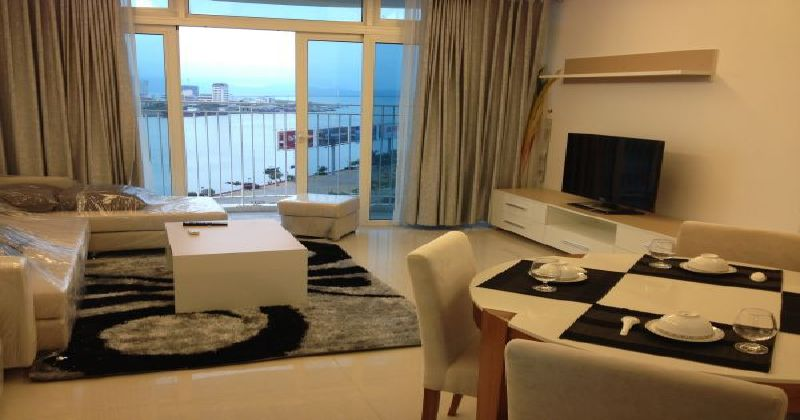 Riverside Azura rental apartment with delicate design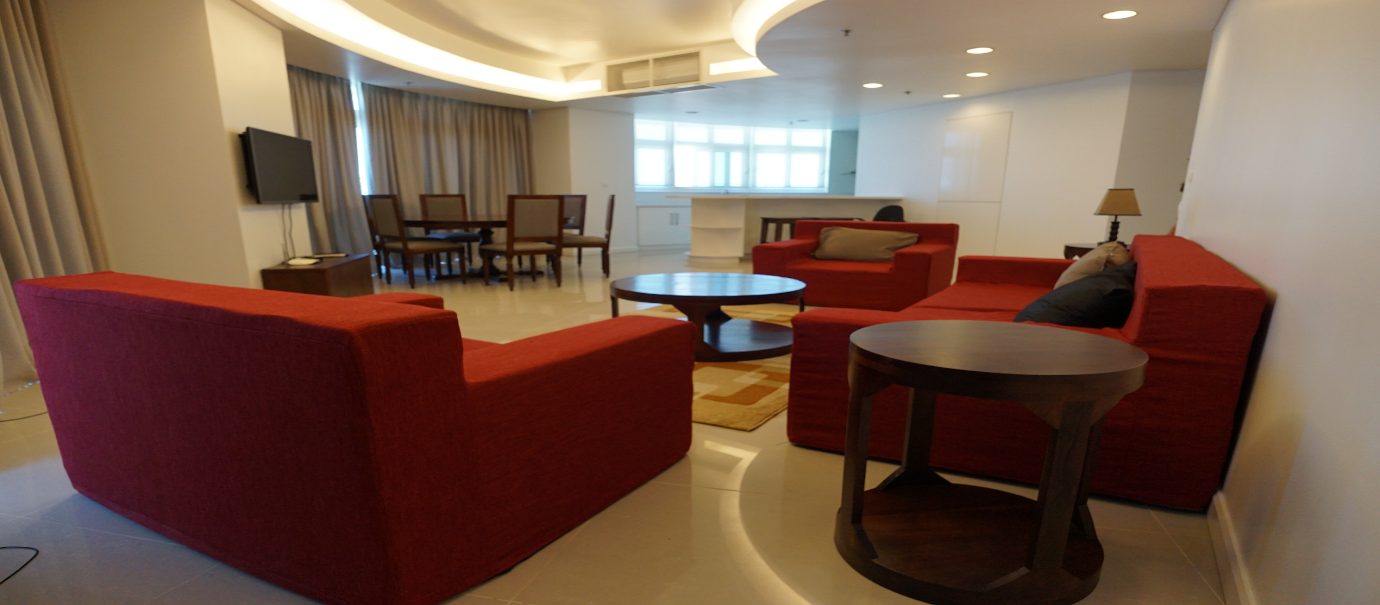 The curved design giving a panoramic view of Han River
Thirteen years after the opening of Han River Bridge, in 2013, Dragon Bridge was set up to ease the traffic flow crossing the former. The bridge officially opened on the 38th anniversary of liberation of Danang, shortening the routes between Da Nang International Airport and other parts of the city. At the same time, it serves as a direct route towards My Khe Beach and Non Nuoc Beach. Aesthetically, the bridge resembles the shape of a dragon and attracts both locals and foreigners with its state-of-the-art water and fire shows held on weekends and annual festivities. The area near Dragon Bridge is filled with riverfront bars, restaurants, and cafes where you can have a good time with friends and observe the bustling lifestyle of the city. Just like Han River Bridge Area, there is a wide range of offers for rental houses and apartments in Dragon Bridge Area and the price is quite the same as well. For example, this studio apartment with in-house swimming pool and full furniture costs around $600 per month.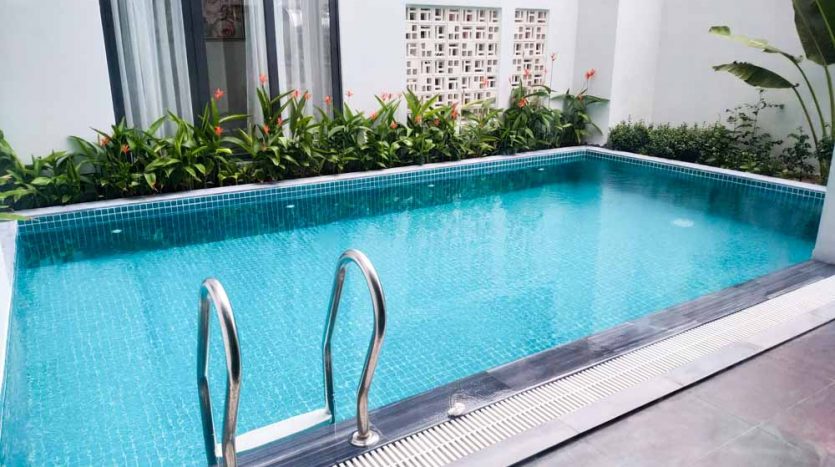 Studio with beautiful swimming pool for rent in Da Nang
Located at peaceful road and highly secure area
45 square meters, lots of natural light with a wide green balcony
Living room with a table and chairs, reading room
Large swimming pool indoors
Service: the security camera, parking, private washing machine, free cable and wifi. The amount of electricity and water used needs to be paid monthly.
Rental Price: $600/month (long-term lease)
Ho Nghinh Area
Ho Nghinh Area is our third recommendation for rental in Son Tra. Ho Nghinh Street intersects with main streets of Son Tra District such as Pham Van Dong or Vo Van Kiet Street. The area is also desirable for seaside lovers for the street is parallel with the coastal road and is just a few meters from the city's best beaches, namely My Khe Beach and Pham Van Dong Beach. The street is 15 meters in width with upgraded infrastructure, which diminishes the issue of traffic congestion and makes it attractive even to those who work outside Son Tra District.
Thanks to its strategic location, several development projects have taken place in the area, including housing properties and relevant service facilities, such as restaurants, coffee shops, and supermarkets. Ho Nghinh Area is progressively gaining higher demand and several offers with competitive price can be found on listing websites. A studio apartment costs from $330 to $450 per month, depending on the position of the apartment within the building.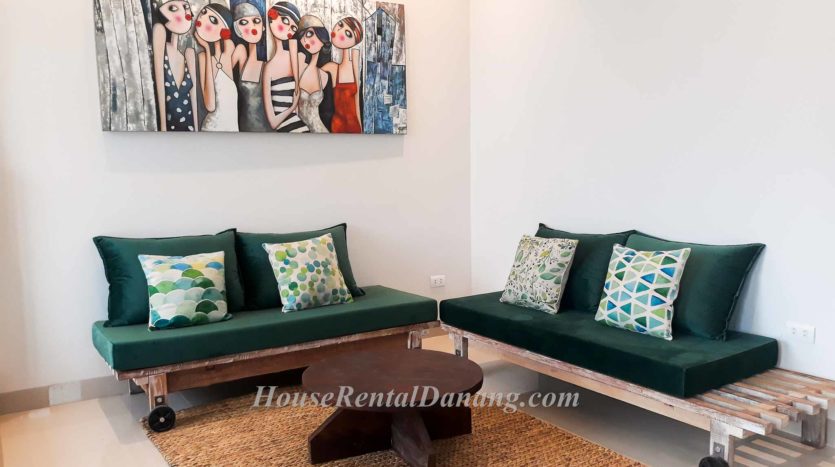 Nature Studio By The Beach For Rent
35 square meters, suitable for 1 to 2 people living
Full furniture with unique and stylish design. The house is highly ventilated with plenty of natural light.
Located in peaceful and secure area. City and mountain view for front apartments, beach view for behind apartments.
High-quality amenities and services, including stove, smart TV, parking area, security guards, elevator, laundry area
Rental price: $330 – $450 per month
If you are lodging in groups or intending to share your rental with other tenants, rental houses are more economical than rental apartments as they are comparatively cheaper. Besides, some people prefer rental houses since they don't have to worry about bothering people living around.
Another advantage of rental houses in Ho Nghinh Area is that they are not only fit for accommodating but also working purpose since many companies and banks have set up its branches here. Tenants may utilize the first floor for working and business meetings and use the other floors for resting. Here is an example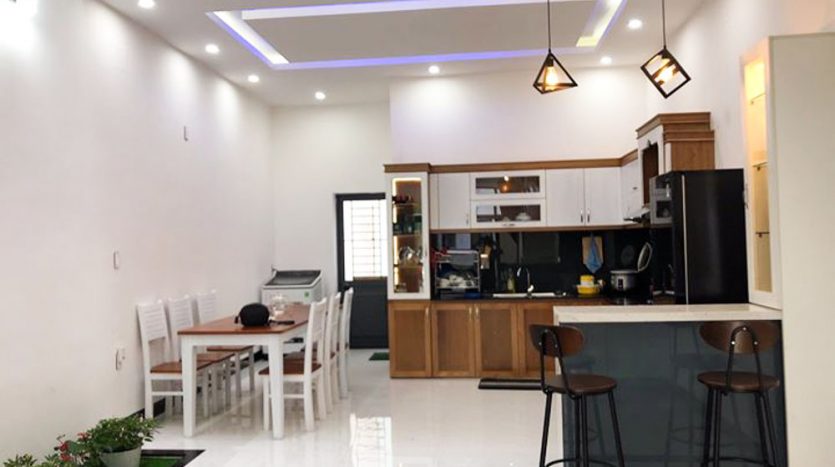 Beautiful 4-bedroom house for rent in Danang
Located in a quiet and secure area
An area of 220 square meters, 1st floor consists of a 17 m2 yard, guest room, kitchen and restroom
2nd and 3rd floor consists of 4 bedrooms and restrooms
Rental price: $1720 per month (long-term contract)
Man Thai Area
Man Thai is a small ward of Son Tra District. It is becoming an attractive destination for rental in Da Nang for of its serenity, compared with Pham Van Dong Area or Han River Area.
Man Thai Area is adjacent to the coastal line to the east so you can easily find rental houses and apartments with ocean view. The beach in Man Thai Area is well-known for the fishing villages of local people. Many people come to the beach not only to dive in the crystal clear water but also to witness the life of native fishermen. They can see fishing boats that set sail at sunset, those that come back full of fishes at dawn, or a variety of solemn traditional rituals praying for happiness and prosperity. This house, for example, is only 2-minute walking distance from Man Thai Beach.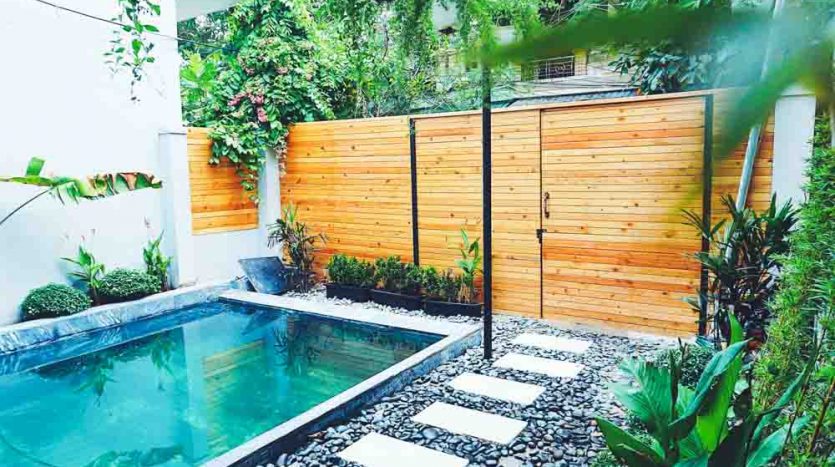 Small house with swimming pool for rent in Da Nang
An area of 80 square meters, quiet and private living space
1 bedroom, 1 small garden and swimming pool, 1 living room and furnished kitchen
Rental price: $800 per month (long-term lease)
Ngo Quyen Street, one of the chief streets crossing Son Tra District, makes it convenient to travel between Man Thai and other areas. The potential of Man Thai Area has led to several facilities being built up, including residential properties, restaurants, and supermarkets serving the flow of foreigners coming.
Tho Quang Area
Situating at the northeast of Son Tra District, Tho Quang Area is also rising in popularity with foreign tenants. The area is adjacent to Son Tra Peninsula and is the location of Da Nang port, making it a strategic military and economic area.
Except for the southern part, the other parts of Tho Quang Area are covered by sea. The most famous beaches are Tien Sa Beach (a tranquil beach with unique fishing villages), Bai Bac Beach (where the luxurious Intercontinental Danang Sun Peninsula Resort is located) and of course, Son Tra Peninsula.
Tho Quang Area is also the place where the main tourist attractions of Son Tra District cluster (Monkey Mountain, Linh Ung Pagoda, Ban Co Peak and so on). If you want to visit the signature sights of Son Tra District, or simply yearn for an escape from the bustling city life, you must visit Tho Quang Area. Tho Quang Area would be perfect for those seeking business opportunities from the rising number of tourists. It is also the place to immerse yourself in nature since most of the area still maintains its untouched, original beauty. This 3-floor rental house in Tho Quang Area is not only suitable for living, but also for doing business.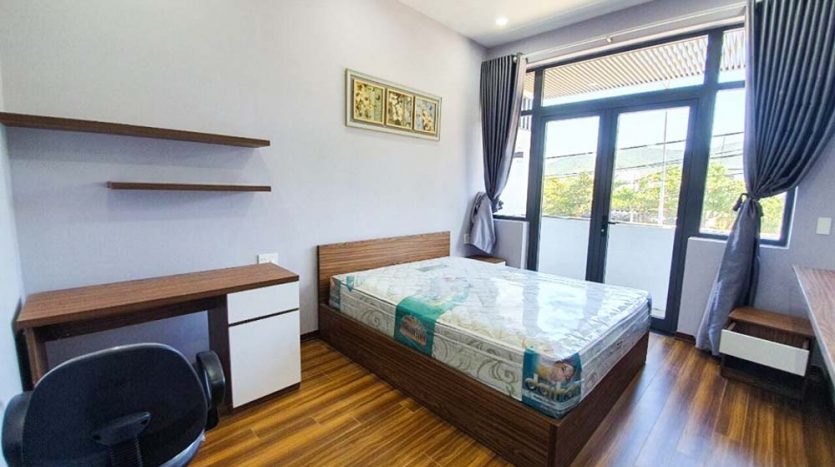 Lovely 3 bedroom house for rent in Da Nang
Located in Le Duc Tho Area, close to Son Tra Mountain
Including 1 living room, 1 kitchen, 4 bathrooms, 3 bedrooms, 1 working place, 1 laundry space – all are fully furnished
The area is popular with expatriates, convenient for transportation
Rental price: $950 ~ 22 million VND per month (long term lease)
Conclusion
We have just gone through five popular areas for rental in Son Tra, with detailed analysis of their location, transportation, social features and rental price base for each one. Besides the areas we mentioned, there are many others in Son Tra that are worth giving a look at, such as Vo Van Kiet Area, Phuoc My Area, Nai Hien Dong Area, or Tran Thi Ly Bridge Area.
As a professional rental agent, it is our honor to be the helpful companion of foreign tenants planning for rental in Son Tra. Our experienced and dynamic staff will listen to all your requirements and go to great lengths to find the ideal accommodation that satisfies your needs. We, the people who call Da Nang our HOME, will find you the property that makes you feel at HOME.