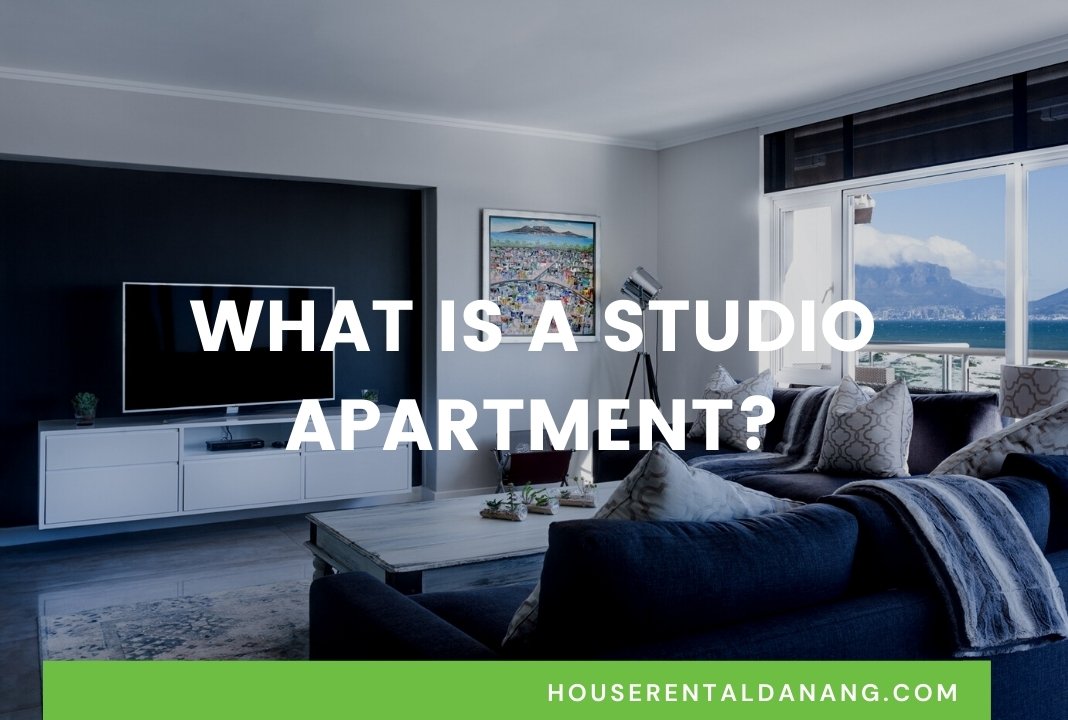 What is a A Studio Apartment | The difference between studio and one bedroom apartment?
What is a studio apartment? Is that your biggest question now? Today, studio apartment become more and more popular in many countries, especially in metropolitan cities, where are lack of space. And it's hard for you to find the right placed. Let's read this blog below, you can answer your wonder and know exactly which you need.
1. What does a studio apartment mean?
Studio apartment meaning:
A studio apartment is a small, self-contained unit that contains everything within one room. This includes a kitchen, bathroom and sleeping area. A studio apartment usually has a separate entrance from the rest of the house so that tenants can come and go as they please. Studio apartments are often found in urban areas where space is limited.
The main difference between a studio apartment and a one bedroom apartment is that a studio does not have a separate bedroom. Instead, the sleeping area is located within the main living space. This can make studio apartments feel more spacious and open than a one bedroom apartment.
Global variations
Studio apartment is definitely the most common name for this type of property, but there is a wide range of variations around the world. For example, 'studio flat' is the more prevalent term in the UK. As for Kenya, 'efficiency apartment' is usually used to describe such properties, as it is an economical option for those living on a budget. In Nigeria, 'self-contained apartment' is the precise word to describe the distinct feature of these apartments.
With its limited size, a studio apartment is the ideal choice for those who want to avoid sharing their living space, hence, it is referred to as 'bachelor apartment' in Canada. In Vietnam, the term 'Căn hộ studio' is used to describe studio apartment, in which the phrase 'căn hộ' refers to apartments.
Does a studio apartment have a bedroom?
A studio apartment does not have a bedroom, but it may have a living room and kitchen. A studio apartment is a small, compact, and affordable place to live. It is perfect for people who want to live in a city but don't want the hassle of having a large house. Studios are usually around 400 square feet in size.
Is it hard to live in a studio apartment?
Yes, it can be hard to live in a studio apartment. Here are a few reasons why:
There is less space overall, so it can feel cramped.
There is usually only one room, so there is no privacy.
There is often no separate kitchen, so cooking can be difficult.
Studio apartments are often located in busy areas, which can be noisy.
>>>> READ MORE: House Lease Contract in Vietnam 2022
2. What does a studio apartment look like?
Floor plan of a studio apartment
A studio apartment is usually part of a larger house. Inside each apartment, you will find a common space with multiple purposes, as well as a separate bathroom. The common space is usually furnished with a sofa, TV, closet, and bed.
The kitchen can be a recess to prevent cooking smells from emanating around the property. It is equipped with basic cooking utilities, such as a microwave, stove, cookware, and utensils. If there is extra space, a dining table set can be placed within, allowing you to enjoy home-cooked meals without accidentally spilling your sofa.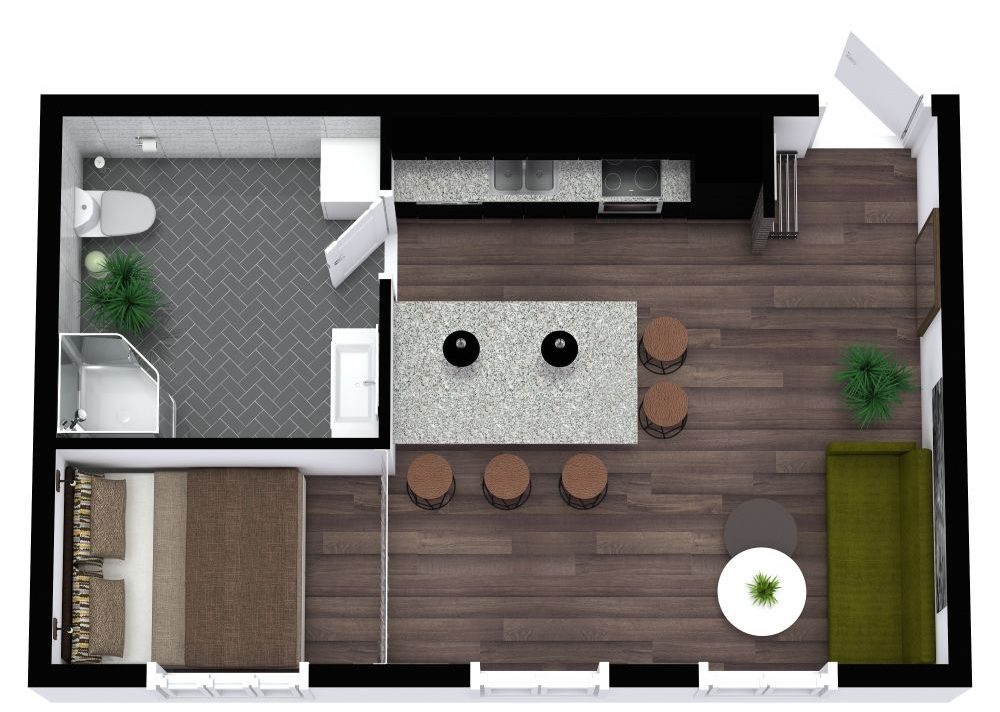 Floor plan of a studio apartment
Size of a studio apartment
Size is an important factor to consider when looking for a studio apartment. The average studio apartment is around 600 square feet, but can range from 400 to 800 square feet. That being said, it is important to find an apartment that fits your needs and budget.
When considering the size of a studio apartment, it is important to think about how you will be using the space. If you plan on entertaining guests often, you may want to look for a larger unit. If you are looking for a more intimate space, a smaller unit may be more suitable. Keep in mind that the size of your furniture will also play a role in how comfortable your studio feels.
The size of a studio apartment can also affect your monthly rent payments. Generally speaking, the larger the unit, the higher the rent will be.
What does a studio apartment consist of?
Studio apartments may have the drawback of limited space, but that feature also makes it easier to furnish the area. Besides necessities such as bed, closet, chair and table set, basic cookware, and bathroom accessories, extra appliances can be installed, giving you superb living convenience.
To maintain comfortable temperature, most studio apartments are equipped with air conditioning, as well as a water heater in the bathroom. For entertainment, most have a TV, combined with cable and Internet service. Although you may be charged for high-speed Internet connection, the cost is not too much to worry about.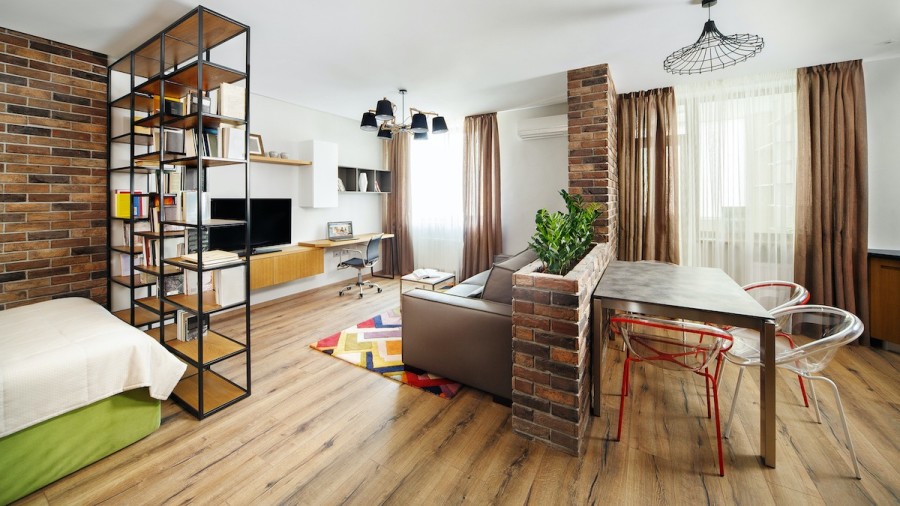 Studio Apartment Space
If you are expecting an airy space for relaxation, many studio apartments include a private balcony. In addition, because most studios are located within a building, there can be a shared rooftop terrace for residents. This is a great place to chill out and observe the panoramic view of your neighboring areas. Most studio apartments have a public parking lot, with safeguards watching your vehicles 24/24. Some even have security cameras installed in different corners to avoid intruders.
What is a good size of studio apartment?
The size of a studio apartment in your area is determined by several factors. Availability of space, regulations from local authorities, or common practices of the local market. For example, the minimum size for a studio flat's square footage in London is around 37 meters. While in the US, the size can range from 45 to 65 square meters.
3. The pros of a studio apartment
Shared studios have an inviting and fun open vibe. If you're considering living in a studio instead of a one-bedroom, here are some of the advantages that come with this type of apartment:
Unique layout: Typically, studios boast a chic, trendy space where all of your belongings are in close proximity. For some people, this is a major selling point.
Price: Typically, a studio costs less to rent because it has less square footage. And because studios are smaller than other spaces, including a one-bedroom, you'll likely pay less in rent and utility bills. However, this isn't always true. Some larger units or those in large cities may come with a higher price tag.
Location: If you want to live in the middle of a big city, studios are a great option. They give you access to cool, hip areas downtown.
Simplicity: Since there is only one main room, filling it with too much furniture is not an option. This gives you a chance to get rid of unnecessary items, simplify and bring in only the essentials to your place. Whether you're an avid reader with many books or a minimalist, this type of living arrangement is more favorable for those without a lot of belongings.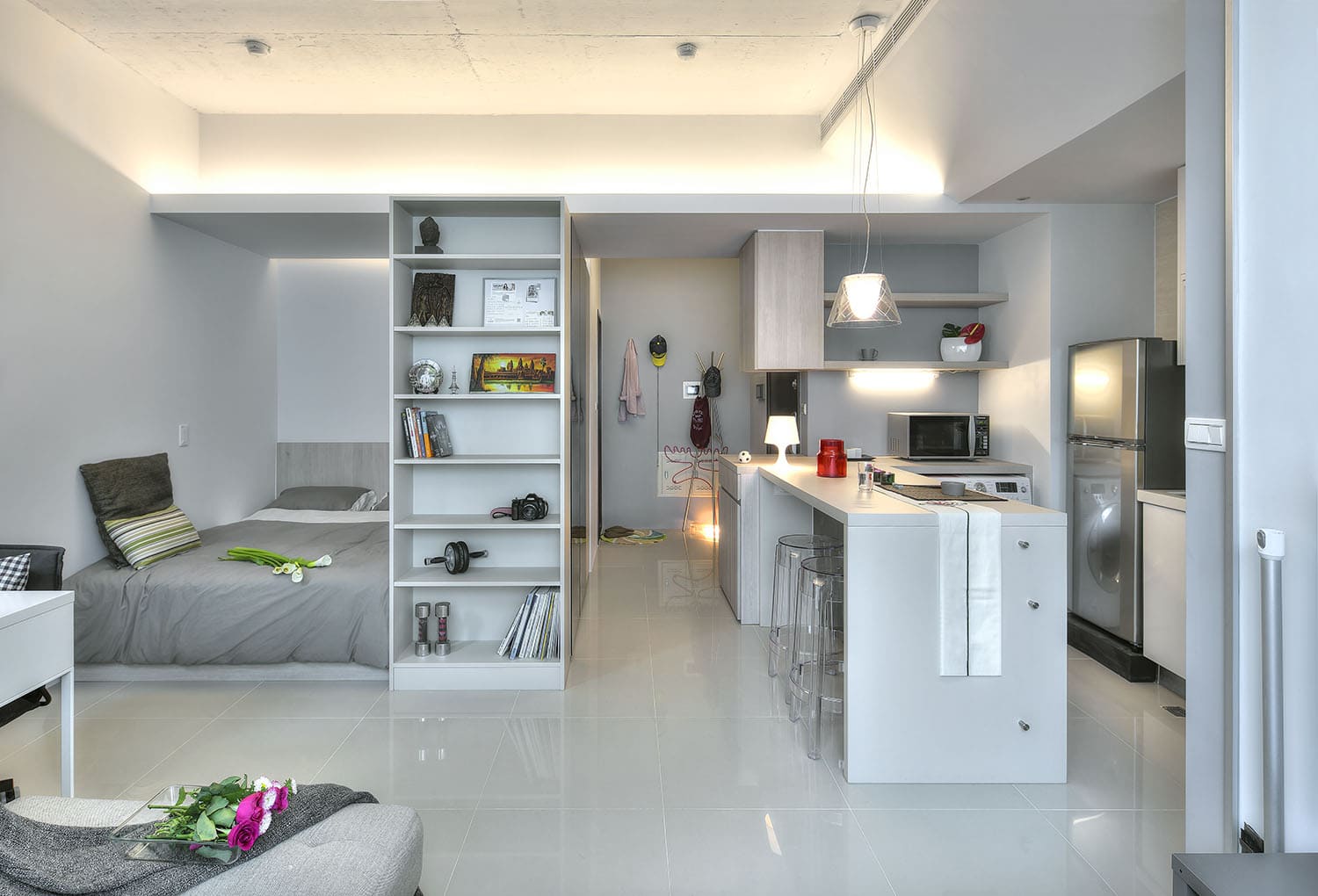 Simplicity is one of the pros of studio apartment
4. Cos of a studio apartment
As with anything, there are pros and cons to any life situation. While smaller units have a lot of perks, here are some downsides to this lifestyle:
Lack of storage: The size of the typical studio apartment many country is usually expected that it's between 400 and 600 square feet. It's not enough area for storage space, so which is exactly difficult for who lives here. Morever, if you work from home, this small space maybe make you uncomfortable, specially when you was sink in deadline.
Limited privacy: The walls are thin and the layout of the rooms is such that it would be difficult to have any kind of privacy if you had a roommate. If you're looking for an apartment where you can have some privacy, these apartments are not for you. The main point is that you have to share sleeping area.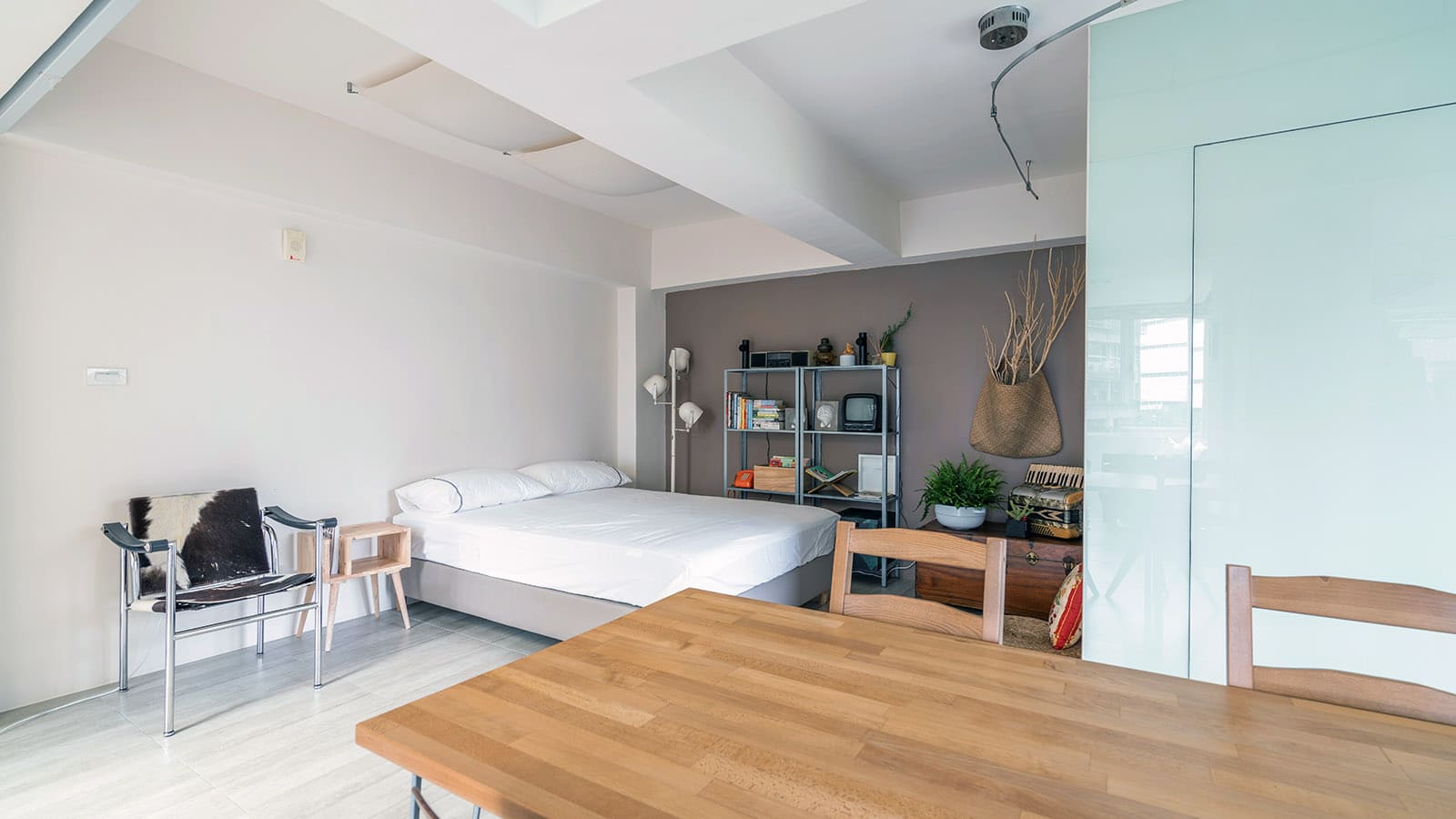 Lack of storage is one of the cos of a studio apartment
5. Difference between studio and one-bedroom apartment?
What is a one bedroom apartment?
At first thought, many people can get confused between a studio and one bedroom flat. And in fact, there are just some slight disparities between these two types of property. For studio, the bed is placed in the common space, and only gets temporarily detached on a few occasions. Meanwhile, the bed of the latter is completely closed off with a permanently installed wall.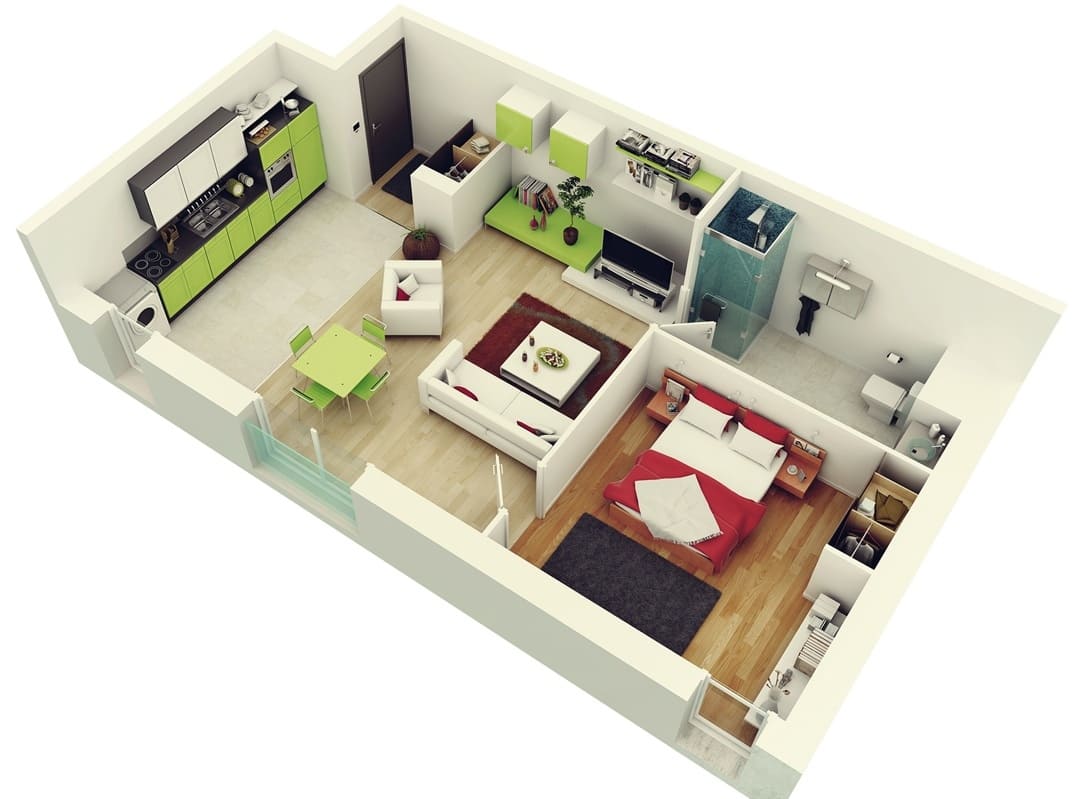 The floor plan of one bedroom apartment
How to distinguish between a studio and one bedroom apartment?
The biggest difference between a studio and a 1 bedroom apartment is the separate bedroom. A studio typically has one large room that serves as the living room, bedroom and kitchen, while the latter has a separate bedroom. This can make a big difference in terms of privacy and noise level, as well as overall space.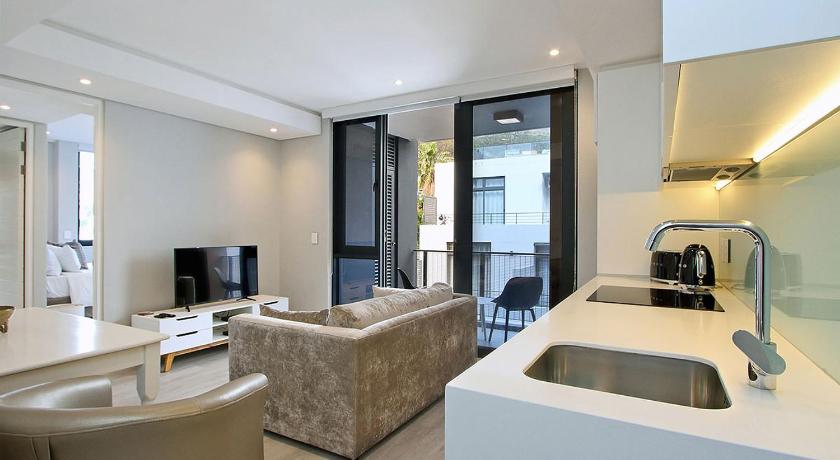 The living room of one bedroom apartment
Next, we can refer about the size. One bedroom flat is usually larger than a studio apartment. On average, a studio in the US is about 40 to 65 square meters in size. This means that bedroom flat have more space, on average, than studio apartments. This can be important for people who want more space to live in or who want to have separate rooms for different activities. Besides that, with lager room, you can have more space to decorate and fill it with furniture.
6. Studio apartments vs. efficiency apartments vs. micro-units
When it comes to small living spaces, there are a few different options to choose from. These include studio apartments, efficiency apartments, and micro-units. Each option has its own set of benefits and drawbacks that should be considered before making a decision.
Studio apartments are the most basic option when it comes to small living spaces. They typically consist of one large room that serves as both the living and sleeping area. While this can be great for those who don't need a lot of space, it can also feel cramped and cluttered.
Efficiency apartments are slightly larger than studio apartments and usually have a separate bedroom area. This can provide more privacy and help to keep the living area feeling more open and spacious. However, efficiencies often have smaller kitchens which can make meal prep challenging.
Micro-units are the smallest type of small living space available.
7. Which type of apartment is right for you?
For those who are looking for a new place to live, they may be wondering what the differences are between a studio and one bedroom apartment. Here is a breakdown of the two types of apartments to help you decide which one is right for you.
Studio apartments are typically smaller than one bedroom apartments and do not have a separate bedroom. Instead, the living area and bedroom are combined into one space. This can be a great option for single people or couples who do not need a lot of extra space. Studio apartments also tend to be more affordable than one bedroom apartments.
One bedroom apartments have, as the name suggests, one separate bedroom. This can be ideal for couples or small families who want a bit more privacy and space. One bedroom apartments usually cost more than studio apartments but offer more square footage overall.
8. Decorating a studio apartment?
When you're living in a studio apartment, it can be tempting to just leave everything as is and not bother with decorating. After all, who's going to see it besides you? But there are actually a few good reasons to put some effort into making your studio apartment look nice.
For one thing, a well-decorated space will make you feel happier and more relaxed at home. Even if no one else ever sees it, your home is still a reflection of you and should be a place that makes you feel good.
Another reason to decoration your studio apartment is that it can help maximize the space and make it feel less cramped. By carefully selecting furniture and décor items, you can create the illusion of more space and make your small apartment feel like a cozy, comfortable home.
Here are some ideas for how to decorate it:
Use dividers in order to separate the space.
To make the most of your space, use dividers to create distinct areas for different activities. A folding screen can be used to partition off the bed, while a bookshelf can serve as a makeshift wall to give you some privacy from your neighbors. With a little creativity, you can turn your studio into a cozy and functional home.
Use natural light and even nooks.
Positioning your bed near a window will help you wake up with the sun and give you a natural source of light to start your day. If you have a small alcove or nook, you can use this as your dining area by adding a table and chairs. For the living room, placing your sofa close to the window will also help brighten up the space.
Making use of natural light and creating distinct areas in your studio apartment will help you make the most of your small space.
Buy furniture that can be used for multiple functions.
multi-use furniture is key when it comes to furnishing a studio apartment. Look for pieces that can serve multiple purposes, such as a coffee table that doubles as a dining table or a daybed that can be used as a sofa. Invest in storage solutions, like ottomans with built-in storage or a bookshelf that can also be used as a divider. And don't forget about multifunctional lighting! Floor lamps and sconces can do double duty as both ambient and task lighting.
Hang curtains to divide a space in a studio, and mark off certain areas
If you're living in a studio, it's important to find ways to create different spaces within your one-room home. One way to do this is by hanging curtains. Curtains can help to seperate your sleeping area from your living space, or create a makeshift closet if you don't have one. They can also be used to block out light if you need to sleep during the day.
Hanging curtains is an easy and inexpensive way to make your studio feel more like a home. Take some time to experiment with different arrangements until you find a setup that works for you.
Hide your bedroom by making it look different from other areas of the studio apartment.
One way to hide your bedroom is to use a screen. Screens come in all shapes and sizes, so you can find one that fits your space perfectly. You can also use a curtain to create a makeshift bedroom. Another option is to use furniture to create a barrier between your sleeping area and the rest of your apartment.
Another way to keep your bedroom hidden is to keep the door closed at all times. If you have guests over, make sure they know not to go into your room. You can also put a sign on the door that says "Do Not Enter" or "Private." If you have roommates, make sure they respect your privacy and do not enter your room without permission.
The last way to keep your bedroom hidden is to be creative with storage.
9. Studio apartment in Danang, Vietnam
Danang is becoming increasingly attractive for expats in Vietnam with well-paid occupations, lucrative business opportunities, highly secure neighborhoods, and impressive scenery. Studio apartments are also rising in popularity here, with several amenities enclosed with the properties, assuring to bring the best living experience for foreign customers.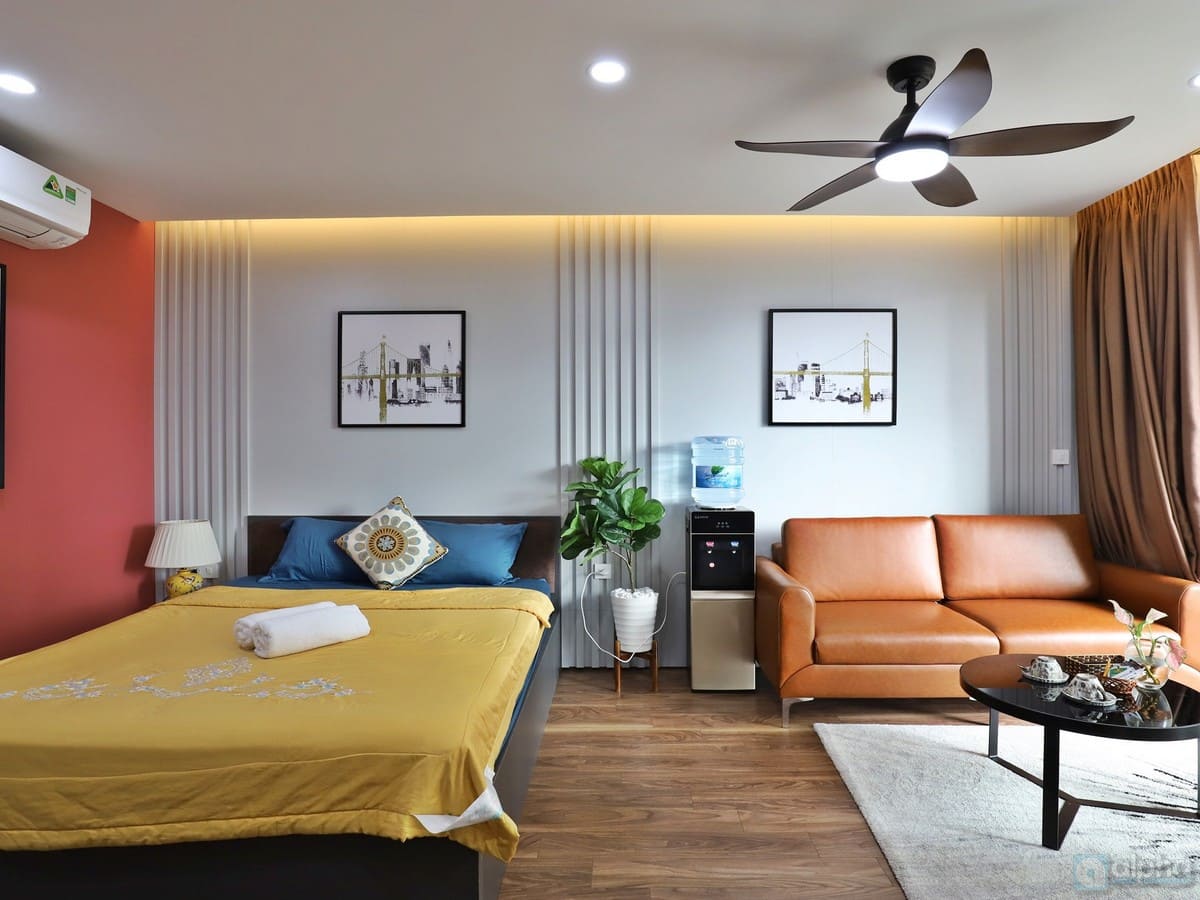 Inside a studio apartment in Danang
For studio apartments in Danang, you may gain the advantage of stylish, pre-decorated interior. From traditional to modern, rustic to contemporary design, you can easily find something that matches your taste through House Rental Danang websites. The rental price for one in Danang goes from $200 to $300 per month on average.
Conclusion
Now you know to answer "what is a studio apartment?". It is an economical option that offers decent living standards when properly chosen. A perfect accommodation is not necessarily the most splendid one, but it is the one that fits your budget, one that grants you a comfortable and inspiring environment. With the guidance above, we hope you will find your perfect apartment.