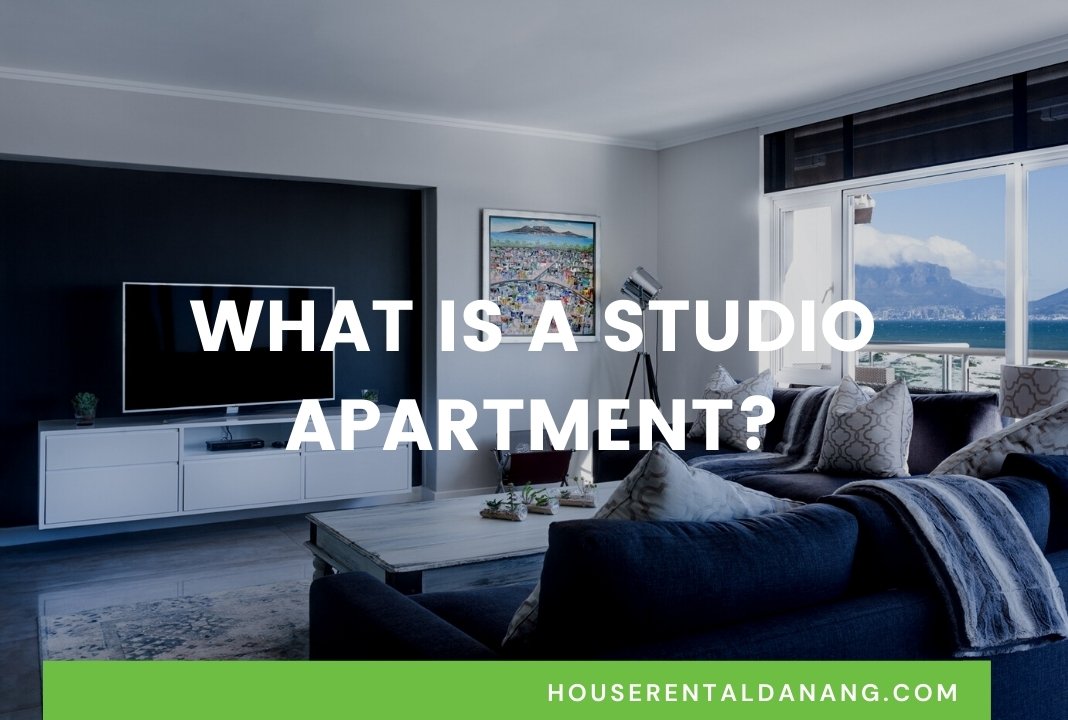 What is a studio apartment?
What does a studio apartment mean?
A brief definition
Normally, a studio apartment is known as an apartment that consists of a single room and a bathroom. The single room serves the functions of a living room, a kitchen, a dining room, and a bedroom.
Sometimes, you would find a small cooking corner, or a kitchenette, separated from other parts of the room. And also, the bed may be temporarily detached by curtains, creating a specific type of studio apartment known as 'alcove studio'.
Global variations
Studio apartment is definitely the most common name for this type of property, but there is a wide range of variations around the world. For example, 'studio flat' is the more prevalent term in the UK.
As for Kenya, 'efficiency apartment' is usually used to describe such properties, as it is an economical option for those living on a budget. In Nigeria, 'self-contained apartment' is the precise word to describe the distinct feature of these apartments.
With its limited size, studio apartment is the ideal choice for those who want to avoid sharing their living space, hence, it is referred to as 'bachelor apartment' in Canada.
In Vietnam, the term 'Căn hộ studio' is used to describe studio apartment, in which the phrase 'căn hộ' refers to apartments.
What does a studio apartment look like?
Floor plan of a studio apartment
A studio apartment is usually part of a larger house. Inside each apartment, you will find a common space with multiple purposes, as well as a separate bathroom. The common space is usually furnished with a sofa, TV, closet, and bed.
The kitchen can be a recess to prevent cooking smells from emanating around the property. It is equipped with basic cooking utilities, such as microwave, stove, cookware, and utensils. If there is extra space, a dining table set can be placed within, allowing you to enjoy home-cooked meals without accidentally spilling your sofa.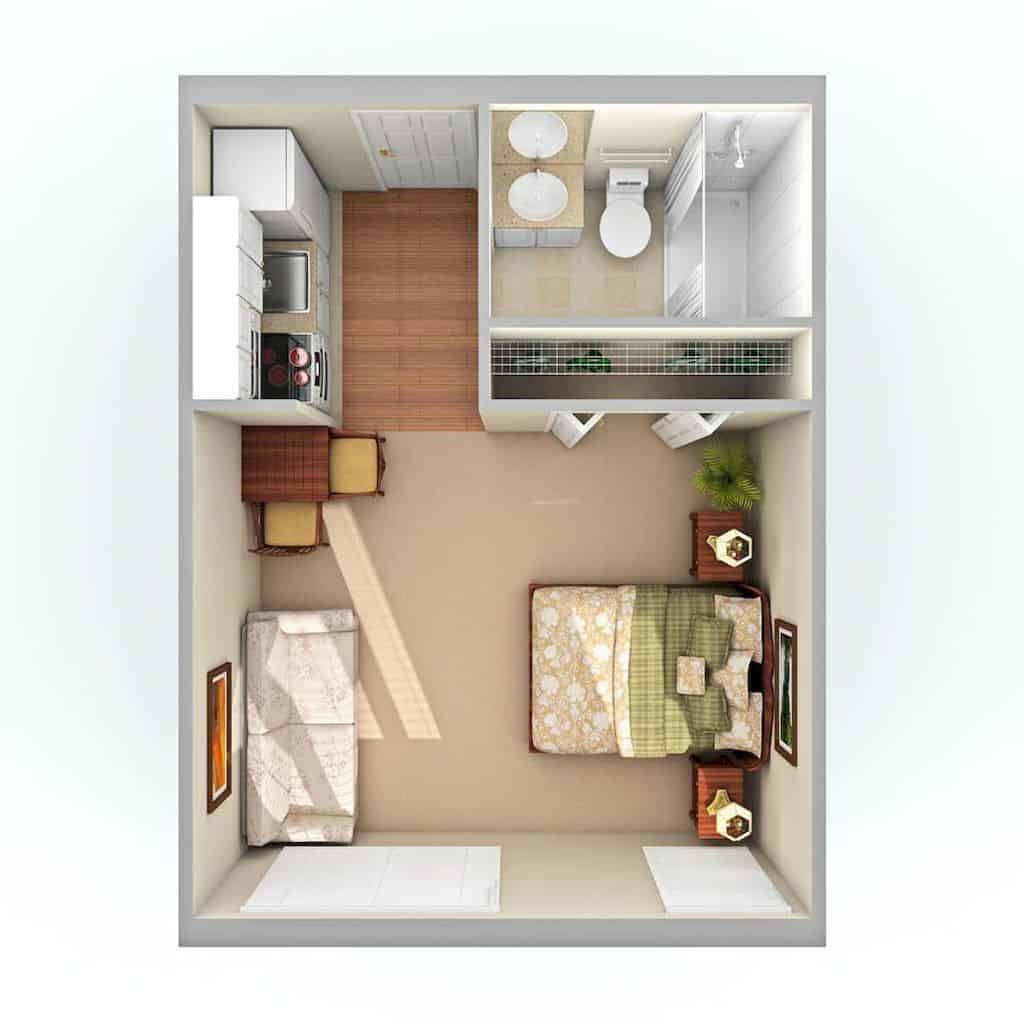 Here is the design sample of a studio apartment
(Source: http://www.home-designing.com/)
What does a studio apartment consist of?
Studio apartments may have the drawback of limited space, but that feature also makes it easier to furnish the area. Besides necessities such as bed, closet, chair and table set, basic cookware, and bathroom accessories, extra appliances can be installed, giving you superb living convenience.
To maintain comfortable temperature, most studio apartments are equipped with air conditioning, as well as a water heater in the bathroom. For entertainment, most have a TV, combined with cable and Internet service. Although you may be charged for high-speed Internet connection, the cost is not too much to worry about.
If you are expecting an airy space for relaxation, many studio apartments include a private balcony. In addition, because most studios are located within a building, there can be a shared rooftop terrace for residents. This is a great place to chill out and observe the panoramic view of your neighboring areas.
Most studio apartments have a public parking lot, with safeguards watching your vehicles 24/24. Some even have security cameras installed in different corners to avoid intruders.
What is a good size of studio apartment?
The size of a studio apartment in your area is determined by several factors. Availability of space, regulations from local authorities, or common practices of the local market. For example, the minimum size for a studio flat in London is around 37 square meters. While in the US, the size can range from 45 to 65 square meters.
The limited space of a studio apartment may cause hesitation for couples or those planning to share with another person. Undeniably, a lack of privacy can be the source of various problems. Even the most harmonious couples can fall into arguments and once in a while, we may need a secluded space, either to finish a task that requires absolute focus, or rearrange our thoughts on certain issues.
But it's not impossible to find a tranquil moment in your shared apartment. Many studio apartments offer an alcove, which may not be completely closed off but enough to give yourself a time of privacy. In some neighborhoods, you can find studio apartments with balconies, which will allow you to have a change of environment and absorb fresh air.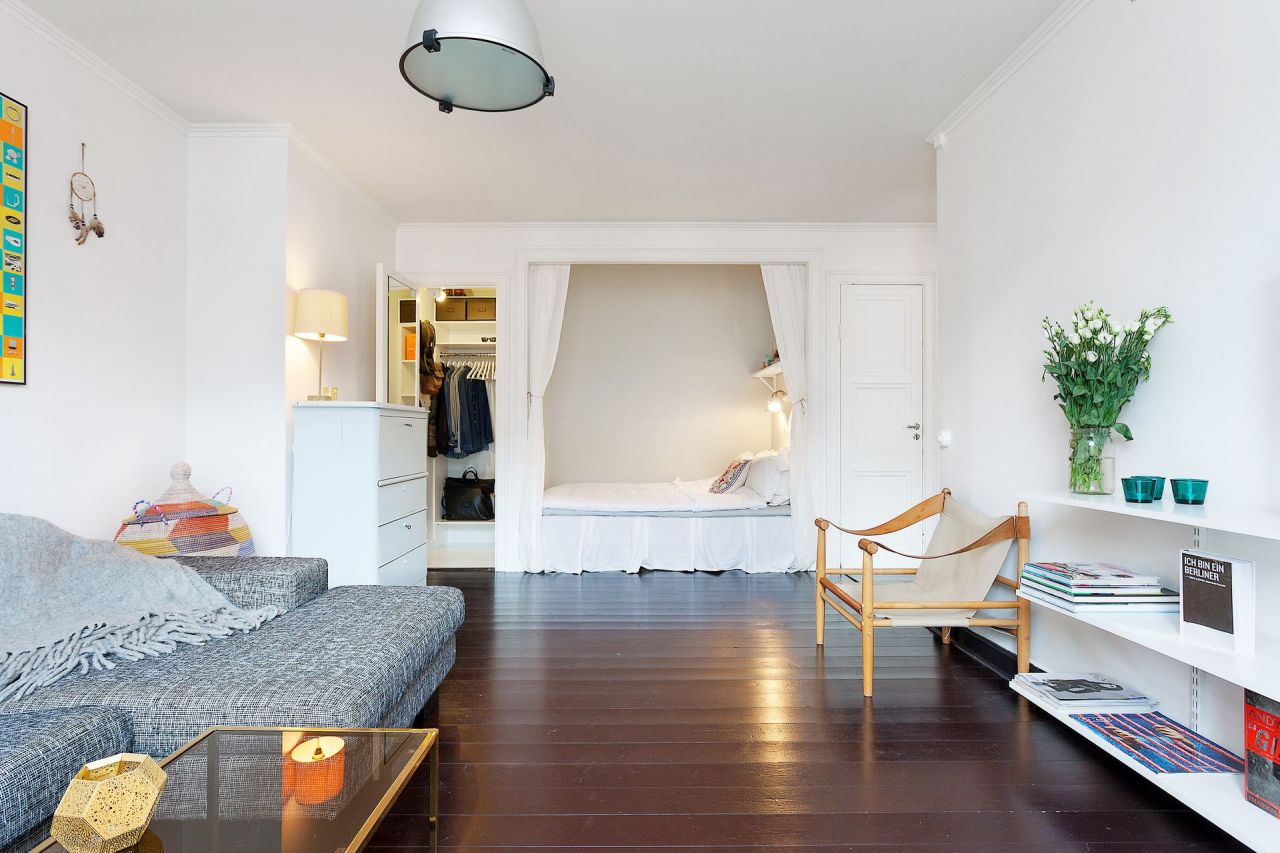 An alcove studio apartment offers a little more privacy for your sleeping area
(Source: https://thenordroom.tumblr.com/)
And even if these conveniences above are not already present in your studio apartment, you can take some measures to avoid tense situations. Get rid of unnecessary belongings and rearrange your apartment. Make sure it is thoroughly ventilated and allow for plenty of natural light to come through. Adopt a few changes to your apartment and you will sense positive energy coming from your accommodation.
And most importantly, become a responsible and understanding partner. Don't make a mess of your apartment and jampack it with stuff, no one would like to see that when they return from a stressful day at work. If one of you has a task that is close to deadline and needs utmost silence, the other may seek entertainment outdoors or engage in silent recreation such as reading.
Difference between studio apartment and one-bedroom?
What is a one-bedroom apartment?
At first thought, many people can get confused between studio and one-bedroom apartment. And in fact, there are just some slight disparities between these theses two types of property. For studio, the bed is placed in the common space, and only gets temporarily detached on ain a few occasions. Meanwhile, the bed of one-bedroom apartment is completely closed off with a permanently installed wall. That's the distinguishing feature between studio and one-bedroom apartment, the factor that determines all the other differences.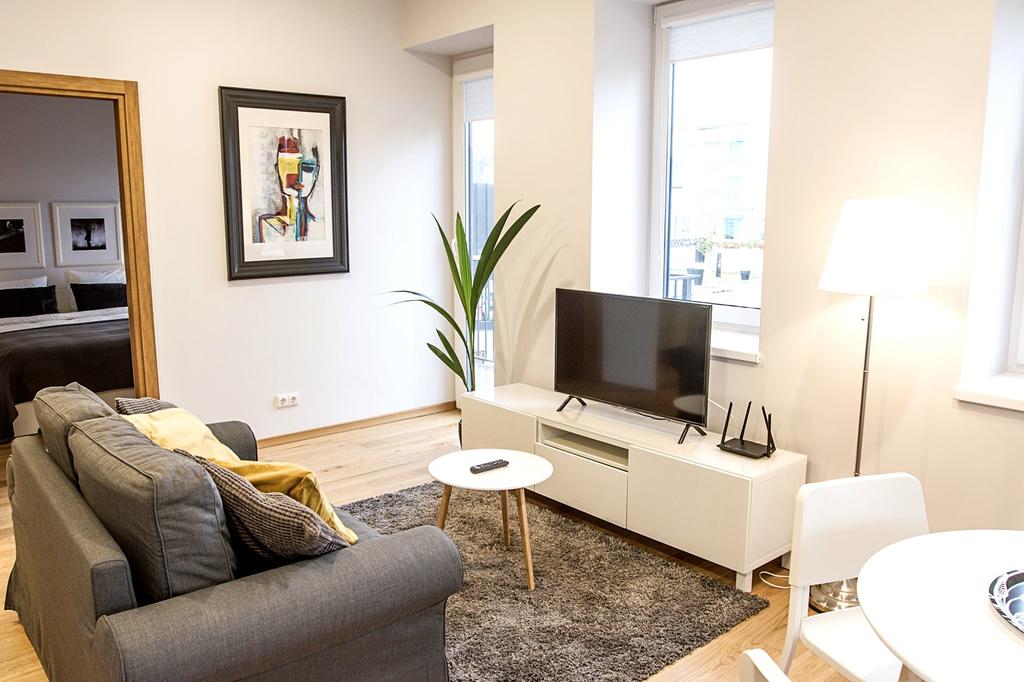 One-bedroom apartment gives you a completely separated bedroom, but it is more expensive than studio apartment (Source: https://www.gites.fr/)
What are the differences between studio and one-bedroom apartment
To decide between a studio and one-bedroom apartment, here are some aspects to consider:
Design: As we mentioned above, the defining characteristics of a one-bedroom apartment are the closed-off bedroom that separates it from separates from other parts of the house. In addition to a bed, you can decorate your bedroom with a hanging picture, sleeping lamp, or lovely wardrobe. For studio apartment, the bed is placed beside the sofa, closet, TV and other furniture on a single floor. An alcove may allow you to curtain off, but it is not completely secluded.
Size: Because of its design, one-bedroom apartment is usually larger than studio apartment. On average, a studio apartment in the US is about  40 to 65 square meters in size, while the size of one bedroom apartment may come up to 70 square meters.
Convenience: The difference in design and size certainly affects the living experience. A one-bedroom apartment offers more privacy, so it is ideal for those who live together and conduct different kinds of activity. If one requires utter silence to concentrate on their work while their partner is watching TV, he simply needs to go to the separate bedroom.
Also, for those who frequently host gatherings and large dinners, they may desire wider space so that guests can sleepover. If you have a load of personal belongings, one bedroom apartment with greater room for storage will prevent your accommodation from turning into a mess.
Price: Once you can tell the disparities between studio and one-bedroom apartments, it is easy to explain the difference in rental price of these two. According to the data of UC Santa Cruz, the rental cost for studio apartment in 2019 is around $1400 per month. And you would need to pay an extra $500 for one-bedroom apartment.
$500 is not a minor expenditure, and therefore, requires careful consideration. The more expensive option is not always the better one if it doesn't match your demand. So, what should you take into account when making your decision?
What is the better choice, studio or one-bedroom apartment
As we mentioned above, a one-bedroom apartment is more suitable for someone who shares their living space. It can ensure private, tranquil moments needed for concentration. It can also be a better choice for those who love socializing with their friends thanks to the extra room for guests sleeping over.
Limited storage space can also be another problem for studio apartment residents. But such issues can be easily solved with wardrobes and other storage solutions, such as garment racks, baskets or cabinets. These items are very useful for packing when you plan to move out as well. And if you are living by the principle 'Less is more', you certainly will gravitate towards the smaller choice.
So, when it comes to deciding between studio and one-bedroom apartment, account for your personal tastes and budget, as well as the quality of available options. It is a good idea to consult with reliable local agents or any acquaintances with a good grasp of the market.
What are some tips for living in a studio apartment?
Take advantage of vertical space
When you live in a studio apartment, storage can be a major issue. You don't want to scatter everything on the floor, and you don't want to stock your stuff in huge piles that may turn into a mess every time you try to look for something.
Vertical space is the optimal solution for studio apartment. It allows you to put your belongings in order, and also leave some free space for exercises, entertainment or extra decoration. Think of loft beds with study or working space underneath. Or beds attached with drawers that can replace your closet, shoe rack, or bookshelf.
Narrow down your personal belongings
Living in a studio apartment requires some lifestyle changes to adapt to the property features. And a shift towards simplification is definitely one of those. So, before moving into your new apartment, make a list of things that you can't live without. Think of necessities, such as mattress, futon, bath accessories, or kitchen tools.
In addition, take advantage of multi-purpose items, such as working desk with attached bookshelf. For souvenirs with profound personal meaning, placing them altogether in cabinets or drawers is better than dispersing around.
Keep the interior neat and clean all the time
For many people, a messy apartment can negatively affect your mood in many ways. It destroys your motivation to work. It causes annoyance and stress when you return from a grueling day at work. It leads to depressing thoughts that you are unable to control your surroundings.
To avoid these problems in the first place, it is necessary to keep your apartment free of clutter. Make a habit of putting everything in their original position after usage. Have a schedule of washing your garments and cleaning the floor. Have your equipment fixed when any issue occurs. In short, think of and treat your apartment as somewhere you anticipate to return, to recharge after working hours.
Add some ornaments of your interest
Ornaments will take little to no space at all. And besides making your studio apartment more aesthetically pleasing, they can instantly lift up your moods. First of all, think of anything that gives you inspiration. It can be a certain author, book, or movie; your favorite motivation quote; or a cultural concept that captures your attention.
Secondly, go on the Internet to search for ideas of merging these content into your decoration. There is a wide variety of applications, such as hanging pictures or posters, rearranging bookshelves, redesigning your room based on a concept.
For those who feel uneasy with the narrow space of studio apartment, placing a mirror on the wall can create the optical illusion of extra room.
Go out for a change of scenery
This final tip does not apply only to those who live in a studio apartment. You are recommended to go out for at least 30 minutes per day. Having a breath of fresh air, taking a short break from your work, going into a state of complete relaxation. Don't be afraid that these might disrupt your concentration. A moment of lazing around would boost your mentality and aid you in coping with the tasks ahead.
For many people, studio apartment might not be the most appealing environment for working or studying. In that case, look out for alternatives such as cafes, libraries, or working spaces. Everybody has their personal preferences and if you are not comfortable working in the secluded space of your apartment, don't hesitate to find a more suitable option.
Studio apartment in Danang, Vietnam
Danang is becoming increasingly attractive for ex-pats in Vietnam with well-paid occupations, lucrative business opportunities, highly secure neighborhoods, and impressive scenery. Studio apartments are also rising in popularity here, with several amenities enclosed with the properties, assuring to bring the best living experience for foreign customers.
Types  of studio apartment in Danang
For studio apartments in Danang, you may gain the advantage of stylish, pre-decorated interior. From traditional to modern, rustic to contemporary design, you can easily find something that matches your taste through listing websites or local agents.
In terms of location, Son Tra District is the most popular area for ex-pats in Danang. If you are a fan of the coastal atmosphere, the area lies along the coastline of Danang. You can find studio apartments with stunning ocean views, or one that is just a few walking distances from the beach. Other popular residential areas in Danang include Ngu Hanh Son District, which offers picturesque mountain scenery and fresh air. Those who want to stay close to their workplace may choose studio apartments in the City Center Area, which include Hai Chau, Cam Le, and Lien Chieu District. Han River Area is also highly favored for its riverside view, quality properties, and civilized citizens.
Some studio apartments can be packaged with cleaning service, which is provided once or twice per week. Parking space and security are also available in most apartments. Just inquire with your inquire your landlords for assurance before signing rental contracts.
What is the difference between studio and one-bedroom apartment in Danang
A studio apartment in Danang is around 30 to 40 square meters in size, while the size of one bedroom apartment can reach 50 to 60 square meters. Hence, the price for one bedroom apartment would be slightly higher, at an average of $400 to $500 per month for rental. A studio apartment, though smaller and less convenient, would save you about $100 per month. This may not seem like a huge amount, but it is surely adequate to give yourself a luxurious treat once or twice a month.
Here is an example of two apartments in Son Tra, Da Nang. Both offer ideal locations, excellent furniture, and additional amenities.
This Studio with Balcony For Rent Near The Beach
Has a total area of 35 square meters
Is fully furnished with bed, desk, work table, sofa, A/C, fridge and smart TV
Includes a communal kitchen, gym, shared iron, and high-speed Wifi
Rental price of $200 per month with electricity and water included
And this Green One-Bedroom Apartment with Balcony For Rent
Has a total area of 48 square meters
Is furnished with bed, sofa, TV, A/C, dining table, fridge, and cooking utensils
Includes an elevator and high-speed Wifi, as well as a private balcony with natural view
Rental price of $300 per month that includes water and electricity
How much would renting a nice studio apartment in Danang cost
As we mentioned above, the range for rental price of studio apartment in Danang goes from $200 to $300 per month on average. But don't be surprised with offers at a higher cost. The price is determined by various factors, such as location, amenities, furniture quality, construction date, building capacity and even trends of the market.
Properties in more favorable locations such as Son Tra, Ngu Hanh Son or Han River will cost you more than those in other regions. Boutique studio apartments, with delicate design and brand new furniture, can get $50 or $75 above the price range. Offers from newly constructed buildings can be more expensive because everything is newly bought and still in excellent condition.
How can you find a good studio apartment in Danang, Vietnam?
Check out listing websites
There are several websites that update properties in Danang, including studio apartments. Many of them are packed with images and information, making it difficult to sort things out and evaluate the credibility of their content.
To determine whether a website is trustworthy, check if they contain these criteria
Property description: Does it include specific location, property size, amenities and payment terms? Is the information orderly arranged in each listing?
Image quality: Are the images taken from different angles of the apartment? Is there a watermark of the phototakers on the images?
Additional information: Does the website provide contact information, process instructions, or testimonials from previous users?
Contact local agents for assistance
Most listing websites of studio apartments in Danang are operated by local agents. They are not only helpful in providing you with property offers. They can also be a multi-task assistant who supports you through the rental or purchase process.
Here is the process of working with an agent in Danang. First, contact and describe your requirements to the staff. They will return with suggestions for suitable offers. Once you find something that matches your needs, they will contact landlords to arrange on-site viewing.
When you are satisfied with the property condition and price, they will draft a contract in both English and Vietnamese. You can review the terms in the contract and ask the staff to make adjustments before signing. Overall, they are present in every part of the rental/purchase process, acting as a bridge between you and native landlords.
Since these agents play a crucial role in the success of your rental, the selection process should be carefully executed. Here are  some criteria for assessment
Fluent communication (meaning to understand and answer your questions promptly and precisely)
Eager listeners with a polite manner
Good understanding of the market, make suggestions that meet your demand
Adept at explaining contract terms
Acting as a bridge between you and the landlords, keenly helping to resolve any differences
Conclusion
It's not hard to understand the prevalence of studio apartments in metropolitan cities nowadays. It is an economical option that offers decent living standards when properly chosen. A perfect accommodation is not necessarily the most splendid one, but it is the one that fits your budget, one that grants you a comfortable and inspiring surrounding. With the guidance above, we hope you will find your perfect apartment.
By Diem Quynh – HouseRentalDanang.com